Hey guys
I've been having some Google redirect problems and can't seem to get rid of it. Not sure if Malwarebytes or SUPERAntispyware can't help fix it, but tried them and nothing. In fact my computer doesn't let me update Malwarebytes. I get PROGRAM_ERROR_UPDATING. I had to download the mbam-rules.exe to update it.
Also I tried ESET Online Scan and I get an error as well when it tries to download the virus components before it runs the virus check.
Anyway I tried downloading AVAST! free antivirus. It found over 20 infected files. Not knowing what to do with them I had them all sent to the Virus Chest. Then it asked me to restart and perform AVAST boot scan. It found over 20 infected files again and were all sent to the Virus Chest. Now I am unable to connect to the internet.
SYSTEM SPECS
Microsoft XP Service Pack 2
Professional
Version 2002
Intel Celeron 2.4ghz
480mb of RAM
========================================
Below this picture are the reports of two AVAST Scan boot scans that were performed. I couldn't find the log for the quick scan performed so I took a screenshot of it.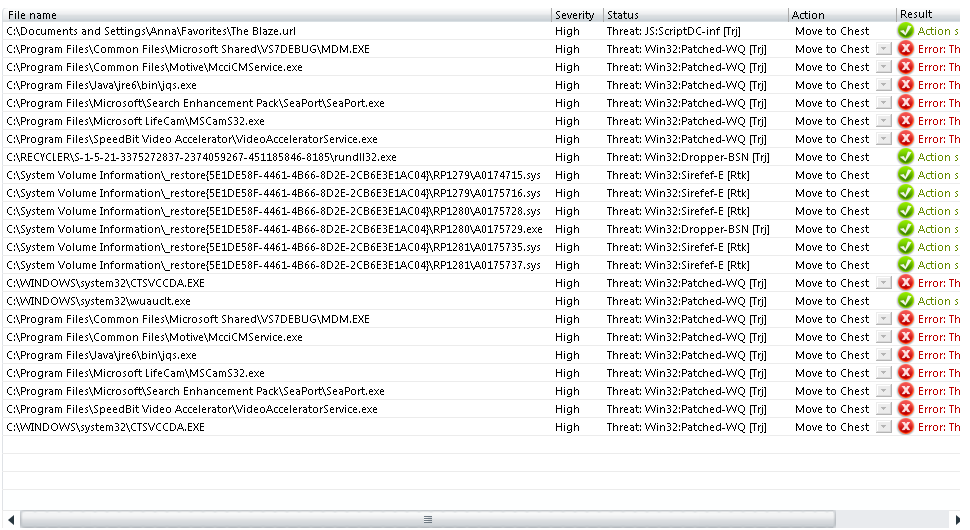 07/22/2011 22:04
Scan of all local drives
File C:\Documents and Settings\Anna\Application Data\Sun\Java\Deployment\cache\6.0\0\36e33700-7c2dfd1e|>rotor\zalux$vrkr.class is infected by Java:Agent-KU [Expl], Moved to chest
File C:\Documents and Settings\Anna\Application Data\Sun\Java\Deployment\cache\6.0\0\36e33700-7c2dfd1e|>rotor\zalux.class is infected by Java:Agent-KT [Expl], Moved to chest
File C:\Documents and Settings\Anna\Application Data\Sun\Java\Deployment\cache\6.0\0\36e33700-7c2dfd1e|>rotor\Zo666.class is infected by Java:Agent-KV [Expl], Moved to chest
File C:\Documents and Settings\Anna\Application Data\Sun\Java\Deployment\cache\6.0\38\7b69c3a6-4a9ef857 is infected by Win32:Kryptik-BKQ [Trj], Moved to chest
File C:\Documents and Settings\Anna\My Documents\HTC-8900 My Documents\ATT-Navigator-tilt.cab.pdl|>0telenav.001 Error 42127 {CAB archive is corrupted.}
File C:\Program Files\CanonBJ\IJPrinter\Canon MP160\Prn2KXP\mh83jp.ch_|>mh83jp.chm|>images\me.gif Error 42136 {CHM archive is corrupted.}
File C:\Program Files\CanonBJ\IJPrinter\Canon MP160\Prn2KXP\mh83jp.ch_|>mh83jp.chm Error 42127 {CAB archive is corrupted.}
File C:\Program Files\CanonBJ\IJPrinter\Canon MP160\Prn2KXP\mh83jp.ch_ Error 0xC000009C {STATUS_DEVICE_DATA_ERROR}
File C:\System Volume Information\_restore{5E1DE58F-4461-4B66-8D2E-2CB6E3E1AC04}\RP1279\A0174714.ini is infected by Win32:Malware-gen, Moved to chest
File C:\System Volume Information\_restore{5E1DE58F-4461-4B66-8D2E-2CB6E3E1AC04}\RP1279\A0175715.ini is infected by Win32:Malware-gen, Moved to chest
File C:\System Volume Information\_restore{5E1DE58F-4461-4B66-8D2E-2CB6E3E1AC04}\RP1280\A0175727.ini is infected by Win32:Malware-gen, Moved to chest
File C:\System Volume Information\_restore{5E1DE58F-4461-4B66-8D2E-2CB6E3E1AC04}\RP1281\A0175741.EXE is infected by Win32:Patched-WQ [Trj], Moved to chest
File C:\System Volume Information\_restore{5E1DE58F-4461-4B66-8D2E-2CB6E3E1AC04}\RP1281\A0175742.exe is infected by Win32:Patched-WQ [Trj], Moved to chest
File C:\System Volume Information\_restore{5E1DE58F-4461-4B66-8D2E-2CB6E3E1AC04}\RP1281\A0175743.exe is infected by Win32:Patched-WQ [Trj], Moved to chest
File C:\System Volume Information\_restore{5E1DE58F-4461-4B66-8D2E-2CB6E3E1AC04}\RP1281\A0175744.exe is infected by Win32:Patched-WQ [Trj], Moved to chest
File C:\System Volume Information\_restore{5E1DE58F-4461-4B66-8D2E-2CB6E3E1AC04}\RP1281\A0175745.exe is infected by Win32:Patched-WQ [Trj], Moved to chest
File C:\System Volume Information\_restore{5E1DE58F-4461-4B66-8D2E-2CB6E3E1AC04}\RP1281\A0175746.exe is infected by Win32:Patched-WQ [Trj], Moved to chest
File C:\System Volume Information\_restore{5E1DE58F-4461-4B66-8D2E-2CB6E3E1AC04}\RP1281\A0175747.exe is infected by Win32:Dropper-BSN [Trj], Moved to chest
File C:\System Volume Information\_restore{5E1DE58F-4461-4B66-8D2E-2CB6E3E1AC04}\RP1281\A0175748.EXE is infected by Win32:Patched-WQ [Trj], Moved to chest
File C:\System Volume Information\_restore{5E1DE58F-4461-4B66-8D2E-2CB6E3E1AC04}\RP1281\A0175749.exe is infected by Win32:Patched-WQ [Trj], Moved to chest
File C:\WINDOWS\assembly\GAC_MSIL\Desktop.ini is infected by Win32:Malware-gen, Moved to chest
File C:\WINDOWS\system32\drivers\netbt.sys is infected by Win32:Sirefef-E [Rtk], Moved to chest
File C:\WINDOWS\Temp\_avast_\unp118013647.tmp is infected by Win32:Patched-WQ [Trj], Moved to chest
File C:\WINDOWS\Temp\_avast_\unp120808448.tmp is infected by Win32:Patched-WQ [Trj], Moved to chest
File C:\WINDOWS\Temp\_avast_\unp124934900.tmp is infected by Win32:Patched-WQ [Trj], Moved to chest
File C:\WINDOWS\Temp\_avast_\unp203945379.tmp is infected by Win32:Patched-WQ [Trj], Moved to chest
File C:\WINDOWS\Temp\_avast_\unp204226324.tmp is infected by Win32:Patched-WQ [Trj], Moved to chest
File C:\WINDOWS\Temp\_avast_\unp204688800.tmp is infected by Win32:Patched-WQ [Trj], Moved to chest
File C:\WINDOWS\Temp\_avast_\unp204764794.tmp is infected by Win32:Patched-WQ [Trj], Moved to chest
Number of searched folders: 6399
Number of tested files: 686136
Number of infected files: 25
----------------------------------------
07/23/2011 07:24
Scan of all local drives
File C:\Documents and Settings\All Users\Application Data\AVAST Software\Avast\arpot\8a5de-534-0.dat is infected by Win32:Sirefef-E [Rtk], Repair: Error 42060 {The file was not repaired.}, Repair: Error 42060 {The file was not repaired.}, Repair: Error 42060 {The file was not repaired.}, Repair: Error 42060 {The file was not repaired.}, Repair: Error 42060 {The file was not repaired.}, Repair: Error 42060 {The file was not repaired.}, Repair: Error 42060 {The file was not repaired.}, Repair: Error 42060 {The file was not repaired.}, Repair: Error 42060 {The file was not repaired.}, Repair: Error 42060 {The file was not repaired.}, Repair: Error 42060 {The file was not repaired.}, Repair: Error 42060 {The file was not repaired.}, Deleted
File C:\Documents and Settings\Anna\Application Data\Sun\Java\Deployment\cache\6.0\38\7b69c3a6-4a9ef857 is infected by Win32:Kryptik-BKQ [Trj], Repair: Error 42060 {The file was not repaired.}, Repair: Error 42060 {The file was not repaired.}, Repair: Error 42060 {The file was not repaired.}, Repair: Error 42060 {The file was not repaired.}, Repair: Error 42060 {The file was not repaired.}, Deleted
File C:\Documents and Settings\Anna\Favorites\The Blaze.url is infected by JS:ScriptDC-inf [Trj], Deleted
File C:\Program Files\CanonBJ\IJPrinter\Canon MP160\Prn2KXP\mh83jp.ch_ Error 0xC000009C {STATUS_DEVICE_DATA_ERROR}
File C:\System Volume Information\_restore{5E1DE58F-4461-4B66-8D2E-2CB6E3E1AC04}\RP1281\A0175751.ini is infected by Win32:Malware-gen, Deleted
File C:\System Volume Information\_restore{5E1DE58F-4461-4B66-8D2E-2CB6E3E1AC04}\RP1281\A0175756.sys is infected by Win32:Sirefef-E [Rtk], Deleted
File C:\System Volume Information\_restore{5E1DE58F-4461-4B66-8D2E-2CB6E3E1AC04}\RP1281\A0175767.sys is infected by Win32:Sirefef-E [Rtk], Deleted
File C:\System Volume Information\_restore{5E1DE58F-4461-4B66-8D2E-2CB6E3E1AC04}\RP1281\A0175781.exe is infected by Win32:Patched-WQ [Trj], Deleted
File C:\System Volume Information\_restore{5E1DE58F-4461-4B66-8D2E-2CB6E3E1AC04}\RP1281\A0175817.sys is infected by Win32:Sirefef-E [Rtk], Deleted
File C:\System Volume Information\_restore{5E1DE58F-4461-4B66-8D2E-2CB6E3E1AC04}\RP1281\A0175824.sys is infected by Win32:Sirefef-E [Rtk], Deleted
File C:\WINDOWS\assembly\GAC_MSIL\Desktop.ini is infected by Win32:Malware-gen, Deleted
File C:\WINDOWS\system32\CTSVCCDA.EXE is infected by Win32:Patched-WQ [Trj], Deleted
File C:\WINDOWS\system32\drivers\rdpdr.sys is infected by Win32:Sirefef-E [Rtk], Deleted
Number of searched folders: 6374
Number of tested files: 58368
Number of infected files: 12