Hello,
I think I clicked on a poison link in a Google search results list.
I am unable to use my computer in normal mode. In addition to the
"Vista Internet Security 2011 Firewall Alert"
pop-ups, every browser I use now displays this message whenever I enter a web address:
"Internet Explorer (or Firefox, or Google Chrome) alert. Visiting this site may pose a security threat to your system!"
One of the pop-ups was a Warning about Trojan-BNK.Win32.Keylogger.gen. Here is a screen shot: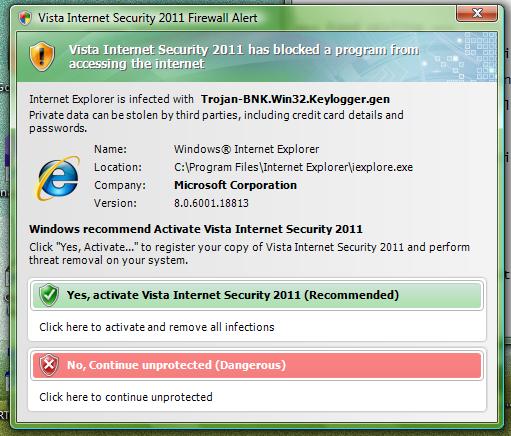 My system:
- Lenovo ThinkPad SL500
- Windows Vista Home Premium Service Pack 1
- Internet Explorer 8.0.6001.18813
- Firefox 3.6.16
- Google Chrome (Chrome won't open in Safe Mode)
I would greatly appreciate any help someone can give me.
Thank you,
Pam