Rogue anti-spyware programs have been a bane to Windows users for the past couple of years. Year after year, this ever increasing type of malware have been targeting PC users and taking their computers hostage while scaring/scamming users into purchasing them. Now Mac users have the dubious honor of getting to know the breed of malware called Rogue Anti-Spyware programs.

This week a particular family of infections have started targeting Mac users with a variety of new rogues under different names. Most people associate Macs as having a trouble-free computer without the need to worry about viruses and other security concerns. This article is not going to discuss the validity of these statements, but I do think that as Macs become more popular, they will become a worthy target for malware writers to target for cybercrime.
Enter the new Mac rogues named named Mac Security, Mac Defender, and Mac Protector. Once installed, these programs will automatically launch and then display scan results that state that there are numerous infections on the users's computer. They will also make it so that its screen stays on top of all others, so that you are forced to close its Window in order to use others program. Just like the rogues on the PC, these rogues are also showing fake alerts stating that the computer is infected or has other security problems. As a "bonus" these programs will also open porn sites in the Safari web browser at random intervals.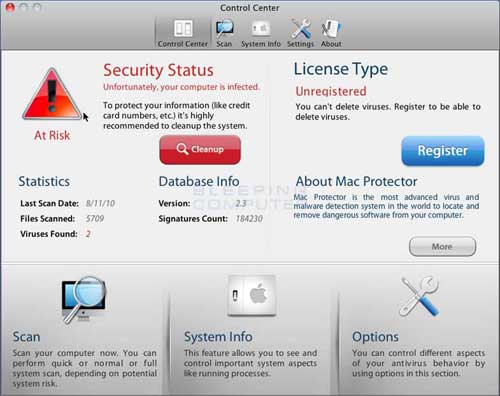 Mac Protector screen shot
For the most part these infections are fairly simple to remove. Simply fire up the Activity Monitor, kill the process, and the remove the Application and Login Item. I can also tell you that the rogues for Windows were fairly easy to remove when they first came out. Now they are convoluted messes that require special tools, procedures, and a pinch of luck. I can only hope that the Mac is not going down the same road.

Link: Remove Mac Protector

Link: Remove Mac Defender