04-26-11 / E. Coast USA!

Greeting to All:
As a newbie, I'm ready to share the following XP Pro virus issue(s). I've been able to fix a lot of the mess on my own.
But, need help on other things that may be beyond my scope capabilities at this time.
To make it easier for all, I propose to show the following re-to my situation:
1. A brief summary of the issue(s).
2. Some basic info about my PC system / browser / Security Software, etc.
3. What free trial prog I downloaded & used from this site BEFORE joining BC Forum.
1. SUMMARY OF VIRUS ISSUE:
> I got whacked last week by that WINDOWS RECOVERY virus deal while somehow browsing FTP sites I own and use.
> Splash screen of this console would not go away (despite many attempts in SAFE/COMMAND PROMPT MODE).
> In SAFE MODE, SR (*System Recovery) bannered as being shut off and remains so at this writing.
> Scan Disk in SAFE MODE was successful.
> Meanwhile, Desktop remained solid blue background color with my usual population of shortcut icons gone or hidden.
> HOWEVER, My Computer / My Docs when clicked remained hidden. / IE-8 iCon remained accessible.
> BUT, Start / All Progs icons AND TASK MANAGER remained hidden or missing.
> To make long story short, Maleware had 2B removed and new version downloaded via I.E.-8. Security Essentials updated fine as is.
> Upon learning of the BC site from my retail tech, he told me to go to: COMBO FIX and install.
> Turned out there was more than one choice. So, I picked & installed: ARO-2011.
> That fixed only 100 of claimed 500+ issues found and I declined invition to become premium purchaser.
> The fix ALSO removed the Win Recovery Splash screen from the virus on my desktop.
> That fix allowed me to also claim all icons back onto desktop and also unhide all other root directory icons, etc.
> The fix also reclaimed Start / All Prog iCons and Task Manager as well.
> I use only MS Security Essential / Maleware bytes / Malicious Software Remover Tool / TDSSKiller.
> ARO-2011 freed me to run a Disk Clean Up and full scan C: Root with Both Maleware Bytes and Security Essentials.
> THAT def improved everything much better. But not all the way.
> To date, SR is unavailable and I cannot update windows manually. But system tray for win updates DOES function.
> With Manual Winupdate via I.E.-8, it declares the following: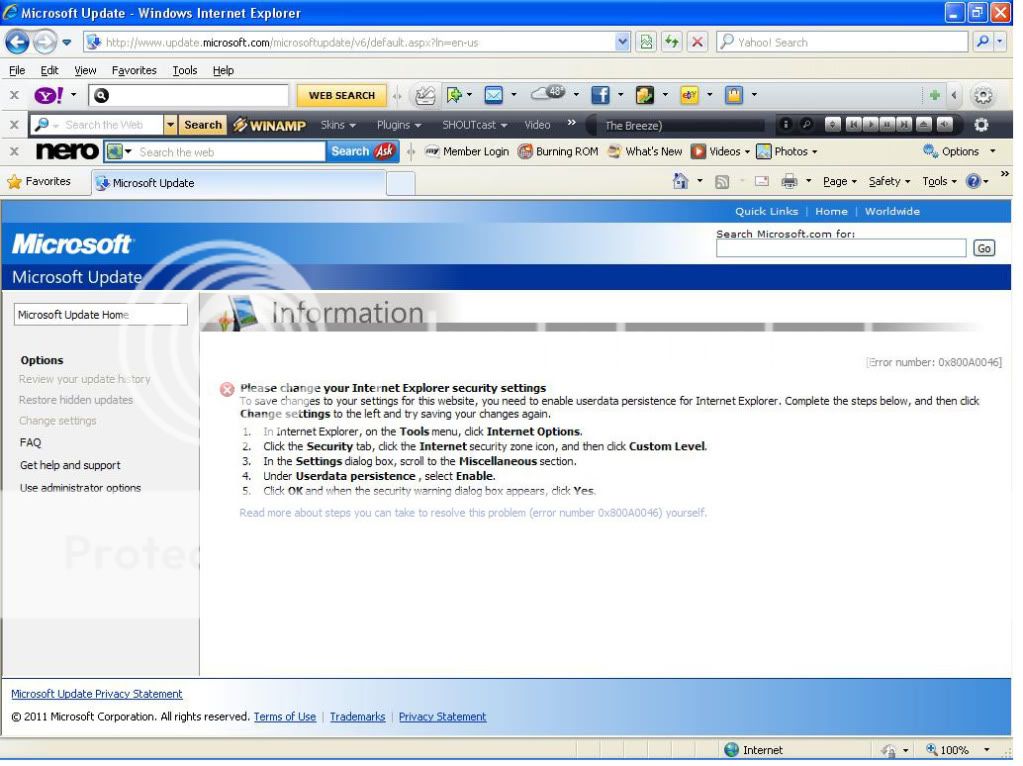 My userdata persistence IS already enabled.
2. MY BASIC SYSTEM INFO:
> Acer M-24 Desktop (14 mos old).
> Win XP Pro ( with SP3)
> Win Fire Wall.
> NTFS
> Western Digital 500 GB back up Drive.
> Fire Fox Browser.
> I.E.-8 for Updates only.
> MS Security Essentials / Malicious Software Removal Tool / Maleware Bytes / TDSSKiller (short cut on desktop).
> I run Disk Clean ups and quick scans daily prior to restart or shutdowns.
> I manually update Security software daily.
> I run Defragger in SAFE MODE twice monthy. Sometimes more depending on situations.
3. FREE BC TRIAL PROG USED:
> ARO-2011
(as already mentioned).
IN CLOSING:
My PC seems to be working fine as before. However Minus the following as already mentioned:
> System Restore won't open at all. Pop up declares:

"SR is not able to protect your computer, please restart your computer and then run SR again."
> Manual Win Updates not accessible. But, system tray icon for updates is.
With RUN, I tried some things in regedit. But, they did not help prior to discovering and using ARO-2011 somewhat successfully.
Pardon my french, but I known Microsoft's SR is unreliable and sucks. Even IF I could get it back now, I know my custom roll back time stamps are all gone.
I once used GO BACK several years ago and was happy with it despite it's limitations.
I also hear "not too good things" about ROLL BACK these days.
The freeware & GHOSTING Recovery progs out there are quite numerous and am not sure what to decide.
But, I need to have a restore Plan in place ASAP until I decide which supported product to buy.
That's it. Hope my itinerary on all this was simple, clear and concise for all of you.
Appreciation & Thanks,
MH~
Edited by Orange Blossom, 26 April 2011 - 04:34 PM.
Fixed BB coding. ~ OB