Here at BleepingComputer.com there has been a massive explosion of visitors to the System Tool Removal Guide since the 25th of February. Starting on the 25th, it appears that a System Tool affiliate, or numerous ones, have started a campaign to infect visitors with the System Tool rogue anti-spyware infection. The chart below shows the percentage increase that our removal guide has been receiving since the 25th:

| | |
| --- | --- |
| Date | % Increase |
| 2/25/11 | 50% |
| 2/26/11 | 150% |
| 2/27/11 | 450% |
| 2/28/11 | 75% |
This data is corroborated by looking at the trends for the keywords "System Tool" and "SystemTool" through Google Trends as shown in the chart below.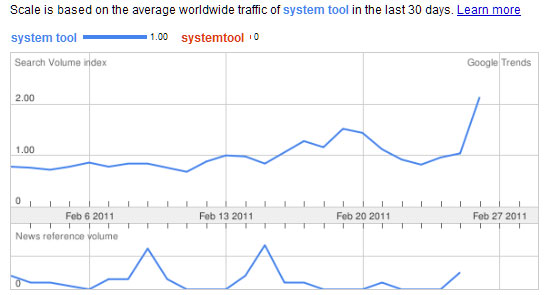 Though Trends is only showing the beginning of the increase, the sharp ascent is obvious. From the table above you can see that there is a sharp drop between the 27th and the 28th, but it is to soon to tell if this is the actual end of the malware campaign. What we do know is that there has been a substantial increase in users searching for the keywords System Tool or SystemTool, which are most likely infected users trying to figure out how to remove this program from their computer.
This new campaign appears to be utilizing the old tactics of fake online scanners, hacked sites, and exploit kits to push or install this program onto a computer without the user's knowledge. If installed via an exploit pack then there is also a high likely hood that other malware will be installed along with the rogue. These malware may include rootkits, down loaders, and other adware.