I have a Dell Optiplex GX620 2.80 gigahertz Intel Pentium 4,16 kilobyte primary memory cache
1024 kilobyte secondary memory cache with 2 gigs of ram, running windows xp service pack 3. I have two user accounts and the adminstrator account. Both user accounts have administrative rights. My boyfriend got a rogue antivirus pop up. I think it was win xp antivirus 2011 or something similar. I shut down the computer and logged in safe mode to the administrator account.
I updated and ran malwarebytes. It found one trogan which it removed. I scanned with super antispyware and it only found a lot of tracking cookies. i could not open microsoft security essentials from the admin account. I tried to go to the internet and it asked me what program I wanted to use to open the file with.
I restarted it in normal mode and logged into my user. I tried to go to microsoft update and it told me it could not download because the automatic update, backgound something and the event log services were turned off. I turned them on and set them to automatic and was able to run the program and download and install the required updates. I then went to the trend website and ran the online scanner and it found nothing. The history from Microsoft Security Essentials shows the following: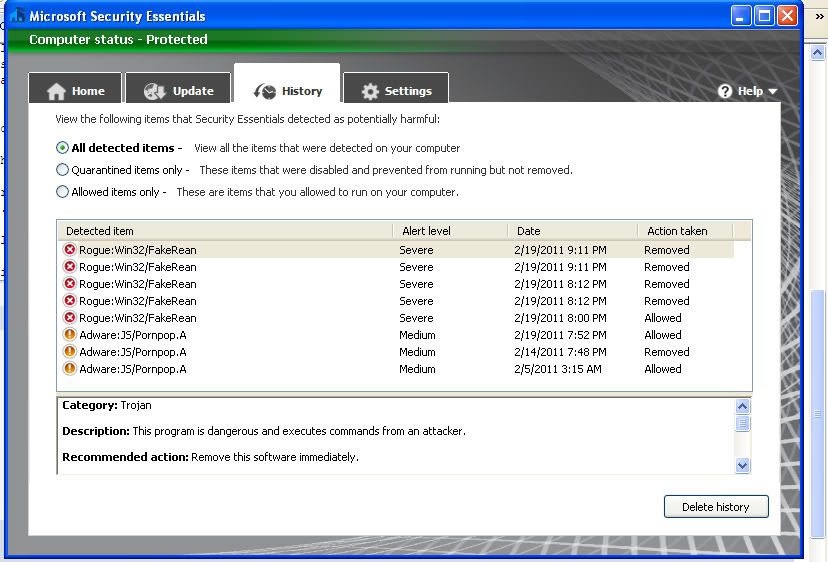 My user accounts is working fine and I can access the internet and microsoft security essentials is running and updating fine, however, my boyfrieds account is not running fine. When trying to open the internet or any security programs I get the window asking what program i want to use to open the file with. When I was trying to open the internet I selected the ie8 program and the screen flashed like it was going to open then the start up folder opened instead.
My machine is obviously still infected even though it is not effecting my user account yet.
Can you help me identify and remove the infection from my computer?