Hello all.
Recently I got a new laptop. A Dell - Inspiron Laptop / AMD Athlon™ II X2 Processor / 3GB Memory / 320GB Hard Drive w/ Windows 7
I also have 2 other computers running at the same time.
But ever since I got the new laptop my download speeds have become extremly slow for some downloads... and extremly quick for others...
When I wanted to download itunes it kept telling me that the download would take about 22 hours. While it is a very small file. But programs like wow took only a few hours for it to download all 9 gbs.
Same thing happened to my ps3. I downloaded a demo that was 1 gb big in only 20~30 minutes... Whereas an update that is 170mb says it will take 5400 minutes...
Any idea why some downloads seem to take such long time to download.. whereas other ones take little to no time?
Anything you guys can suggest me to do?
Edit - All of the connections I have are wireless. And my internet provider is At&t u-verse.
Problem is my internet wasn't like this before I got the new laptop
Second edit - Ok I just tested a download.. I downloaded a playstation iso and it downloaded at 500 kb/s
But I tried to download Avast and it downloaded at 10~12 kb/s.... Seriously what the hell?
Third edit - Including an image x_x Please help.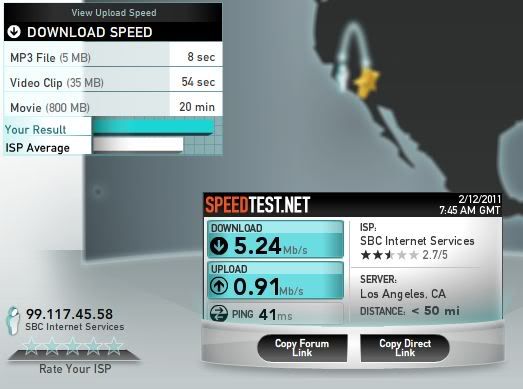 Edited by Kerveruz, 12 February 2011 - 02:48 AM.