Hi guys,
First off, there's actually someone else on the site who you're helping that seems to have the same problem as me:
http://www.bleepingcomputer.com/forums/topic369733.html
However, I'll also describe it here if that's more helpful.
I've been having an issue with my desktop computer for about 4 months now, and I figure it's really time to get it figured out. My operating system is Windows XP Home Edition, Version 5.1 (Build 2600.xpsp_sp3_gdr.100427-1636 : Service Pack 3)
When I first turn it on, all seems to be going well. After a while (it sometimes takes a couple of minutes, sometimes a few hours--I haven't noticed a pattern yet) a Windows error pops up: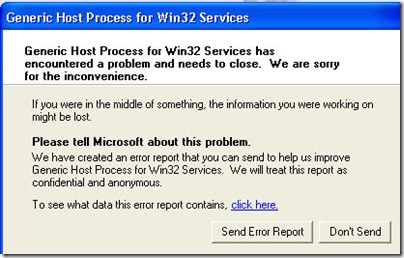 When I click to see what the error report contains, I get this code:
szAppName : svchost.exe szAppVer : 5.1.2600.5512 szModName : ntdll.dll szModVer : 5.1.2600.5755 offset : 00023845
Once this error has popped up, my computer's sound card seems to go out. There is no sound whatsoever on the internet (Youtube, etc.) and if I try to open my iTunes, I get this error:

(It's strange, but I've found that if I open my iTunes BEFORE the error occurs, music will continue to play, even after the error happens. Unlike that, if I open Firefox and have a Youtube clip playing, it will mute the clip right in the middle of it)
Several other issues seem to come up after this point. At some point after the error occurs (again, hours or minutes, no real pattern detected here) my taskbar switches from Windows XP to Windows Classic (a beige color), then usually switches right back. However, when it does this it cuts off my internet connection for a minute or two, and some applications remain in Classic mode afterward. Later on it usually glitches again and STAYS in Classic. I have to change my 'theme' for it to return to XP appearance.
Another strange issue that comes up is that after a while, programs simply won't open. Programs that I've had open will continue to run (if a little slow, at times), but if I close out of them and try to open them again, they don't respond. Not even the Task Manager will come up at that point, and it also won't allow me to shut my computer down or restart it (I can go through the motions of shutting down, but it won't. I typically end up using the manual switch on the console once I've made sure there's nothing running). Once I turn my computer back on, the process starts again, and it works until the error comes up once more.
So, there's the first issue. The second issue may or may not be related, but is a lot quicker to explain.
When I'm using search engines, a list of normal results will come up, but often when I click on them I see it loading the real address for a moment, then it changes suddenly and redirects me. The tab will say 'Jump' or 'Redirect' on it. Some sites it sends me to are completely random (Good Housekeeping, Mayo Clinic, etc.) while others are 'search sites'--Tazinga in particular. I've learned that if I can quickly copy the URL before it jumps, then clear the address box and paste it back in, I can get to the site I want without issues. I have to admit it's a major pain, though (even though it has done wonders for my reflexes).
Here are some things I've already tried:
-Scanning with Malwarebytes - nothing was found. (I don't think the Generic Host Error is a virus, but the redirect certainly is)
-Scanning with Sunbelt Vipre - nothing was found.
-Checking system processes - CTRL + ALT + DELETE and looking at the processes tab to see if there's anything suspicious running or eating up my CPU. (Every so often, crss.exe will be eating up a LOT of CPU and slow down my computer considerably. However this doesn't happen very much, and restarting resolves the issue)
-Installing a Windows patch said to fix the Generic Host Error - it told me that I already had a more recent update than the patch, and therefore the patch was unnecessary.
-I've tried just about everything I can to get rid of the Generic Host issue, but none of the options I've found on computer help sites have done a thing (custom codes, opening and closing ports, running different processes)
And there we have it.
I'm very frustrated with this problem, but I'm hopeful that I can get it worked out somehow. I'm so sorry for the incredibly long post! Like I said, the other fellow up at the top appears to have the same problem, if he managed to describe it better.
Thank you so much for any help--I really appreciate it,
-Jen