Hi all, I had to join up and ask about this because I'm at my whits end with this problem. Recently, my computer has had problems with the display driver. It will be fine one moment, but as soon as I try to watch a video or play Minecraft, something graphics intensive in general, the screen will freeze, go black, and come back normal. A pop up message comes up saying that the display driver failed, but it has been successfully recovered. It'll be fine for a little bit, but then things go down hill again, and the screen does this: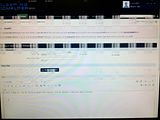 When I take a screen shot, the issue doesn't show up. Now I fixed it last week by reverting to an old display driver and running CHKDSK, and that fixed it. Now it has come back with vengeance as of last night, and nothing can fix it. I should also mention, this is a laptop, and nothing shows up on the actual laptop screen, I have to run it through a monitor to even see anything.
Some basics on my system:
Lenovo T61p
4GB Ram
nVidia Quadros FX570M graphics card
Windows Vista Business 32-bit
And in the off chance this could be some kind of malware, I have run ComboFix and HijackThis, and can provide logs if needed. All I really need is some advice, because this is driving me up a wall now.
Thanks a bunch in advance.