Greetings all.
In the past few days I'm having a problem with my ADSL connection. To put it briefly, it's VERY slow for no apparent reason.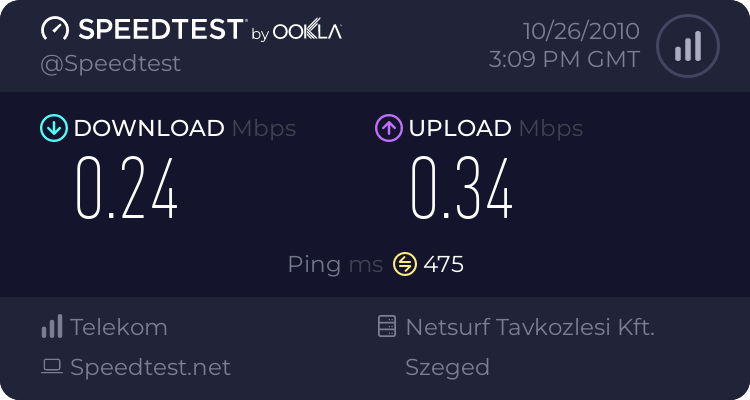 You see, I'm from Hungary. My ISP is Magyar Telekom, and I've got a guaranteed speed of 1Mb/s, and a maximum of 5Mb/s. Before this problem I was around 3Mb/s, rarely reaching 5. Now it's common to have a >1Mb/s speed.
It's the same if I use my router or not. There are 2 PCs at home, both having the same slow speed. A friend of mine tried this: He plugged the ethernet cable into his Dell notebook, and he had maximum speed.
Also, I have a "limited or no connectivity" error with my local connection.
Checked with Ad-aware and Spybot S&D, neither found anything.
If you folks need any information about my PC (and probably you will), don't hesitate to ask, I'm going to check this often. Also, I'm not very similar with these kind of problems, so please don't assume too much.
Thanks for your time.
-Sanyi
EDIT: Sorry for posting in wrong forum.
Edited by ShanyiBacsi, 26 October 2010 - 12:29 PM.
Moved from XP forum to Networking ~ Hamluis.