I am running on Windows XP, everything is up to date for security. I am running Avast Free for security, and I use Mozilla Firefox. I went to a site and the Avast went crazy, and then a never ending series of windows started popping up and wouldn't stop no matter what I tried, so I did a forced shut down. When I rebooted I had what I now know more about(thanks to bleeping) to be ThinkPoint, however, I did not deal with Thinkpoint with the help of the bleepingcomputer removal help. What I did was reboot again in Safe Mode when I saw ThinkPoint would not let me into Windows. I dont recall what removal tool I used, it was either Malwarebytes or Spybot S&D, or a combo of both maybe... anyway, it seemed to work, and the next reboot not in Safe Mode brought me to Windows just fine with no more ThinkPoint. What I then did thinking everything was safe, was I went back onto Mozilla to browse the web, but it was set to boot up where Firefox last left off, and brought me right back to where I got the Virus!! So after I restarted, there was no ThinkPoint program again, but my Avast is blocking something, and I am not sure what it is. I have ran just about every program I can get my hands on to try to locate the problem, but nothing is removing it. I have tried the 2 I mentioned already, Avasts scan, AVG's Scan, and others, but no luck. AVG is blocking whatever it is, over and over and over again, eventually there is a win32 error and everything reverts to Windows98 looking windows. Like I said, Avast is blocking it, but something keeps trying to attack regardless of what sites I am viewing, and there is the occasional new window launch of some random advertising site, or just now, it booted up the "channel 5 news" website. Its not "taking over" but its there, and its effecting my programs and such(for example, at the moment I cant open Itunes or photoshop, I click, but nothing happens), and it must leave!
Here are the last 2 status message from Avast when it detected a threat. It just blocks the threat, but leaves no indication of what to do about it!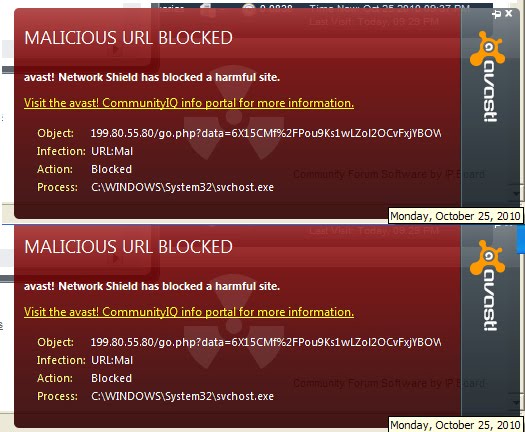 Any ideas of how I can get back to normal!?