Good Old Games is a popular online site that sells games that are no longer available for retail purchase. When visitors went to the site today, instead of seeing the usual catalog of games to purchase, they were greeted with a message that implied that Gog.com was either shutdown or closing business.
The first message that visitors were greeted with was:
Dear GOG users, We have recently had to give serious thought to whether we could really keep GOG.com the way it is. We've debated on it for quite some time and, unfortunately, we've decided that GOG.com simply cannot remain in its current form. We're very grateful for all support we've received from all of you in the past two years. Working on GOG.com was a great adventure for all of us and an unforgettable journey to the past, through the long and wonderful history of PC gaming. This doesn't mean the idea behind GOG.com is gone forever. We're closing down the service and putting this era behind us as new challenges await. On a technical note, this week we'll put in place a solution to allow everyone to re-download their games. Stay tuned to this page and follow us on Twitter and Facebook for updates. All the best, GOG.com Team
This obviously concerned many users who had recently purchased games and had not had the time to download their purchases or for those who needed to download older purchases. This message must have come across to team being Gog.com as they posted a subsequent message that states:
UPDATE 20.09.2010 First of all, we apologize everyone for the whole situation and closing GOG.com. We do understand the timing for taking down the site caused confusion and many users didn't manage to download all their games. Unfortunately we had to close the service due to business and technical reasons. At the same time we guarantee that every user who bought any game on GOG.com will be able to download all their games with bonus materials, DRM-free and as many times as they need starting this Thursday. The official statement from GOG.com's management concerning the ongoing events is planned on Wednesday. If you want to receive further information about GOG.com, please send an email to update_media@gog.com if you're a media representative or to update_users@gog.com if you're a user without a GOG account.
The messages left on the main site are cryptic at best and really don't lean one way or the other in regards to whether the site is closing or just shutdown for some reason. The fact that they also plan on making an official announcement on Wednesday and state that they will have a service available to download old games on Thursday makes me feel that they are actually going to introduce a new version of the site instead of actually closing down GOG for good.Further digging around shows that there is a a domain registered by the owners of GOG called Gogbeta.info. When you visit this site it takes you to a restricted page that requires a username and password. Is this a new version of GOG or just an old development site? I guess we just have to wait till tomorrow to find out.
Update: 9/20/10 - 5:51 PM EST
Further digging around points to this being a large marketing stunt and possibly the announcement of DRM being added to the titles from GOG. GOG prided itself on being DRM free, which allowed much more freedom for those who purchased games on the site. DRM free, though, probably made it so many developers refused to add DRM free title to their catalog. This is hinted at in a recent post to their twitter account as shown below.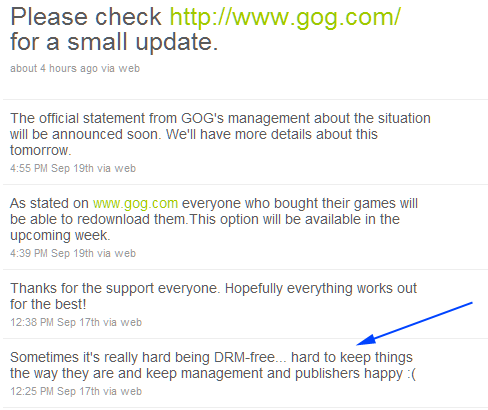 A post from Michal Kicinski, the CEO of CD Projekt, was also found on a Polish financial forum. This post told the readers not to panic after reading what would be posted on the GOG site. The link to the post is
here
(
Google Translate
).

Link: Good Old Games