First of all, thanks for taking your time in visiting this post. On with the problem:
I have a PC and a Laptop, both with WindowsXP Profesional SP3, and the very same version of CIS running. I have tried to connect to the Laptop from my PC and it SEEMS to work, as we can share files, and even play certain games via direct LAN link or through a Router (Rise Of Nations). However in some games, we experiment certain problems. For example, in Diablo 2, when the PC hosts the game and the laptop atempts to join, the laptop is unable to find the PC's IP (it displays "Cannot contact server"). However, if the laptop hosts, the PC can instantly connect to it without problem or delay. More puzzling is the fact if the PC pings the computer, it shows it has delivered the packets properly. However, the laptop cannot ping the PC for some unknown reason, stating that all the packets are lost. More troubling: the event log of the CIS Firewall on the PC lists the IP of the Laptop attempting to connect and automatically blocking it without warning or prompt.
I have basically configured both the laptop and the PC myself as I own both, so I am wide sure that there no other firewalling software meddling in the affair of both. I have tried several different things, but none have worked. The only difference between the configuration of both the CIS on the laptop and the PC are that the one of the laptop is plainly "out-of-the-box" while the one of the PC is very slightly tweaked here and there. Additionally, I am adding here an screencap of the Comodo Internet Security/Firewall/Network Security Policy/Global Rules on the PC: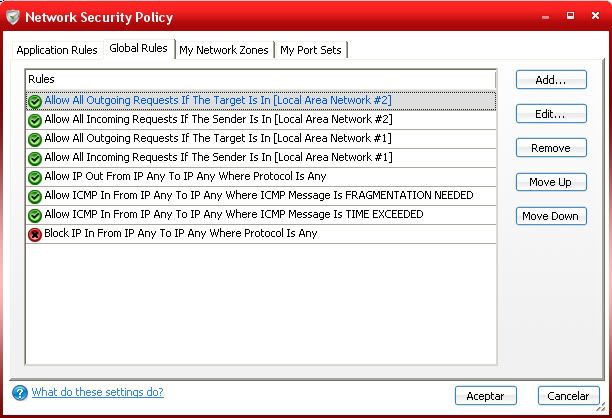 And the one from the LAPTOP: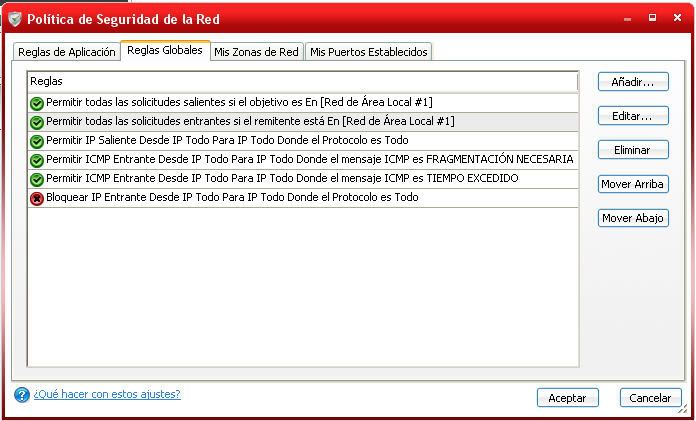 The LAPTOP is configured in spanish, mainly but, as you can see, the configuration is technically identical. Both computers have been tested connected through a router and through direct LAN link, and the results are exactly the same. Both have normal connectivity to the internet and, as I said, can share files without problems. So, if someone can grant me a hand, I will deeply thank you.