Hi guys,
I am using a WD7500 750gig external HDD. here is the low down of my system:
* Operating system: Windows 7 x64
* Laptop or Desktop: Laptop
* Brand and Model #: Acer Aspire 5534
* Type of Mouse: Logitech Wireless
* Type of Keyboard: Integrated Laptop Keyboard
* Amount of memory: 4 GB
* Motherboard model: Acer Aspire 5534
* Video card: ATI Radeon HD3200
Okay so yesterday night my computer stopped recognizing my external hdd. It shows up as a local disk and when I try to access it, it tells me it is corrupt. Also when I plug in the hdd it asks me if I want to reformat the device.
I have plugged it into my friend's mac and ubuntu and both of those os's can see and access the data just fine.
I have tried to run WD's firmware update for the model but it did nothing.
I did a chkdsk on it and here is the result:
The type of the file system is NTFS.
The current log file size is 65536 KB.
The default log file size for this volume is 65536 kb.
This is a recording of the noise it make when it is on it's side.
http://www.4shared.com/audio/t5l5M0ge/Harddrive.html
Currently it's not making the noise anymore. It's like the hdd is mocking me. It's doing everything perfectly now except for talking with my windows 7 machine. I also plugged it into a different win7 machine and that one also only saw the hdd as a local unusable drive.
I have tried uninstalling and updating the hdd's drivers in the device manager to no avail.
I don't know if this is related or not. But yesterday I was also removing alcohol 120% from my registry and, even though I was being very careful and only searching for things which had "alcohol" in it, I am open to the possibility that I removed something that was letting my computer recognize the drive. I have used the registry in the past to great effectiveness in removing troublesome programs (ie: malware that didn't want to leave), so I am not a total novice when it comes to working with it.
Here is a screen shot of my Disk Management, as you can see the chkdsk and what the disk is trying to tell the computer seem to be at odds: (The hdd is drive L:)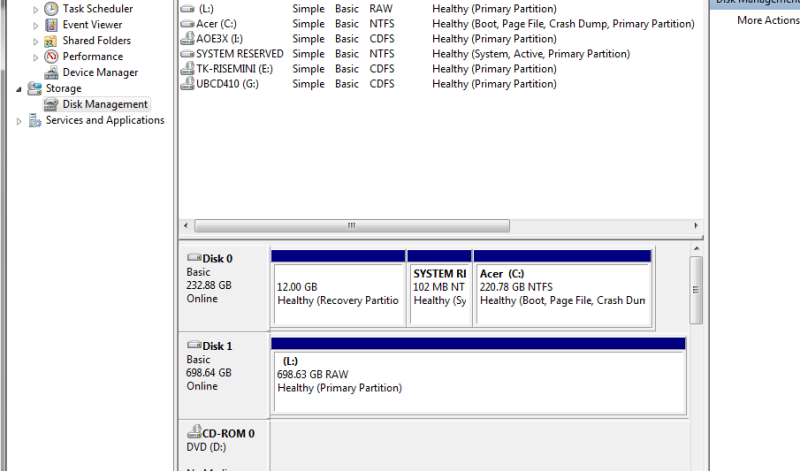 I have a 1 TB drive being delivered in a few days. Should I continue fighting this external or should I just get the new one, transfer the data and reformat this like it's asking?
I really appreciate any help you guys can give me. I am eager to learn how to prevent this in the future and how to repair it.