My onboard graphics is.. for the lack of a better word, crappy. I remembered that I have a graphics card packed up in office never used with old PC in 2008 and that it should be at least a step or two up from what comes onboard my current mainboard.
It is an ATI Radeon 9250 Video card and before I start the project of adding it to my machine I would like to ask if it will work.(Is it compatible with my mainboard?)
Mainboard: ECS GOAL3+ AMD Sempron 3000+ 754 SiS 761 GX Micro ATX Motherboard.
The motherboard has many open PCI slots and PCI-e slots[the orange ones] so I am pretty sure it will go fine, just need a second opinion on weather it will work & maybe a basic set of instructions from someone who has more experience than I - I have replaced mainboards, memory, CPU/processor, power supply, but never added a graphics card.
Attached is a photo of the mainboard, just incase it helps. (not my mainboard, just a photo of an identical model found online)
I also DO NOT have the CD including the drivers for the ATI Radeon 9250 - Anywhere a reliable source for the drivers?
Thanks
ChrisMN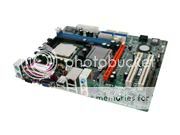 Edited by ChrisMN, 24 August 2010 - 12:52 AM.