Hello, my name is Jeremy.

I'm currently using:

OS - Windows XP SP3

BROWSER - Firefox

ANTI-VIRUS - Norton Security Suite 3

ANTI-MALWARE - Malwarbytes

(If there are any other specifications you need to know please ask me)



So what happens is...

I boot my computer up. Then I usually open Firefox. Either instantly or after a few minutes after opening Firefox, I get a Pop-up. Some of the pop-ups that come up are -

Registry Defender
7Share
Google
lpgen.info/mylpgen/prosper/
Registry Scanner
Naddren
localpages.com

SOMETIMES when the pop ups happen, my Norton will say "Norton has blocked a recent attack on your computer." After this occurs, one of my Svchost.exe processes will take up all of my CPU.

OTHER TIMES the pop ups will happen, and Norton will not say anything. OR Svchost.exe will start using my CPU without the pop up happening.

I asked Norton for help, they said I'm having Tidserv requests ( No clue what that mean )

Sometimes norton finds "Bloodhound.malpe"

Things I've tried -

Malwarebytes scan
Norton Scan
Upgrading to XP Sp3
Downloading the update that "patches" this bug
Researching ways how to fix this.

I think it's malware...I honestly don't know though.

If you need any other information, please ask.


EDIT :

An attack on my computer just happened.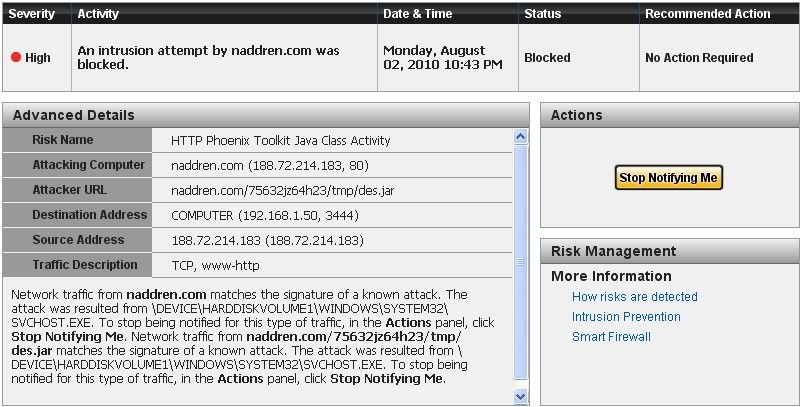 After this popped up, I hear a noise. I don't know what the noise is called, but for instance, let's say you try to delete something and you can't delete it - that's the sound that comes on. But there are no windows.

EDIT: Moved from XP forum to Am I Infected ~ Hamluis.
Edited by 'Cardiac, 03 August 2010 - 03:33 AM.
Edited to improve readability by removal of excess blank lines ~ Hamluis.