Bored, so I am posting about something that has made things alot better for me with my computer. I was sick of wires everywhere a few weeks ago and couldn't figure out what to do about it. I bought a wireless mouse and keyboard and that helped, but I wanted a way to really clean up the mess. I started fishin around in the closet and found some rectangular stackable wire baskets that had some old clothes in them and thought maybe I could use one to help with the wire problem. Long story short, I came up with the idea of turning the basket over and attatching the two surge protectors I use for the computer to the sides of the basket using plastic ties. Then I went to Ace and got a pack of 12 plastic ties for like $2=>Ace is still the place. Then I just plugged in everything and put the power boxes attatched to some of the power cords on top of the inverted basket. No joke, this little thing has changed my life. I have no idea why, but having the wires off the ground makes things alot better. It's alot more orderly down there. Here's a picture: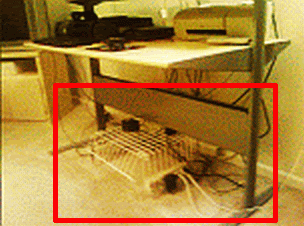 The basket was hard to find, so I hope you moderators will overlook the commercial link this time (they're good pics, too), but here's a link to get a $15.00 or less basket just like the one I used:
http://www.thefind.com/office/info-wire-stackable-basket
The first link is for Office Depot, if anybody has one of those around. Theirs is $14, but appears they at least have them in stock.
The desk is new, too, and it has helped. Found it on Craigslist for $35.00. Guy gave it to me, except that I had to drive 30 miles to get it. Anybody with any good ideas you've had post them, please. I haven't yet figured out how to bundle all the free wires. They still run everywhere, but at least the surge protectors are off the floor...
Edited by UpgradeMe, 28 June 2010 - 01:36 AM.