I am considering selling my desktop. For someone with a laptop only this machine would be a great machine for downloading and for desktop work...especially good for a student or yuppie. So what value do I place on the system? First, it's old, a Dell GX270. However, I bought it brand new in the box from a farmers' cooperative in 2009. They were keeping extras in case of problems. The machine plays all music files and everything video pretty much, so it's ready for watching movies, etc. Also, older PC games run flawlessly.
Here's a panorama and some pics: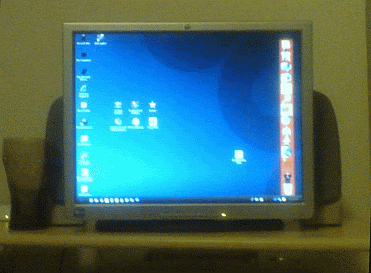 Here are the specs:
HARDWARE
Dell GX270 Small Desktop
Microsoft Windows XP Professional SP3
Intel socket 478 chipset i865GV
Intel Celeron 2.4 GHz Processor (Board supports Hyperthreaded processors for an upgrade)
210W Standard Power Supply
CD-R
Floppy Drive
160 GB Western Digital SATA HD
3 GB RAM 2x1024 DDR400 SuperTalent Dual Channel 2x512 Elixir DDR400 Dual Channel
Sound Blaster X-Fi Sound Card
6 USB ports 2 Front 4 Back
Network Card : Intel® PRO/1000 MT Network Connection (Plug and Play)
HP DVD840 16x USB 2.0 DVD±RW External DVD Drive w/LightScribe
Keyboard
Infrared Laser Mouse
Polk Audio Multimedia speakers (good sound)
17" HP 1740 Monitor (HP's first 64 bit monitor...GREAT monitor=>originally $375)
2Wire wireless router (awesome router works through 3 walls in my condo...and brand new!)
I also have alot of software on the machine. Even has a copy of MS Office 2003...
SOFTWARE
Productivity Software:
Microsoft Office 2003 (Totally loaded)
OpenOffice 3.2 (does some things better than Office)
Microsoft Works 7.0
Microsoft Money 2004
Microsoft Software Jukebox 2.0 (I kept this thinking MS might use it someday...pretty cool)
Internet Explorer 8.0
Firefox 3.5.6
Opera 10.10.1893
RealPlayer 11.1.1 6.0.14.944
Windows Media Player 11
QuickTime Media Player 7.6.5
Media Player Classic 1.3.1249.0 (Nice light player for movies and music with no playlists)
Windows Movie Maker 5.1.2600 SP3
Google Earth
Microsoft Paint
Notepad
Word Pad
Freeware Utilities:
Avast Free Antivirus (Up and running...just reregister each year for free when prompted)
RamRush (RAM regulator software..just mouse over System Bin to see CPU usage)
CCleaner (Registry Cleaner...runs on boot to empty temporary files)
RocketDock Program and Folder Dock
Defraggler (Schedulable Disk Defragmenter)
FBackup (Schedulable Backup Utility)
DriverMax (EXCELLENT free driver backup and update software)
Irfanview Picture Viewer, Editor, and Media Player
CPUID (PCWizard 2009 System Information program)
CPU-Z (CPU information)
SiSoftware Sandra Lite (Great benchmarking utility...uses the net to rank your PC)
BitTorrent (Torrent client...files download to My Documents/Downloads folder)
7Zip (Zip and extraction tool extracts many file formats including .rar)
Codec Detective (Great codec information software...finds all the codecs on your machine)
GiPo MoveOnBoot (A helpful utility for getting rid of files that won't delete)
SunVirtualBox (AWESOME virtual partitioning software for running an OS in Windows)
Recuva (Effective file recovery tool)
WeatherBug (Chirping is not a cricket in your system...I like seeing the temp in the A.M.)
SUPER Video Format Converter (Convert any video file format to any other format) 2010.38
VideoPad Video Editor (A more reliable and flexible version of Windows Movie Maker)
MagicDisk (Create virtual drives and play your favorite .iso games)
GifAnimator (Simple as it gets tool for making anigifs-use Office Picture Manager for multiple crops then drop them into
GifAnimator, set the frame times, and save)
NeoGeniX XP Theme (Real neon effects and great sounds...very cool..if you change from this theme and then back, you
will need to go to "Sounds and Audio Themes" in control panel and under the "Sounds" tab select "NeoGeniX" as your
sound theme to reestablish the sounds...the wallpapers are in Windows/Resources/Themes/NeoGeniX, but you can
start a wallpaper folder in your pictures folder and move them)
PaintItBlack XP Theme (Another great theme for XP...no sounds but you can use the NeoGeniX scheme)
Not installed:
Tazti Voice Recognition (Unblelievable reviews for this freeware, but I have no microphone)
AutoHotkey (Great for use with Tazti...all I need is a mic, and I am voicing every command
)
All these games run on the system. Games I have purchased over the years.
Games:
The Complete Heretic and Hexen Set (6 games)
Risk 2 (Great fun)
Hellbender (Great Microsoft PC game)
Arena The Elder Scrolls (Must play RPG)
Sierra Front Page Sports Football Pro '95 (just click to get by the login questions)
NHL 2002
NHL '93 (I have not been able to get my gamepad to calibrate...program runs fine)
Quake (Excellent Doom follow up)
Microsoft XP Internet Games
Microsoft XP Games
Not installed:
Star Wars: XWing (also pdf user manual)
XCOM: UFO Defence (also pdf manual with codes)
Falcon 3.0 (also pdf user manual)
Diablo
NHL 2000
Other Items:
Windows XP restore disk (original key on the machine box)
I was going to wipe the computer clean, but I think it's worth more with the softwares up and running. The schedualbles work and System Stand By is enabled and works. I have never set up an account in XP, and I have no profile in any of the software titles either. All that is necessary is for me to get rid of my Favorites/Bookmarks and Playlists, and the computer is ready to go. All the uninstallers are on the machine for all the freewares and games.
The great thing is the ease with which the parts of the system can be replaced. Most of the components are fairly new, but if a hard disk goes, the entire system can be replaced for a minimal cost. Just move over the RAM and the sound card and copy a backup of software to the new PC, and owner is up and running again. Great for sharing files with laptop to save the batteries.
So how much is this system worth in the PC marketplace?
Appreciate the help...I could use some jack, right now
EDIT: Moved from System Building/Upgrading to Internal Hardware ~ Hamluis.
Edited by hamluis, 21 June 2010 - 06:56 PM.