I make every attempt at being as thorough as possible, but I'll undoubtedly forget something, I'm sure.
I built this PC about 6 years ago while on a meager budget, and am wondering if it's time to finally upgrade. For the most part, this is the only PC I've used for the last 6 years, so I'm not sure if it's becoming sluggish, just old and outdated, or all of the above.
This PC has primarily been used for email, surfing, watching videos, and listening to music. Never been much of a "gamer". I've never had a feeling that it was becoming slow until a few days ago. I downloaded Full Tilt Poker, and that's where I began having issues. Most are probably not familiar with the program, so I'll do my best to explain.
When attempting to enter a tournament, you have to wait in the "lobby" for the designated time to register. When it's time to register, a button/icon will flash on the screen, and you must click the button/icon very quickly if you want to be one of the 250 players allowed to join the tournament. This often means you must be rapidly clicking the mouse at least seconds before the button/icon appears. A friend and I were playing on his PC without a single issue. We got in every single time. For some reason my PC seems to be less than responsive. I've attempted this several times on my PC, and have yet to get in a single tournament.
Anyway, Like I said, I built this PC about 6 years ago. Here is some info I think may be helpful.
I have cable internet access through Comcast @ 6 megs. Wired modem. I called Comcast, and everything appears to be functioning properly from their end.
I have no idea how accurate these sites are, but they seem to be the most recommended.
Speedtest.net results: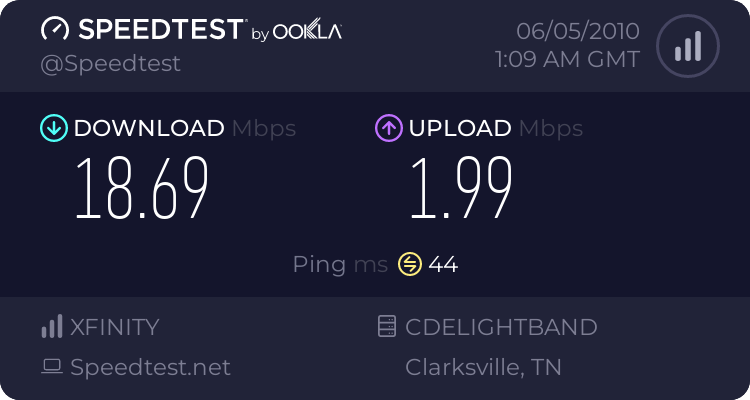 Speakeasy.net results:
Some helpful PC info:
As suggested here, I booted in Safe Mode and ran complete scans with my security software (SUPERAntiSpyware, Malwarebytes, Ad-Aware Pro, Trend Micro Antivirus plus Spyware). With the exception of 4 tracking cookies, everything was clear. I run one or more (generally more) of these on a daily basis. I also run CCleaner on a daily basis. While I'm thinking of it, does it generally take 4+ hours to run a complete scan in Safe Mode with SUPERAntiSpyware? If I recall correctly it scanned roughly 66,000 items. Just seems like an extra long time to me.
When I was having trouble playing Full Tilt Poker, I even disabled my security software just to see if that would make a difference. It did not. I was still unable to play the game.
I know I'm forgetting something, but that's all I can think of right now.
Thank you in adavnce.
*EDIT
I also ran a defrag (though it didn't really need it) and ScanDisk. I guess the ScanDisk took care of itself, because there was nothing on my screen mentioning it found errors or fixed anything. I've never used ScanDisk, so I'm not sure what to expect afer it's finished.
Edited by TripleDigitRide, 05 June 2010 - 09:42 AM.