Hi!
I had a thread on am I infected, and the person helping me told me to start a thread here.
My google and yahoo searches are being redirected to who knows where. When I do a google search and click on a link it sits for about 20-25 seconds and then redirects me to somewhere completely unrelated to whatever I was clicking on.
Whenever I click on a google or yahoo link it sits there saying "waiting for " whatever for like 15 seconds or more and then redirects to who knows where.
If I right click on the link and copy and paste the link into the browser it takes me right where it's supposed to go.
Clicking on this same link from a google search page:
hxxp://www.imdb.com/name/nm0000232/
has taken me to:
hxxp://www.aawaterjet.com/
hxxp://www.upliftsearch.com/?keyword=stone&aid=1893&cid=1692&subid=38628
hxxp://search.us.b00kmarks.com/view.php?q=what%20is%20health&f=613&affiliate=50406-38450
hxxp://www.superpages.com/bp/Pine-Bush-NY/David-J-Gros-Contracting-L2114561024.htm?lbp=1&PGID=midas112.8083.1275379860242.2099268102&bidType=CLIK&TR=1
hxxp://tridentityshield.com/products/free-trial.php?utm_source=LookSmart&utm_medium=plm&utm_campaign=Credit+Reporting&utm_extra=dim1/Credit+Reporting//dim2/Exact&utm_term=credit+bureaus
I'm running Windows XP Pro 64-bit. Redirects happen in both IE and firefox. Sometimes firefox crashes clicking on a link. Google Chrome and Safari seem to not be redirected, but I don't usually use those browsers. I usually run firefox.
He suggested I run defogger, which I did, but I'm still being redirected.
I read the preparation guide but I don't have any logs because DDS doesn't work on Windows XP Pro 64 and GMER didn't find anything.
dds said "this tool does not support your operating system." Again, I'm running Windows XP pro 64-bit.
when I ran gmer berfore (and now) the
system
sections
IAT/EAT
Devices
Modules
Processes
Threads
Libraries
are grayed out and unchecked.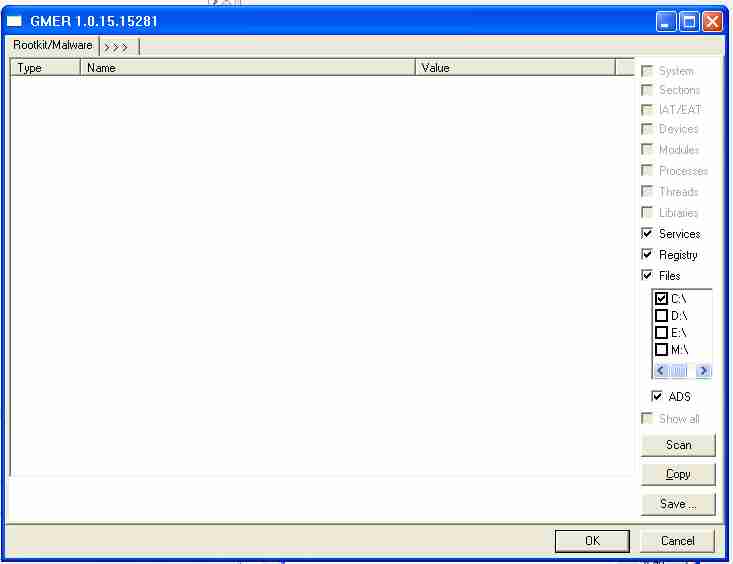 This is frustrating. Thanx for your help
Edited by Orange Blossom, 04 June 2010 - 04:06 PM.
Deactivate links. ~ OB