Hi guys.. I'm really having a big problem atm, and because you guys helped someone out already, mayb you can help me 2
I'm getting a message and I've tried many,many things to get rid of it, but it didn't help.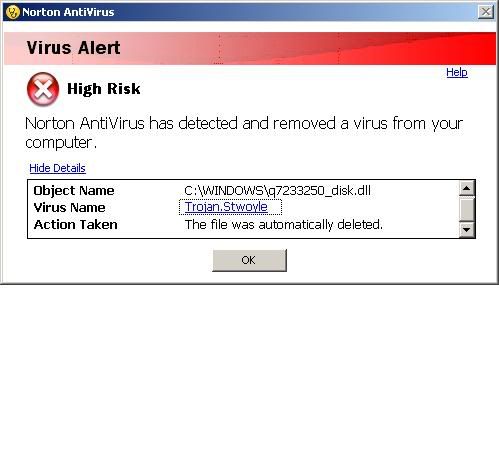 I've triend topics of other people with the same message and they all end up deleting something like " c:\program files\daily weather forecast\ " butI don't have that map at all. I've tried several online scans too. Like kaspersky and Ewido. And they did find stuff, and I've deleted them but still the virus is coming back
I tried a program like killbox (don't know if it's familiar to you guys) but again it came back. Some guys told me to instal win32delfkil.exe because they thought it was some sort of winstyle pest.
I can send you the log that was created in kaspersky and also my hjt-log if needed. PLEASE HELP ME!! I'll try anything to get rid of this JUNK!!
Many thanks.. FireFox
Edited by FalconFire, 06 October 2005 - 03:28 AM.