Ok, so I asked this on another microsoft forum, but the help they provided, well, didn't help.
So I had to do a factory restore on my laptop recently because a program called CSRXX.EXE, an apparent worm, took complete control of my computer. This "application" would come up every time I would start my computer. I tried doing system restores, but most of the time the system restore would cause an error and not work. It wouldn't even let me into safe mode. Eventually, my desktop wouldn't come up at all so...there was really no choice.
While all of this was happening, I managed to back up all my important files, mostly pictures, audio, and word documents on my external hard drive (Western Digital Elements 1TB). My external hard drive already had important programs backed up on it as well. I was hoping that this would work, but as it turns out this virus spreads through USB. I went to an online scanner called ESET and when i would look for things to scan the virus appeared on my external hard drive...however the scan didn't see it as a threat because it didn't pick it up. The virus appears as this on the scanner: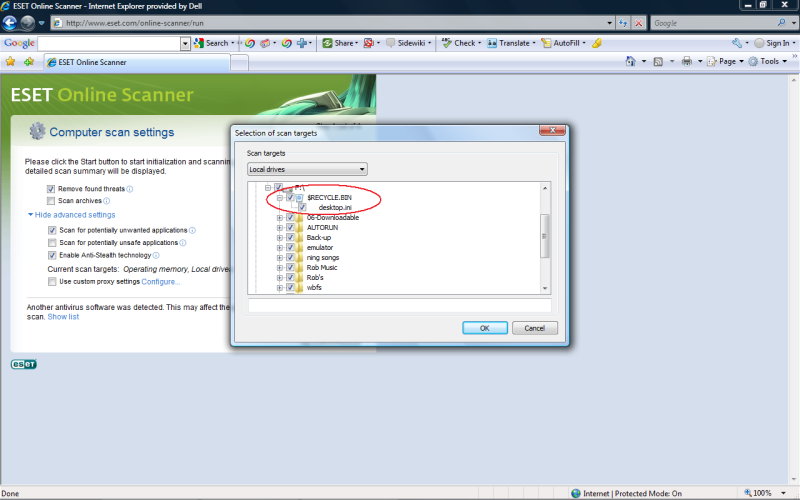 also, according to some research that's how the virus will appear.
Someone in an old thread said that they didn't see a virus. I opened up the ESET scan settings as well as my external HD and if you look: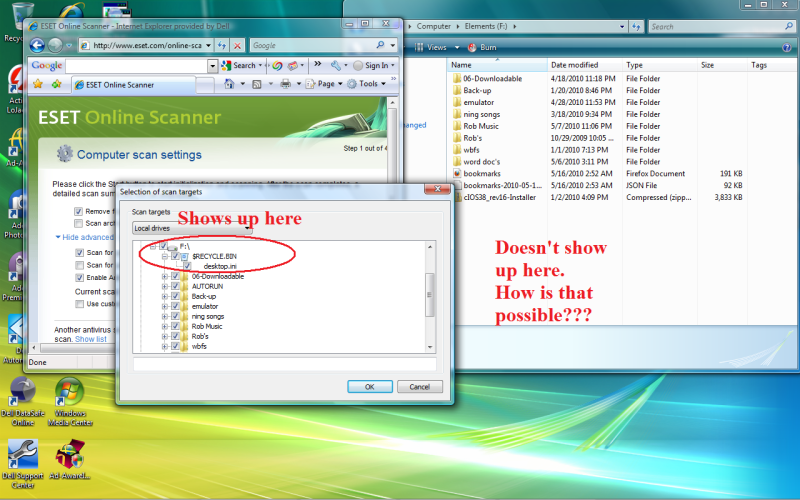 and if you cannot see what it says (since for some reason the picture looks smaller on photobucket)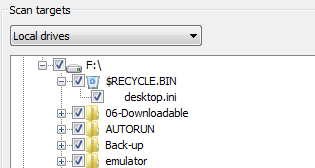 *my resources:
http://www.threatexpert.com/report.aspx?md...863da1cafea7b3f
http://www.microsoft.com/security/portal/T...tID=-2147337590
http://answers.yahoo.com/question/index?qi...2214425AAVQa3V
*
According to my research, the virus appears as invisible, but if detected it appears as a fake recycle bin with "desktop" inside of it.
Now I didn't move the files back on my computer, so as far as I know my laptop doesn't have the virus again.
The last forum I was on told me to run a program called Malwarebytes and Spybot, which did not find anything on my external HD. In fact, the only way I can tell if the virus is still there is if I do an ESET scan. The ESET scan won't find the virus during the scan, but if you try to tell the scanner what to scan, the virus can be seen (refer to pictures above).
I need the files and programs on my external HD. I am an artist, writer, and voice actor. I animate toons and voice in my own plus online toons. Plus some pictures I drew I got paid to draw, so I can't afford to lose any of these files. The programs I can always reinstall, but the pictures, documents, and audio I cannot replace...at all. So I am asking, is there any way I can rid myself of this virus without harming my files, or if there is any way to transfer my data without losing my files? Please I really cannot afford to lose these files.
Thank you in advance.
Rob R.
~Son