hey everyone.
I'vve browsed this site quiite a few times when i used XP back in the day but this my first time posting. I am also very tech illiterate so ill do my best to be clear.
50% of my RAM seems to allways be tied up while idleing at deskop. This is according to Norton and also one of the windows 7 gadgets (which i rarely use or keep on desktop). Ive only had windows 7 for the better part of 7 months or so and i havnt put to much on it which i dont think could account for the use of so much RAM.
As for the Coprossor problem. i dont even know what that is, ive tried the automatic update but nothing is found.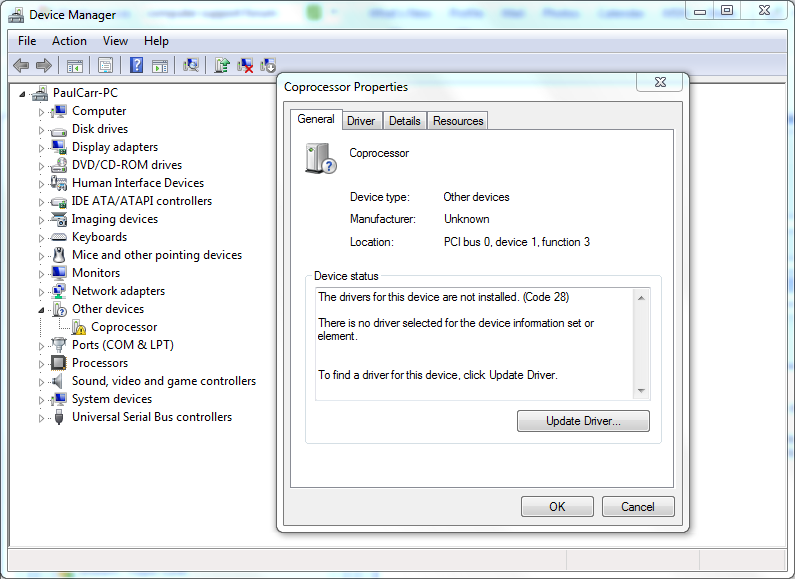 Device Status Device drivers are not installed. (Code 28)
And here are my specs. its some what of a first blind experiment build i enlisted help for.
PC Manufacturer To Be Filled By O.E.M.
Model To Be Filled By O.E.M.
Motherboard Manufacturer XFX
CPU AMD Athlon™ 64 X2 Dual Core Processor 5000+
Version AMD64 Family 15 Model 107 Stepping 2
Data Width 64bits
L2 Cache Size 1,024Kb
Approximate Current Clock Speed 2,600Mhz
Approximate Maximum Clock Speed 2,600Mhz
BIOS BIOS Date: 07/18/09 11:37:47 Ver: 08.00.15
Date 7/17/2009
Version 071809 - 20090718
Memory slots available on motherboard 4
Memory Chip DIMM0
RAM 1,024Mb
Speed 400ns
Memory Chip DIMM1
RAM 1,024Mb
Speed 400ns
System Slot AGP
Status In Use
System Slot PCI1
Status Available
CD Drive HL-DT-ST DVD-RAM GH22LP20 ATA Device
Media Type DVD Writer
Version 1.00
Video Manufacturer NVIDIA
Video Card NVIDIA GeForce 9800 GX2
RAM 512Mb
Mode 1680 x 1050 x 4294967296 colors
Driver nvd3dumx.dll,nvwgf2umx.dll,nvwgf2umx.dll,nvd3dum,nvwgf2um,nvwgf2um
Date 1/10/2010
Version 8.17.11.9621
Video Manufacturer NVIDIA
Video Card NVIDIA GeForce 9800 GX2
RAM 512Mb
Driver nvd3dumx.dll,nvwgf2umx.dll,nvwgf2umx.dll,nvd3dum,nvwgf2um,nvwgf2um
Date 1/10/2010
Version 8.17.11.9621
Video Manufacturer NVIDIA
Video Card NVIDIA GeForce 8200
RAM 128Mb
Driver nvd3dumx.dll,nvwgf2umx.dll,nvwgf2umx.dll,nvd3dum,nvwgf2um,nvwgf2um
Date 1/10/2010
Version 8.17.11.9621
Hard Disk Model ST3500320AS ATA Device
Interface IDE
Network Adapter Broadcom 802.11g Network Adapter
Service Name BCM43XX
Network Adapter Microsoft Virtual WiFi Miniport Adapter
Service Name vwifimp
Sound Manufacturer Microsoft
Model High Definition Audio Device
Printer Microsoft XPS Document Writer
Printer Microsoft Shared Fax Driver
Number of Logical CPUs Active 2
Plz help =)