Okay, I'm having some trouble with my internet connection. I just got a new (well, used) computer that I installed Fedora 12 onto. The problem now is to get a working internet connection onto it.
Background Info:
This is a picture of my current setup.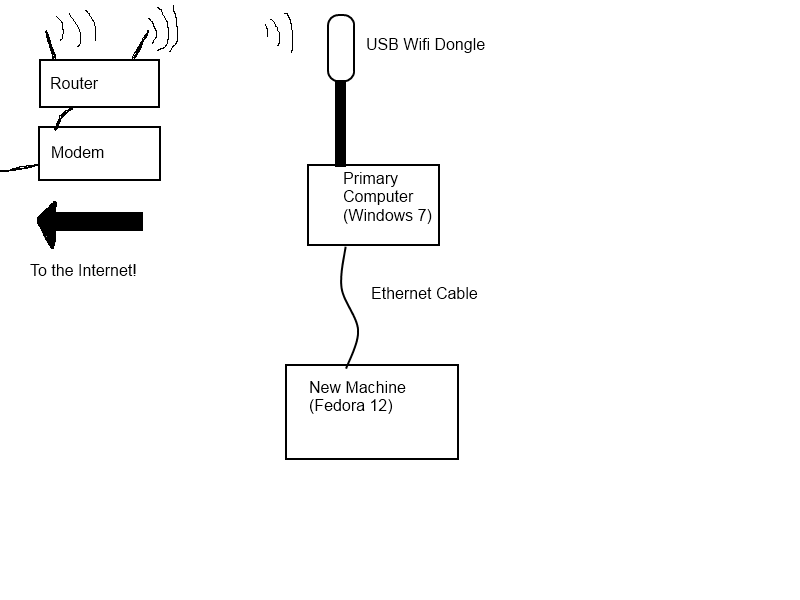 The new computer is connected via ethernet directly to the main computer.
I have tried "Internet Connection Sharing", but couldn't quite figure out how to make it work.
As of now I have my wireless network and ethernet network "bridged", and can access my router through the linux computer, but no internet. GAH!
Things may be more complex because my main computer (with Windows 7) has a static IP address. (192.168.1.136)
My router's IP is 192.168.1.1
I have the (new) Linux box connected straight to my main computer (again, via ethernet) and am using its static IP as the "Gateway".
Ideally, I would like to network my two computers, but in such a way that other computers connected to my modem would not be included.
As you can tell, I may have a vague understanding of how to work this network stuff, but not a working knowledge at all. Any help as to how to connect my new computer to my old one, as well as giving everyone an internet connection, would be greatly appreciated.