Hello,
I kept having problems removing desktop security 2010 from my computer, I followed all the steps listed in the uninstall guide found
here
, but every time I would reboot It would install its self again.
So after hours of searching the web for a fix I found a site with a helpful comment posted, it said to click start and in the searchbar type in 'msconfig' . When the menu comes up go to the 'Start-up' tab. You might find new lines with the files starting up each time you re-boot. Un-tick them.
When I did this I found a lot of files with an Unknown Manufacturer. So what I did was for every Unknown manufacturer I followed the path from the command list, for example you can see in the pic, one of them was:
MobileMeAppleSyncPrefLocalized1552610 Manufacturer: Unknown so I followed the command path which led me to
c:\program files (x86)\common files\apple\mobile device support\bin\applesyncpref.resources\nb.Iproj\mobilememobileme1500.exe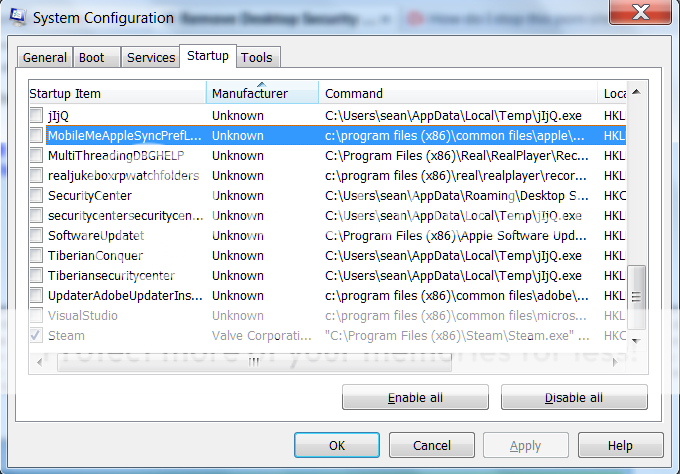 what I found was that it was an application and when Opened it started Desktop Security 2010, so I then right clicked it and went to properties and looked at when it was created, for me it was created 4/24/2010 9:51AM, so I now knew when the program first installed on my computer.
All of the ones you see in the picture and a few others that are unchecked where all the same Desktop Security 2010 Application.
I went through every Unknown manufacturer in the start up list and sure enough they all led me to an application which was created 4/24/2010 9:50AM or 9:51AM
So I deleted everything I could find that was created 4/24/2010 around 9:50AM especially the Applications. Alot of files where found in 'your computer name'\Appdata\temp and various other places (you have to do some digging) and all these files where missed by Malwarebytes even after 3 full Scans.
So I unchecked all the bad Uknowns I found in the 'start up' tab and clicked OK, I closed all programs and windows and ran Malwarebytes' Anti-Malware for the 4th time, when it was finished I rebooted. When it booted up Desktop Security 2010 was no where to be found
I just thought I'd share with others on how I got rid of it, maybe an admin or someone can edit this and correct things or improve upon it? or just delete it if this was bad advice, anyway I hope this helps