A few days ago I used internet explorer 8 for browsing again. I was just browsin' like I do with firefox all of the time and no problems. Now however, I get a popup for a fake antivirus program called 'Security Central' that within moments has infiltrated my taskbar and starts giving of fake antivirus warnings.
So, I kinda panicked and did the following
-Booted in safe mode and removed the executable
-Next, I uninstalled my no-good-for nothing trial version of McAfee and installed Nod32 with my paid subscription, let it run
-I installed (trial)MBAM, scan
They both removed some stuff; I didn't keep the logs
As far as I could see then, my computer was clean. There were no suspicious connections visible in tcpview and I could not discover anything with HJT.
However, when I went online with firefox, and searched for something with google, when I got to the results screen, Nod32 says that a connection is blocked. I prtscrnd them and got a couple of them together, for your enjoyement. It happens in the resultsscreen in google, bing, yahoo, photobucket. But not: wikipedia, hotmail and youtube (EDIT: if i navigate on twitter, facebook and myspace Nod32 also blocks connections). I didn't check if this happens with IE8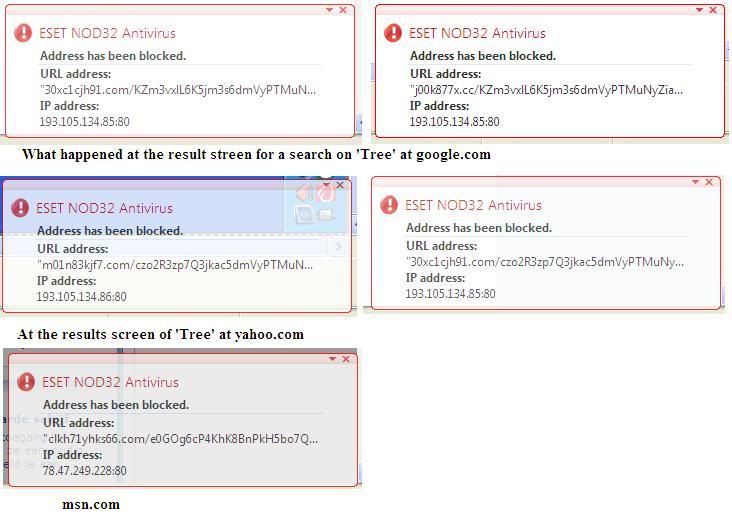 I thought maybe a reinstall of firefox might fix this, but also remove the lead that this (failed) redirect can prove to be; it might provides clues to the whereabouts of other latent viral sequences hidden in mah computer's genome.
It kinda bothers me that my browser is infiltrated, and although it is not sending my personal data to anyone or anything, it is still annoying as sh*t it tries to send me to places I don't want to go.
So, I came here because you people seem to be able to remove stuff normal people can't. I followed the directions in the preparations guide, so here is the log of dds:
CODE
DDS (Ver_10-03-17.01) - NTFSx86
Run by Tim at 10:44:44.93 on Fri 04/09/2010
Internet Explorer: 8.0.6001.18702 BrowserJavaVersion: 1.6.0_17
Microsoft Windows XP Professional 5.1.2600.3.1252.1.1033.18.2038.1194 [GMT 2:00]

AV: ESET NOD32 Antivirus 4.2 *On-access scanning enabled* (Updated) {E5E70D32-0101-4F12-8FB0-D96ACA4F34C0}

============== Running Processes ===============

C:\WINDOWS\system32\svchost -k DcomLaunch
svchost.exe
C:\WINDOWS\System32\svchost.exe -k netsvcs
C:\Program Files\WIDCOMM\Bluetooth Software\bin\btwdins.exe
C:\Program Files\Intel\Wireless\Bin\S24EvMon.exe
svchost.exe
svchost.exe
C:\WINDOWS\system32\spoolsv.exe
svchost.exe
svchost.exe
C:\Program Files\ESET\ESET NOD32 Antivirus\ekrn.exe
C:\Program Files\Intel\Wireless\Bin\EvtEng.exe
C:\Program Files\Intel\Intel Matrix Storage Manager\Iaantmon.exe
C:\Program Files\Intel\Wireless\Bin\RegSrvc.exe
C:\WINDOWS\system32\svchost.exe -k imgsvc
C:\WINDOWS\system32\wbem\wmiapsrv.exe
C:\Acer\Empowering Technology\eLock\Service\eLockServ.exe
C:\WINDOWS\Explorer.EXE
C:\Program Files\Intel\Intel Matrix Storage Manager\Iaanotif.exe
C:\WINDOWS\RTHDCPL.EXE
C:\WINDOWS\system32\igfxtray.exe
C:\WINDOWS\system32\igfxpers.exe
C:\Acer\Empowering Technology\ePresentation\ePresentation.exe
C:\Acer\Empowering Technology\ePower\ePower_DMC.exe
C:\Acer\Empowering Technology\eDataSecurity\eDSloader.exe
C:\Program Files\Synaptics\SynTP\SynTPEnh.exe
C:\WINDOWS\PCHealth\HelpCtr\Binaries\MSConfig.exe
C:\Program Files\ESET\ESET NOD32 Antivirus\egui.exe
C:\WINDOWS\system32\ctfmon.exe
E:\Program Files\Skype\Phone\Skype.exe
C:\WINDOWS\system32\igfxsrvc.exe
C:\Acer\Empowering Technology\Acer.Empowering.Framework.Launcher.exe
C:\WINDOWS\system32\wbem\unsecapp.exe
C:\DOCUME~1\Tim\LOCALS~1\Temp\RtkBtMnt.exe
E:\Tools\Firefox\firefox.exe
C:\WINDOWS\system32\mspaint.exe
C:\WINDOWS\system32\freecell.exe
E:\Download\antimalware\dds.scr

============== Pseudo HJT Report ===============

uStart Page = hxxp://www.google.com/
uSearch Page = hxxp://us.rd.yahoo.com/customize/ycomp/defaults/sp/*http://www.yahoo.com
uSearch Bar = hxxp://us.rd.yahoo.com/customize/ycomp/defaults/sb/*http://www.yahoo.com/search/ie.html
uSearchURL,(Default) = hxxp://us.rd.yahoo.com/customize/ycomp/defaults/su/*http://www.yahoo.com
uURLSearchHooks: Yahoo! Toolbar: {ef99bd32-c1fb-11d2-892f-0090271d4f88} -
BHO: Adobe PDF Reader Link Helper: {06849e9f-c8d7-4d59-b87d-784b7d6be0b3} - c:\program files\common files\adobe\acrobat\activex\AcroIEHelper.dll
BHO: Java(tm) Plug-In 2 SSV Helper: {dbc80044-a445-435b-bc74-9c25c1c588a9} - c:\program files\java\jre6\bin\jp2ssv.dll
BHO: JQSIEStartDetectorImpl Class: {e7e6f031-17ce-4c07-bc86-eabfe594f69c} - c:\program files\java\jre6\lib\deploy\jqs\ie\jqs_plugin.dll
TB: Acer eDataSecurity Management: {5cbe3b7c-1e47-477e-a7dd-396db0476e29} - c:\windows\system32\eDStoolbar.dll
TB: Yahoo! Toolbar: {ef99bd32-c1fb-11d2-892f-0090271d4f88} -
uRun: [ctfmon.exe] c:\windows\system32\ctfmon.exe
uRun: [Skype] "e:\program files\skype\phone\Skype.exe" /nosplash /minimized
mRun: [Preload] c:\windows\RUNXMLPL.exe
mRun: [IAAnotif] "c:\program files\intel\intel matrix storage manager\Iaanotif.exe"
mRun: [SynTPStart] c:\program files\synaptics\syntp\SynTPStart.exe
mRun: [RTHDCPL] RTHDCPL.EXE
mRun: [Alcmtr] ALCMTR.EXE
mRun: [IgfxTray] c:\windows\system32\igfxtray.exe
mRun: [HotKeysCmds] c:\windows\system32\hkcmd.exe
mRun: [Persistence] c:\windows\system32\igfxpers.exe
mRun: [Acer ePresentation HPD] c:\acer\empowering technology\epresentation\ePresentation.exe
mRun: [ePower_DMC] c:\acer\empowering technology\epower\ePower_DMC.exe
mRun: [Boot] c:\acer\empowering technology\epower\Boot.exe
mRun: [eLockMonitor] c:\acer\empowering technology\elock\monitor\LaunchMonitor.exe
mRun: [StarteLock] "c:\acer\empowering technology\elock\service\startelock.exe"
mRun: [eDataSecurity Loader] c:\acer\empowering technology\edatasecurity\eDSloader.exe 1
mRun: [eRecoveryService] c:\acer\empowering technology\erecovery\eRAgent.exe
mRun: [MSConfig] c:\windows\pchealth\helpctr\binaries\MSConfig.exe /auto
mRun: [egui] "c:\program files\eset\eset nod32 antivirus\egui.exe" /hide /waitservice
StartupFolder: c:\docume~1\alluse~1\startm~1\programs\startup\acerem~1.lnk - c:\acer\empowering technology\Acer.Empowering.Framework.Launcher.exe
IE: E&xport to Microsoft Excel - c:\progra~1\micros~2\office12\EXCEL.EXE/3000
IE: Send to &Bluetooth Device... - c:\program files\widcomm\bluetooth software\btsendto_ie_ctx.htm
IE: {CCA281CA-C863-46ef-9331-5C8D4460577F} - c:\program files\widcomm\bluetooth software\btsendto_ie.htm
IE: {e2e2dd38-d088-4134-82b7-f2ba38496583} - %windir%\Network Diagnostic\xpnetdiag.exe
IE: {FB5F1910-F110-11d2-BB9E-00C04F795683} - c:\program files\messenger\msmsgs.exe
IE: {2670000A-7350-4f3c-8081-5663EE0C6C49} - {48E73304-E1D6-4330-914C-F5F514E3486C} - e:\progra~1\micros~1\office12\ONBttnIE.dll
IE: {92780B25-18CC-41C8-B9BE-3C9C571A8263} - {FF059E31-CC5A-4E2E-BF3B-96E929D65503} - e:\progra~1\micros~1\office12\REFIEBAR.DLL
DPF: {41564D57-9980-0010-8000-00AA00389B71} - hxxp://download.microsoft.com/download/0/A/9/0A9F8B32-9F8C-4D74-A130-E4CAB36EB01F/wmvadvd.cab
DPF: {8AD9C840-044E-11D1-B3E9-00805F499D93} - hxxp://java.sun.com/update/1.6.0/jinstall-1_6_0_17-windows-i586.cab
DPF: {CAFEEFAC-0016-0000-0017-ABCDEFFEDCBA} - hxxp://java.sun.com/update/1.6.0/jinstall-1_6_0_17-windows-i586.cab
DPF: {CAFEEFAC-FFFF-FFFF-FFFF-ABCDEFFEDCBA} - hxxp://java.sun.com/update/1.6.0/jinstall-1_6_0_17-windows-i586.cab
Notify: igfxcui - igfxdev.dll

================= FIREFOX ===================

FF - ProfilePath - c:\docume~1\tim\applic~1\mozilla\firefox\profiles\ipjilp22.default\
FF - plugin: f:\bleep\real alternative\browser\plugins\nppl3260.dll
FF - plugin: f:\bleep\real alternative\browser\plugins\nprpjplug.dll
FF - HiddenExtension: Microsoft .NET Framework Assistant: {20a82645-c095-46ed-80e3-08825760534b} - c:\windows\microsoft.net\framework\v3.5\windows presentation foundation\dotnetassistantextension\
FF - HiddenExtension: Java Console: No Registry Reference - e:\tools\firefox\extensions\{CAFEEFAC-0016-0000-0017-ABCDEFFEDCBA}

---- FIREFOX POLICIES ----
e:\tools\firefox\greprefs\all.js - pref("ui.use_native_colors", true);
e:\tools\firefox\greprefs\all.js - pref("ui.use_native_popup_windows", false);
e:\tools\firefox\greprefs\all.js - pref("browser.enable_click_image_resizing", true);
e:\tools\firefox\greprefs\all.js - pref("accessibility.browsewithcaret_shortcut.enabled", true);
e:\tools\firefox\greprefs\all.js - pref("javascript.options.mem.high_water_mark", 32);
e:\tools\firefox\greprefs\all.js - pref("javascript.options.mem.gc_frequency", 1600);
e:\tools\firefox\greprefs\all.js - pref("network.auth.force-generic-ntlm", false);
e:\tools\firefox\greprefs\all.js - pref("svg.smil.enabled", false);
e:\tools\firefox\greprefs\all.js - pref("ui.trackpoint_hack.enabled", -1);
e:\tools\firefox\greprefs\all.js - pref("browser.formfill.debug", false);
e:\tools\firefox\greprefs\all.js - pref("browser.formfill.agedWeight", 2);
e:\tools\firefox\greprefs\all.js - pref("browser.formfill.bucketSize", 1);
e:\tools\firefox\greprefs\all.js - pref("browser.formfill.maxTimeGroupings", 25);
e:\tools\firefox\greprefs\all.js - pref("browser.formfill.timeGroupingSize", 604800);
e:\tools\firefox\greprefs\all.js - pref("browser.formfill.boundaryWeight", 25);
e:\tools\firefox\greprefs\all.js - pref("browser.formfill.prefixWeight", 5);
e:\tools\firefox\greprefs\all.js - pref("html5.enable", false);
e:\tools\firefox\greprefs\security-prefs.js - pref("security.ssl.allow_unrestricted_renego_everywhere__temporarily_available_pref", true);
e:\tools\firefox\greprefs\security-prefs.js - pref("security.ssl.renego_unrestricted_hosts", "");
e:\tools\firefox\greprefs\security-prefs.js - pref("security.ssl.treat_unsafe_negotiation_as_broken", false);
e:\tools\firefox\greprefs\security-prefs.js - pref("security.ssl.require_safe_negotiation", false);
e:\tools\firefox\greprefs\security-prefs.js - pref("security.ssl3.rsa_seed_sha", true);
e:\tools\firefox\defaults\pref\firefox-branding.js - pref("app.update.download.backgroundInterval", 600);
e:\tools\firefox\defaults\pref\firefox-branding.js - pref("app.update.url.manual", "http://www.firefox.com");
e:\tools\firefox\defaults\pref\firefox-branding.js - pref("browser.search.param.yahoo-fr-ja", "mozff");
e:\tools\firefox\defaults\pref\firefox.js - pref("extensions.{972ce4c6-7e08-4474-a285-3208198ce6fd}.name", "chrome://browser/locale/browser.properties");
e:\tools\firefox\defaults\pref\firefox.js - pref("extensions.{972ce4c6-7e08-4474-a285-3208198ce6fd}.description", "chrome://browser/locale/browser.properties");
e:\tools\firefox\defaults\pref\firefox.js - pref("xpinstall.whitelist.add", "addons.mozilla.org");
e:\tools\firefox\defaults\pref\firefox.js - pref("xpinstall.whitelist.add.36", "getpersonas.com");
e:\tools\firefox\defaults\pref\firefox.js - pref("lightweightThemes.update.enabled", true);
e:\tools\firefox\defaults\pref\firefox.js - pref("browser.allTabs.previews", false);
e:\tools\firefox\defaults\pref\firefox.js - pref("plugins.hide_infobar_for_outdated_plugin", false);
e:\tools\firefox\defaults\pref\firefox.js - pref("plugins.update.notifyUser", false);
e:\tools\firefox\defaults\pref\firefox.js - pref("toolbar.customization.usesheet", false);
e:\tools\firefox\defaults\pref\firefox.js - pref("browser.taskbar.previews.enable", false);
e:\tools\firefox\defaults\pref\firefox.js - pref("browser.taskbar.previews.max", 20);
e:\tools\firefox\defaults\pref\firefox.js - pref("browser.taskbar.previews.cachetime", 20);

============= SERVICES / DRIVERS ===============

R1 ehdrv;ehdrv;c:\windows\system32\drivers\ehdrv.sys [2010-2-22 114984]
R1 epfwtdir;epfwtdir;c:\windows\system32\drivers\epfwtdir.sys [2010-2-22 95872]
R2 ekrn;ESET Service;c:\program files\eset\eset nod32 antivirus\ekrn.exe [2010-2-22 810120]
S3 NPF;NetGroup Packet Filter Driver;c:\windows\system32\drivers\npf.sys [2009-6-1 32512]

=============== Created Last 30 ================

2010-04-05 15:00:16 0 d-----w- c:\docume~1\tim\applic~1\Malwarebytes
2010-04-05 15:00:05 38224 ----a-w- c:\windows\system32\drivers\mbamswissarmy.sys
2010-04-05 15:00:02 20824 ----a-w- c:\windows\system32\drivers\mbam.sys
2010-04-05 15:00:02 0 d-----w- c:\docume~1\alluse~1\applic~1\Malwarebytes
2010-04-05 15:00:00 0 d-----w- c:\program files\Malwarebytes' Anti-Malware
2010-04-05 11:19:45 0 d-----w- c:\program files\ESET
2010-04-01 15:08:10 0 d-sh--w- c:\documents and settings\tim\PrivacIE
2010-03-31 23:00:27 383720 ----a-w- c:\documents and settings\tim\.recently-used.xbel
2010-03-29 17:45:00 0 d-sh--w- c:\documents and settings\tim\IETldCache
2010-03-29 16:48:11 0 d-----w- c:\windows\ie8updates
2010-03-29 16:45:50 0 dc-h--w- c:\windows\ie8
2010-03-29 16:44:13 64000 ------w- c:\windows\system32\dllcache\iecompat.dll
2010-03-29 16:44:08 594432 ------w- c:\windows\system32\dllcache\msfeeds.dll
2010-03-29 16:44:08 55296 ------w- c:\windows\system32\dllcache\msfeedsbs.dll
2010-03-29 16:44:08 247808 ------w- c:\windows\system32\dllcache\ieproxy.dll
2010-03-29 16:44:08 12800 ------w- c:\windows\system32\dllcache\xpshims.dll
2010-03-29 16:44:06 1985536 ------w- c:\windows\system32\dllcache\iertutil.dll
2010-03-29 16:44:04 11070976 ------w- c:\windows\system32\dllcache\ieframe.dll
2010-03-28 20:02:43 6656 --sha-w- c:\windows\system32\Thumbs.db
2010-03-24 18:14:37 0 d-----w- C:\New Folder
2010-03-22 14:39:54 0 d-----w- c:\documents and settings\tim\.thumbnails
2010-03-22 14:33:05 0 d-----w- c:\documents and settings\tim\.gimp-2.6
2010-03-15 11:55:47 293376 ------w- c:\windows\system32\browserchoice.exe
2010-03-13 10:02:03 3558912 ------w- c:\windows\system32\dllcache\moviemk.exe

==================== Find3M ====================

2010-04-05 11:38:32 96512 ----a-w- c:\windows\system32\drivers\atapi.sys
2010-04-05 11:38:32 96512 ----a-w- c:\windows\system32\dllcache\atapi.sys
2010-02-25 06:24:37 916480 ----a-w- c:\windows\system32\wininet.dll
2010-02-25 06:24:37 916480 ------w- c:\windows\system32\dllcache\wininet.dll
2010-02-25 06:24:37 611840 ------w- c:\windows\system32\dllcache\mstime.dll
2010-02-25 06:24:37 206848 ------w- c:\windows\system32\dllcache\occache.dll
2010-02-25 06:24:37 1209344 ------w- c:\windows\system32\dllcache\urlmon.dll
2010-02-25 06:24:36 5944832 ------w- c:\windows\system32\dllcache\mshtml.dll
2010-02-25 06:24:35 25600 ------w- c:\windows\system32\dllcache\jsproxy.dll
2010-02-25 06:24:35 184320 ------w- c:\windows\system32\dllcache\iepeers.dll
2010-02-25 06:24:34 387584 ------w- c:\windows\system32\dllcache\iedkcs32.dll
2010-02-24 09:54:25 173056 ------w- c:\windows\system32\dllcache\ie4uinit.exe
2010-02-22 14:51:10 95872 ----a-w- c:\windows\system32\drivers\epfwtdir.sys
2010-02-22 14:50:06 114984 ----a-w- c:\windows\system32\drivers\ehdrv.sys
2010-02-22 14:47:20 139192 ----a-w- c:\windows\system32\drivers\eamon.sys

============= FINISH: 10:45:53.65 ===============
And the other log is attached.
I couldn't run GMER because it keeps freezing on me, but that could be because I try and do some other stuff at the same time. Let me know if it's important, I will run it without doing anything else.
Please help me help myself! Thanks for reading and for you help!
greets,
tjwh
Acer travelmate 7720
WinXP Pro SP3
ESET NOD32 (paid subscription)
Edited by tjwh, 09 April 2010 - 05:07 AM.