OK, firstly hello and a huge thankyou to who ever looks at this....
About a week ago the missus was browsing the net on the home PC and yelled out to me whats this? and up on the screen there was a Windows Defender Pro screen saying we were infected with this that and the other, purchase now to remove etc etc...I had never installed any program like this and immediately suspected a virus so disconnected the internet connection and tried to click to exit the program but it continuously came back and would not go away.
I tried to run my own anti-virus software (ZoneAlarm Full version) to try and scan and remove it but I suspect the 'virus' was blocking me from opening it, no matter what I did I could not access my own anti-vir.
From there things went down hill, and bad.
I tried re-booting and got a BSOD (NoooOOOOooo! I cried) it was along the lines of ......Failed to launch RunDll32 is missing re-installing the app may fix the problem... Kept trying to boot back into windows and finally manged to get logged in via safe mode (windows XP) but still couldnt run any anti-vir.
Tried to run my copy of Spy-bot which worked and it picked up something called Virtumundo.dll (sp?) anyways, it showed the registry entry where it was and deleted it in regedit to try solve my problems, but it did nothing to help.
I tried making an image of my HDD to an external HDD using casperXP imaging program but kept getting all different kinds of errors......sh!t I hadn't done a backup for ages and had added alot of files and music which I did not want to loose...
Things went from bad to worse and I could no longer access windows...
I called my local PC doctor and told them I needed them to recover my data to my external HDD and Ill do a fresh install of windows to get rid of this virus/s..
So off to the local computer repair shop it went where they tried backing up my HDD to my external HDD but couldn't because it was faulty! so went and bought a new external HDD dropped it to the repair place and they successfully backed up everything to it. Phew.
The repair guy said as they were transferring the data, there own anti virus picked up and deleted some viruses so he said everything should be all clean.
I took my tower and external HDD home and used my windows recovery tools CD to reformat and install a fresh copy of windows which was done successfully.
Re-installed Zonealarm along with a few other programs itunes, anti-spyware, spybo,t spyware guard etc etc all good.
Zonealarm did a scan and found some trojan viruses and adware....WTF HOW DID IT GET ON MY SYSTEM after doing a fresh install......
Zonealarm quarantined the infected items some of which were in the restore section?
I have a Presario which has a C: drive for the main OS and a D: drive as the recovery partition.
I have attached a screen shot of what Zonealarm found here....if it helps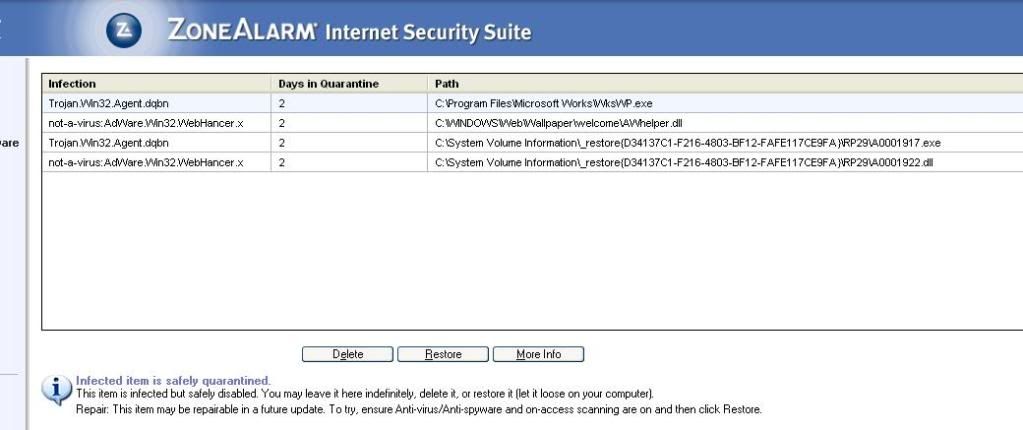 After all this I am now here, asking for help as I do not know what to do, or how to remove what ever is still hiding in my system.
I have followed the preperation guide for removing malware and have downloaded and ran the Defogger and run both DDS and GMER as requested
but
when I ran the GMER program it ran through the scan for around 5-10 minutes but then freezes and the whole system responds very very slowly then freezes completely requiring a hard reset.

I have run GMER 3 times now unsuccessfully and can not get it to complete its scan with-out the system freezing.? any ideas?
I will however attach the DDS results but can not attach anything for the GMER scan untill I get help with the mentioned problem.
EDIT: I DISABLED ALL ANTI-SPY & ANTI-VIR SOFTWARE AND MANAGED TO COMPLETE A GMER SCAN *SEE FILE ATTACHED*
Am I being paranoid?
is there anything actually on my system?
are they just false positives?
Please help me Im stuck and don't want to do any online banking or purchasing untill I get the all clear....
Thanks in advance,
Ash.
Attach.txt
12.5KB
7 downloads
DDS.txt
23.3KB
9 downloads
ark.txt
12.28KB
9 downloads
PS I work fulltime not near a computer so wont be able to respond instantly but will do as soon as I get home, thanks again.
Edited by ash1, 31 March 2010 - 12:08 AM.