This could be the wrong place, if so, sorry.....it seems I'm beset with computer issues at the minute. Fairly recently my windows live messenger has been showing me this: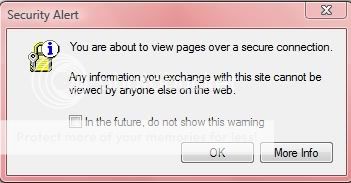 After making a 'clicking' sound as if I have selected something. Then it shows me the opposite warning (leaving secure connection). On one account I okayed it and it has completely stopped showing up, on another account I have not okayed it and it's still hassling me. My sibling has no such issue despite using the same program. My question is what does it mean 'leaving a secure connection'?
I got a new account and it's not bothering me on that one, either....just the one account keeps mentioning the secure thing....