Hello,
Any help would be appreciated on the following two issues.
1. Yesterday I caught a virus called "XP Anti Spyware 2010". I have removed this using SpyBot and MalwareBytes. Could you advise if it would be definitely removed? I believe it is but I don't want to use internet banking until I'm 100% sure.
2. Today I got another virus which is calling itself "Resident Shield Alert". It looks like a AVG pop up (please note I do not have the whole virus which looks similar to AVG, what I have is only a pop up window). The window pops up and reports I have a trojan or virus or cookie of some sort but the file name of the infection is always just one of my anti virus programs. It usually only opens when I open a virus scanner but other times it doesn't.
I have tried turning off the Shield Alert in AVG but then Windows security centre tells me I have no virus protection when I have several others.. ?
I have scanned my computer many times in both normal and Safe Mode using the follow free programs : Spybot, AVG, MalwareBytes and Advanced System Care. All programs show no infections after completion except ASC which only picks up a couple of cookies.
I'm not sure what to do next. Please help with any advice and could you let me know how dangerous it is (again, for banking reasons - I'm becoming neurotic). I'm using Windows XP (2003 I think) on a Compaq laptop - again let know if any more specifics are required ASAP. Also I can provide a screen cap if needed.
Thanks for any help!
- Ryou
EDIT : I know it may be possible that the Resident Shield Alert is part of AVG but it has never appeared before and I have used AVG for years. I would still like some help concerning whether or not it is indeed a virus as apparently there is one going around which looks exactly like AVG.
EDIT : I have added some picture's of the pop up below.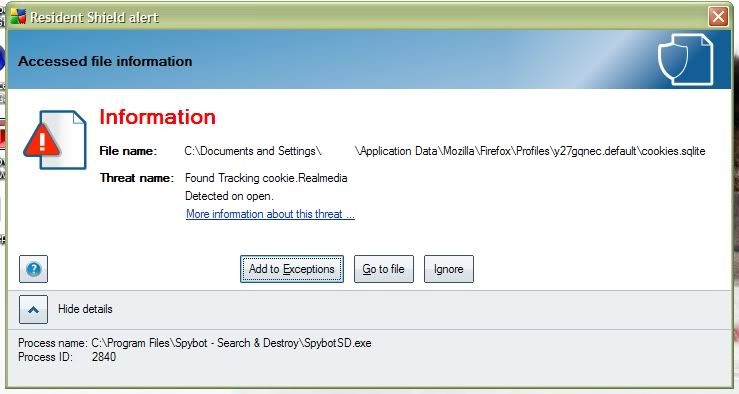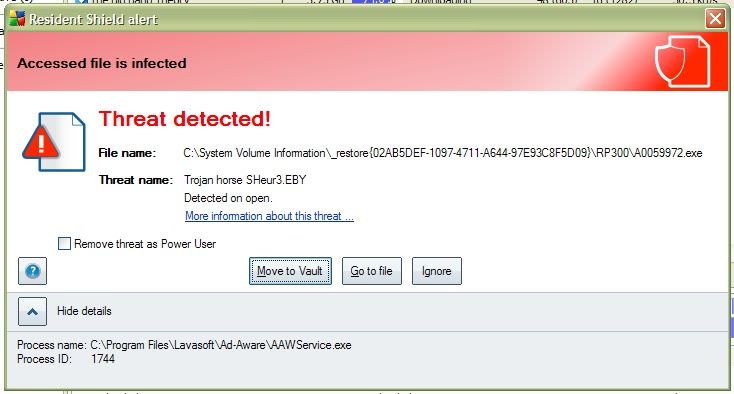 ALSO I have had a look at "Preparation Guide For Use Before Using Malware Removal Tools and Requesting Help.." but I want to confirm it is a infection before I complete the prep guide.
Edited by ryoutenshi, 15 March 2010 - 03:34 AM.