Hello,
Im new to the forum so hello
.
My PC was getting slow and I had loads of crap on it so I backed up certain files I wanted (scanned them with AVG and on totalvirus and they look fine). Then I uploaded it to Megaupload to get a hold of quickly.
I put in my Windows 7 disc and reinstalled it all (using 'custom install') thinking it would delete EVERYTHING then selected the partition (C drive, which was like 140GB I think). So I allowed it to install and it finished successfully. But as soon as I set up my account and was logged in, it was REALLY slow. It took ages to install the driver for my tenda wireless PCI adapter. Once that was done I installed my GFX card driver, connected to the internet ad installed all the other drivers and updates (while it was REALLY SLOW, using task manager I saw my CPU ussage was 100%, even when I wasnt doing anything). As soon as I did an update, it seemed to be an ok speed (not the kind of speed I was looking for, but it worked.
Then out of no-where I get BSOD. It wasnt up long, but I noticed it said 'hardware'. What first came to mind was my processor. So it restarts automatically, goes through booting process but before it loads up windows, it restarts again, then I get beebs coming out (when im aware means hardware problems).
So I leave it (it was like 3am last night) and go to bed. In the morning when I got up, I tried it and when booting into windows, it took a long long time. I clicked my user account, it was then stuck on that for about 2 mins then I got black screen and that was stuck for 5-10 mins. Then it did load up and CPU usage was 100%. There wee a few more updates, I installed a few programmes then restarted but this time it loaded up normally.
I then notice I have the 'Windows.old' folder with all my old files in it. Obviously It wasnt a fresh reinstall with everything deleted. This makes me think any viruses I had (Im sure I had 1 or 2) could still be with me. So I delete this file (googled to see if it was safe to delete and results suggested it was). It was 30GBs in size, but I still have 2 files left which wont go (apparently there not there) and I cant virus scan them either. They have odd file names (check pic). I can only see them when hidden files option is enabled.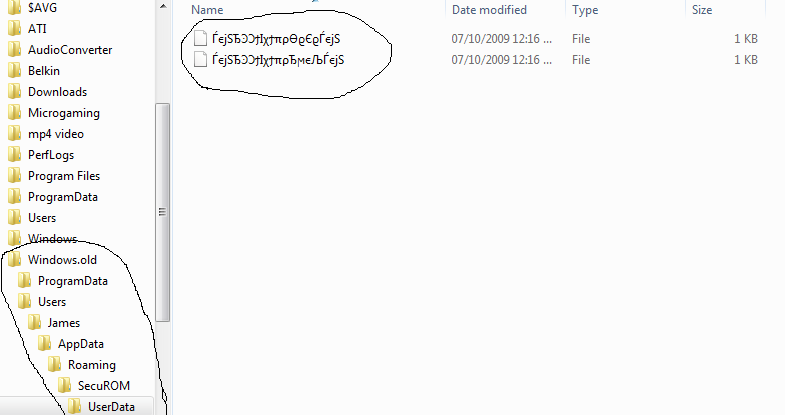 Iv received a few more 'Hardware' BSODs as well. At the moment my CPU usage is low, but can very easily go right up. I dont have the best CPU in the world, but it 'appears' to be slower then usual. Could it be a virus or will the damn thing need to be replaced? Its an
Intel Celron D 3.33 GHz
. Iv been thinking about an upgrade, just wont have any money for quite a while.
Iv just done an AVG scan and its found 2 trojans. When I go to the folder it was spotted, even having 'show hidden files' and 'show system files' enabled, I cant see them (before it was moved to the vault).

Any ideas? If it is a virus, will I be better off reinstalling Windows 7 again but as a FULLY clean install, including removing ALL previous files (I may need guidance as that was the original plan).
Thank you & have a great day.
Edited by forever_insane, 10 March 2010 - 01:48 PM.