My DXDiag is at the bottom.
I recently purchased a new computer. I moved my Linksys WMP-300N wireless adapter over to it and set it up succesfully, however it appears "too big". See pictures. I was told by another computer person I need a "half front plate".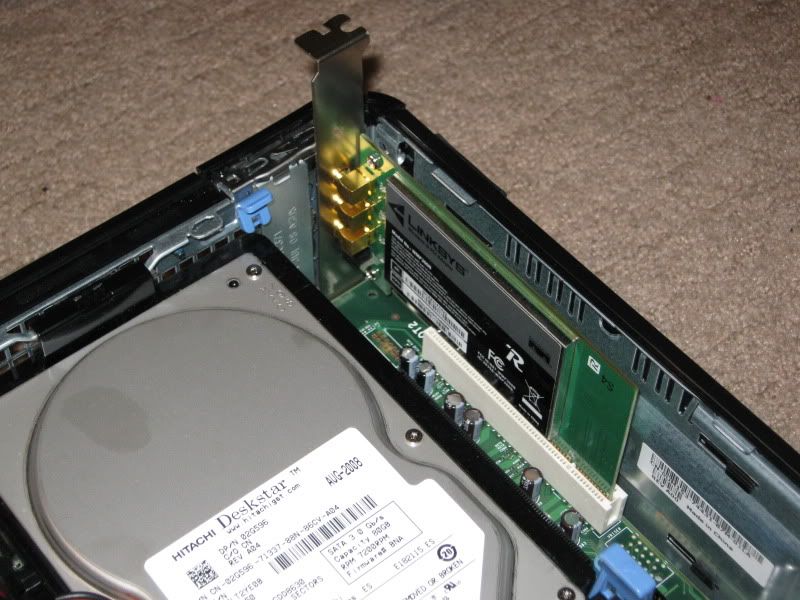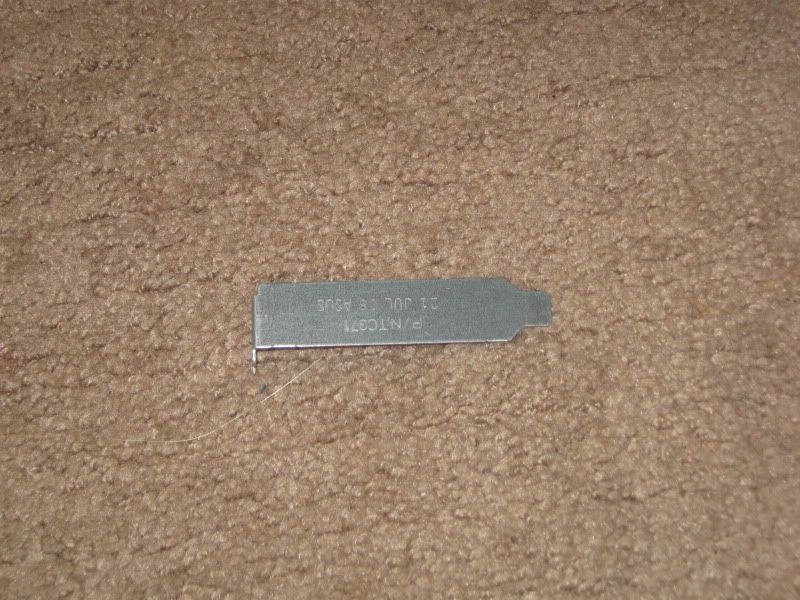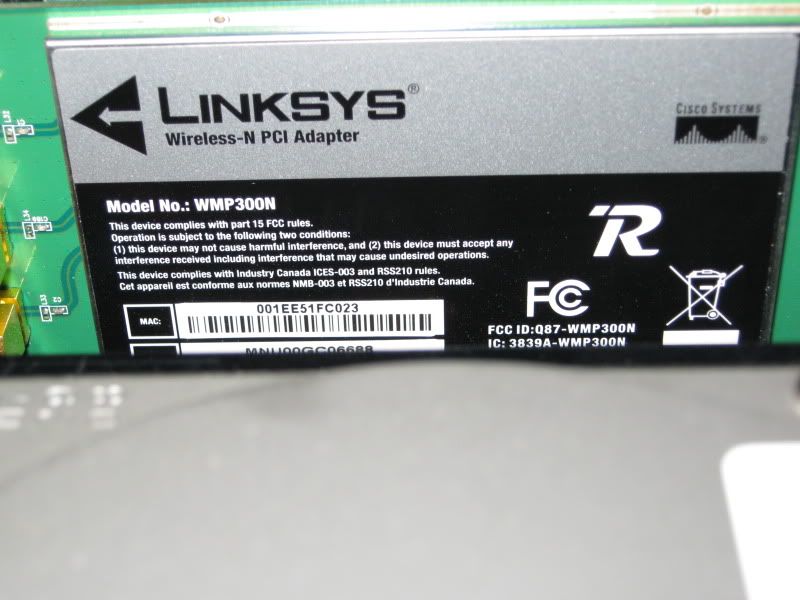 I simply unbolted the front plate from the adaptor and gently installed it and everything works fine. Does anyone know where I can get this front plate? I spent twenty minutes at 2PM EST on hold with Linsys's "award winning" sales/technical hotline only to have someone finally pick up and put the phone down after asking me to "please hold one more minute." Ten minutes of sitting there listening to foreign language in the background made me figure I was being ignored and hung up.
About the video card, I would assume by the looks of it that this Intel is built into the motherboard. If I add a video card to the available PCI-e 16x slot will I be able to run it off that and not rely on the built in? With how it's configured, I'd need a "half width" unit for the video card as well. The game I'd like to play lists requiring:
Operating System (OS)
# Microsoft Windows XP (with Service Pack 2)
# Microsoft Windows Vista
Processor (CPU)
# 3.0+ GHz Single Core CPU (Minimum)
# 2.4+ GHz Dual/Quad Core CPU (Recommended)
Memory (RAM)
# 1GB RAM (Minimum)
# 2GB RAM (Recommended)
Video Card
# Direct X 9.0c compliant, Shader 3.0 enabled video card with 256MB RAM (NVIDIA 6600 or better/ATI X1300 or better) (Minimum)
# Direct X 9.0c compliant, Shader 3.0 enabled video card with 512MB RAM (NVIDIA 7950 or better/ATI X1950 or better) (Recommended)
Sound Card
# Direct X 9.0c compliant sound card (Minimum)
# Creative EAX 4.0 compliant sound card (Audigy 2, X-Fi series) (Recommended)
Hard Drive Space
# 5GB free hard drive space
Network
# Broadband Internet Connection
I believe I meet or exceed all of these requirements. Are there any "hot ticket" video cards out on the market these days that will help me enjoy gaming on my new PC? (and the kicker, be small enough to fit in it). Here are some pictures of the slot I am working with: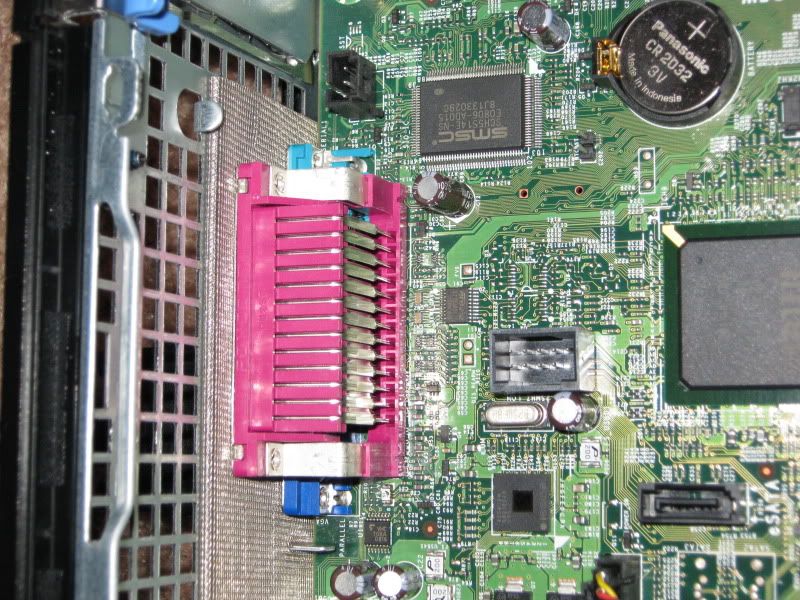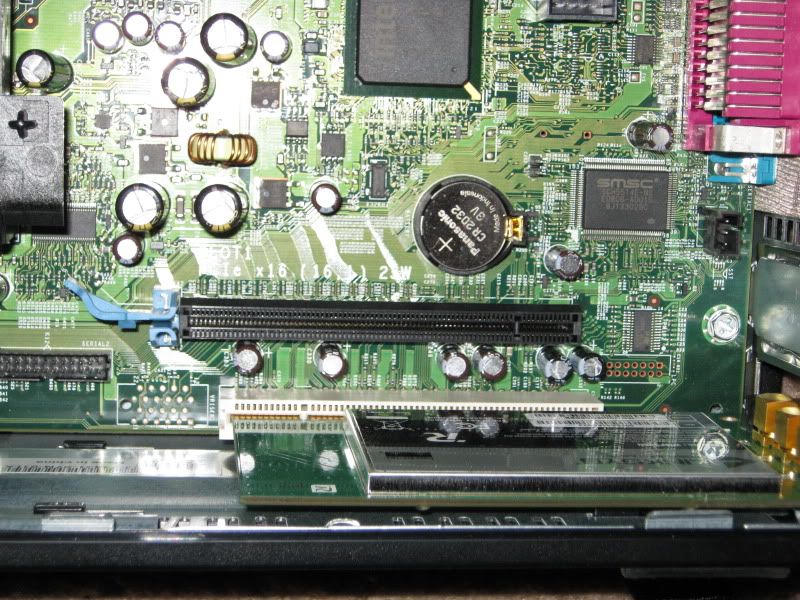 ------------------
System Information
------------------
Time of this report: 2/15/2010, 18:18:56
Machine name: USER-PC
Operating System: Windows 7 Professional 32-bit (6.1, Build 7600) (7600.win7_rtm.090713-1255)
Language: English (Regional Setting: English)
System Manufacturer: Dell Inc.
System Model: OptiPlex 755
BIOS: Phoenix ROM BIOS PLUS Version 1.10 A16
Processor: Intel® Core™2 Duo CPU E7200 @ 2.53GHz (2 CPUs), ~2.5GHz
Memory: 3072MB RAM
Available OS Memory: 3044MB RAM
Page File: 939MB used, 5148MB available
Windows Dir: C:\Windows
DirectX Version: DirectX 11
DX Setup Parameters: Not found
User DPI Setting: Using System DPI
System DPI Setting: 96 DPI (100 percent)
DWM DPI Scaling: Disabled
DxDiag Version: 6.01.7600.16385 32bit Unicode

------------
DxDiag Notes
------------
Display Tab 1: No problems found.
Sound Tab 1: No problems found.
Input Tab: No problems found.

--------------------
DirectX Debug Levels
--------------------
Direct3D: 0/4 (retail)
DirectDraw: 0/4 (retail)
DirectInput: 0/5 (retail)
DirectMusic: 0/5 (retail)
DirectPlay: 0/9 (retail)
DirectSound: 0/5 (retail)
DirectShow: 0/6 (retail)

---------------
Display Devices
---------------
Card name: Intel® Q35 Express Chipset Family (Microsoft Corporation - WDDM 1.0)
Manufacturer: Intel Corporation
Chip type: Intel® GMA 3100
DAC type: Internal
Device Key: Enum\PCI\VEN_8086&DEV_29B2&SUBSYS_02111028&REV_02
Display Memory: 256 MB
Dedicated Memory: 0 MB
Shared Memory: 256 MB
Current Mode: 1680 x 1050 (32 bit) (59Hz)
Monitor Name: Generic PnP Monitor
Monitor Model: L2210NW
Monitor Id: WDE5520
Native Mode: 1680 x 1050(p) (59.954Hz)
Output Type: HD15
Driver Name: igdumd32.dll
Driver File Version: 8.15.0010.1749 (English)
Driver Version: 8.15.10.1749
DDI Version: 9Ex
Driver Model: WDDM 1.0
Driver Attributes: Final Retail
Driver Date/Size: 7/13/2009 20:15:31, 3805184 bytes
WHQL Logo'd: Yes
WHQL Date Stamp:
Device Identifier: {D7B78E66-6AF2-11CF-4D75-1B22A2C2C535}
Vendor ID: 0x8086
Device ID: 0x29B2
SubSys ID: 0x02111028
Revision ID: 0x0002
Driver Strong Name: igdlh.inf:Intel.Mfg.NTx86...1:iBLB0:8.15.10.1749:pci\ven_8086&dev_29b2
Rank Of Driver: 00F42001
Video Accel: ModeMPEG2_A ModeMPEG2_C
Deinterlace Caps: {AEDC1D5D-8546-440E-AAB2-B69FA725AF82}: Format(In/Out)=(YUY2,YUY2) Frames(Prev/Fwd/Back)=(0,0,1) Caps=VideoProcess_YUV2RGB VideoProcess_StretchX VideoProcess_StretchY VideoProcess_AlphaBlend DeinterlaceTech_FieldAdaptive
{335AA36E-7884-43A4-9C91-7F87FAF3E37E}: Format(In/Out)=(YUY2,YUY2) Frames(Prev/Fwd/Back)=(0,0,0) Caps=VideoProcess_YUV2RGB VideoProcess_StretchX VideoProcess_StretchY VideoProcess_AlphaBlend DeinterlaceTech_BOBVerticalStretch
{5A54A0C9-C7EC-4BD9-8EDE-F3C75DC4393B}: Format(In/Out)=(YUY2,YUY2) Frames(Prev/Fwd/Back)=(0,0,0) Caps=VideoProcess_YUV2RGB VideoProcess_StretchX VideoProcess_StretchY VideoProcess_AlphaBlend
{AEDC1D5D-8546-440E-AAB2-B69FA725AF82}: Format(In/Out)=(UYVY,YUY2) Frames(Prev/Fwd/Back)=(0,0,1) Caps=VideoProcess_YUV2RGB VideoProcess_StretchX VideoProcess_StretchY VideoProcess_AlphaBlend DeinterlaceTech_FieldAdaptive
{335AA36E-7884-43A4-9C91-7F87FAF3E37E}: Format(In/Out)=(UYVY,YUY2) Frames(Prev/Fwd/Back)=(0,0,0) Caps=VideoProcess_YUV2RGB VideoProcess_StretchX VideoProcess_StretchY VideoProcess_AlphaBlend DeinterlaceTech_BOBVerticalStretch
{5A54A0C9-C7EC-4BD9-8EDE-F3C75DC4393B}: Format(In/Out)=(UYVY,YUY2) Frames(Prev/Fwd/Back)=(0,0,0) Caps=VideoProcess_YUV2RGB VideoProcess_StretchX VideoProcess_StretchY VideoProcess_AlphaBlend
{AEDC1D5D-8546-440E-AAB2-B69FA725AF82}: Format(In/Out)=(YV12,YUY2) Frames(Prev/Fwd/Back)=(0,0,1) Caps=VideoProcess_YUV2RGB VideoProcess_StretchX VideoProcess_StretchY VideoProcess_AlphaBlend DeinterlaceTech_FieldAdaptive
{335AA36E-7884-43A4-9C91-7F87FAF3E37E}: Format(In/Out)=(YV12,YUY2) Frames(Prev/Fwd/Back)=(0,0,0) Caps=VideoProcess_YUV2RGB VideoProcess_StretchX VideoProcess_StretchY VideoProcess_AlphaBlend DeinterlaceTech_BOBVerticalStretch
{5A54A0C9-C7EC-4BD9-8EDE-F3C75DC4393B}: Format(In/Out)=(YV12,YUY2) Frames(Prev/Fwd/Back)=(0,0,0) Caps=VideoProcess_YUV2RGB VideoProcess_StretchX VideoProcess_StretchY VideoProcess_AlphaBlend
{AEDC1D5D-8546-440E-AAB2-B69FA725AF82}: Format(In/Out)=(NV12,YUY2) Frames(Prev/Fwd/Back)=(0,0,1) Caps=VideoProcess_YUV2RGB VideoProcess_StretchX VideoProcess_StretchY VideoProcess_AlphaBlend DeinterlaceTech_FieldAdaptive
{335AA36E-7884-43A4-9C91-7F87FAF3E37E}: Format(In/Out)=(NV12,YUY2) Frames(Prev/Fwd/Back)=(0,0,0) Caps=VideoProcess_YUV2RGB VideoProcess_StretchX VideoProcess_StretchY VideoProcess_AlphaBlend DeinterlaceTech_BOBVerticalStretch
{5A54A0C9-C7EC-4BD9-8EDE-F3C75DC4393B}: Format(In/Out)=(NV12,YUY2) Frames(Prev/Fwd/Back)=(0,0,0) Caps=VideoProcess_YUV2RGB VideoProcess_StretchX VideoProcess_StretchY VideoProcess_AlphaBlend
{AEDC1D5D-8546-440E-AAB2-B69FA725AF82}: Format(In/Out)=(IMC1,YUY2) Frames(Prev/Fwd/Back)=(0,0,1) Caps=VideoProcess_YUV2RGB VideoProcess_StretchX VideoProcess_StretchY VideoProcess_AlphaBlend DeinterlaceTech_FieldAdaptive
{335AA36E-7884-43A4-9C91-7F87FAF3E37E}: Format(In/Out)=(IMC1,YUY2) Frames(Prev/Fwd/Back)=(0,0,0) Caps=VideoProcess_YUV2RGB VideoProcess_StretchX VideoProcess_StretchY VideoProcess_AlphaBlend DeinterlaceTech_BOBVerticalStretch
{5A54A0C9-C7EC-4BD9-8EDE-F3C75DC4393B}: Format(In/Out)=(IMC1,YUY2) Frames(Prev/Fwd/Back)=(0,0,0) Caps=VideoProcess_YUV2RGB VideoProcess_StretchX VideoProcess_StretchY VideoProcess_AlphaBlend
{AEDC1D5D-8546-440E-AAB2-B69FA725AF82}: Format(In/Out)=(IMC2,YUY2) Frames(Prev/Fwd/Back)=(0,0,1) Caps=VideoProcess_YUV2RGB VideoProcess_StretchX VideoProcess_StretchY VideoProcess_AlphaBlend DeinterlaceTech_FieldAdaptive
{335AA36E-7884-43A4-9C91-7F87FAF3E37E}: Format(In/Out)=(IMC2,YUY2) Frames(Prev/Fwd/Back)=(0,0,0) Caps=VideoProcess_YUV2RGB VideoProcess_StretchX VideoProcess_StretchY VideoProcess_AlphaBlend DeinterlaceTech_BOBVerticalStretch
{5A54A0C9-C7EC-4BD9-8EDE-F3C75DC4393B}: Format(In/Out)=(IMC2,YUY2) Frames(Prev/Fwd/Back)=(0,0,0) Caps=VideoProcess_YUV2RGB VideoProcess_StretchX VideoProcess_StretchY VideoProcess_AlphaBlend
{AEDC1D5D-8546-440E-AAB2-B69FA725AF82}: Format(In/Out)=(IMC3,YUY2) Frames(Prev/Fwd/Back)=(0,0,1) Caps=VideoProcess_YUV2RGB VideoProcess_StretchX VideoProcess_StretchY VideoProcess_AlphaBlend DeinterlaceTech_FieldAdaptive
{335AA36E-7884-43A4-9C91-7F87FAF3E37E}: Format(In/Out)=(IMC3,YUY2) Frames(Prev/Fwd/Back)=(0,0,0) Caps=VideoProcess_YUV2RGB VideoProcess_StretchX VideoProcess_StretchY VideoProcess_AlphaBlend DeinterlaceTech_BOBVerticalStretch
{5A54A0C9-C7EC-4BD9-8EDE-F3C75DC4393B}: Format(In/Out)=(IMC3,YUY2) Frames(Prev/Fwd/Back)=(0,0,0) Caps=VideoProcess_YUV2RGB VideoProcess_StretchX VideoProcess_StretchY VideoProcess_AlphaBlend
{AEDC1D5D-8546-440E-AAB2-B69FA725AF82}: Format(In/Out)=(IMC4,YUY2) Frames(Prev/Fwd/Back)=(0,0,1) Caps=VideoProcess_YUV2RGB VideoProcess_StretchX VideoProcess_StretchY VideoProcess_AlphaBlend DeinterlaceTech_FieldAdaptive
{335AA36E-7884-43A4-9C91-7F87FAF3E37E}: Format(In/Out)=(IMC4,YUY2) Frames(Prev/Fwd/Back)=(0,0,0) Caps=VideoProcess_YUV2RGB VideoProcess_StretchX VideoProcess_StretchY VideoProcess_AlphaBlend DeinterlaceTech_BOBVerticalStretch
{5A54A0C9-C7EC-4BD9-8EDE-F3C75DC4393B}: Format(In/Out)=(IMC4,YUY2) Frames(Prev/Fwd/Back)=(0,0,0) Caps=VideoProcess_YUV2RGB VideoProcess_StretchX VideoProcess_StretchY VideoProcess_AlphaBlend
D3D9 Overlay: Supported
DXVA-HD: Not Supported
DDraw Status: Enabled
D3D Status: Enabled
AGP Status: Enabled

-------------
Sound Devices
-------------
Description: Speakers (SoundMAX Integrated Digital HD Audio)
Default Sound Playback: Yes
Default Voice Playback: Yes
Hardware ID: HDAUDIO\FUNC_01&VEN_11D4&DEV_1984&SUBSYS_10280211&REV_1004
Manufacturer ID: 1
Product ID: 100
Type: WDM
Driver Name: ADIHdAud.sys
Driver Version: 6.10.0001.5491 (English)
Driver Attributes: Final Retail
WHQL Logo'd: Yes
Date and Size: 8/3/2007 14:28:44, 347648 bytes
Other Files:
Driver Provider: AnalogDevices
HW Accel Level: Basic
Cap Flags: 0xF1F
Min/Max Sample Rate: 100, 200000
Static/Strm HW Mix Bufs: 1, 0
Static/Strm HW 3D Bufs: 0, 0
HW Memory: 0
Voice Management: No
EAX™ 2.0 Listen/Src: No, No
I3DL2™ Listen/Src: No, No
Sensaura™ ZoomFX™: No

---------------------
Sound Capture Devices
---------------------
Description: Microphone (SoundMAX Integrated Digital HD Audio)
Default Sound Capture: Yes
Default Voice Capture: Yes
Driver Name: ADIHdAud.sys
Driver Version: 6.10.0001.5491 (English)
Driver Attributes: Final Retail
Date and Size: 8/3/2007 14:28:44, 347648 bytes
Cap Flags: 0x1
Format Flags: 0xFFFFF

Description: Rear Input (SoundMAX Integrated Digital HD Audio)
Default Sound Capture: No
Default Voice Capture: No
Driver Name: ADIHdAud.sys
Driver Version: 6.10.0001.5491 (English)
Driver Attributes: Final Retail
Date and Size: 8/3/2007 14:28:44, 347648 bytes
Cap Flags: 0x1
Format Flags: 0xFFFFF

-------------------
DirectInput Devices
-------------------
Device Name: Mouse
Attached: 1
Controller ID: n/a
Vendor/Product ID: n/a
FF Driver: n/a

Device Name: Keyboard
Attached: 1
Controller ID: n/a
Vendor/Product ID: n/a
FF Driver: n/a

Device Name: USB Receiver
Attached: 1
Controller ID: 0x0
Vendor/Product ID: 0x046D, 0xC517
FF Driver: n/a

Device Name: USB Receiver
Attached: 1
Controller ID: 0x0
Vendor/Product ID: 0x046D, 0xC517
FF Driver: n/a

Device Name: USB Receiver
Attached: 1
Controller ID: 0x0
Vendor/Product ID: 0x046D, 0xC517
FF Driver: n/a

Device Name: USB Receiver
Attached: 1
Controller ID: 0x0
Vendor/Product ID: 0x046D, 0xC517
FF Driver: n/a

Poll w/ Interrupt: No

-----------
USB Devices
-----------
+ USB Root Hub
| Vendor/Product ID: 0x8086, 0x2935
| Matching Device ID: usb\root_hub
| Service: usbhub
| Driver: usbhub.sys, 7/13/2009 18:52:09, 258560 bytes
| Driver: usbd.sys, 7/13/2009 18:51:05, 5888 bytes

----------------
Gameport Devices
----------------

------------
PS/2 Devices
------------
+ HID Keyboard Device
| Vendor/Product ID: 0x046D, 0xC517
| Matching Device ID: hid_device_system_keyboard
| Service: kbdhid
| Driver: kbdhid.sys, 7/13/2009 18:45:09, 28160 bytes
| Driver: kbdclass.sys, 7/13/2009 20:20:36, 42576 bytes
|
+ Terminal Server Keyboard Driver
| Matching Device ID: root\rdp_kbd
| Upper Filters: kbdclass
| Service: TermDD
| Driver: i8042prt.sys, 7/13/2009 18:11:24, 80896 bytes
| Driver: kbdclass.sys, 7/13/2009 20:20:36, 42576 bytes
|
+ HID-compliant mouse
| Vendor/Product ID: 0x046D, 0xC517
| Matching Device ID: hid_device_system_mouse
| Service: mouhid
| Driver: mouhid.sys, 7/13/2009 18:45:08, 26112 bytes
| Driver: mouclass.sys, 7/13/2009 20:20:44, 41552 bytes
|
+ Terminal Server Mouse Driver
| Matching Device ID: root\rdp_mou
| Upper Filters: mouclass
| Service: TermDD
| Driver: termdd.sys, 7/13/2009 20:19:10, 51776 bytes
| Driver: sermouse.sys, 7/13/2009 18:45:08, 19968 bytes
| Driver: mouclass.sys, 7/13/2009 20:20:44, 41552 bytes

------------------------
Disk & DVD/CD-ROM Drives
------------------------
Drive: C:
Free Space: 23.4 GB
Total Space: 76.2 GB
File System: NTFS
Model: Hitachi HDS721680PLA380 ATA Device

Drive: D:
Model: TSSTcorp CDRWDVD TS-L463A ATA Device
Driver: c:\windows\system32\drivers\cdrom.sys, 6.01.7600.16385 (English), 7/13/2009 18:11:26, 108544 bytes

--------------
System Devices
--------------
Name: Intel® Q35 Express Chipset Family (Microsoft Corporation - WDDM 1.0)
Device ID: PCI\VEN_8086&DEV_29B2&SUBSYS_02111028&REV_02\3&172E68DD&0&10
Driver: C:\Windows\system32\DRIVERS\igdkmd32.sys, 8.15.0010.1749 (English), 6/10/2009 16:19:30, 4756480 bytes
Driver: C:\Windows\system32\igdumd32.dll, 8.15.0010.1749 (English), 7/13/2009 20:15:31, 3805184 bytes
Driver: C:\Windows\system32\iglhxs32.vp, 6/10/2009 16:19:31, 39292 bytes
Driver: C:\Windows\system32\iglhxo32.vp, 6/10/2009 16:19:31, 59105 bytes
Driver: C:\Windows\system32\iglhxc32.vp, 6/10/2009 16:19:31, 58952 bytes
Driver: C:\Windows\system32\iglhxg32.vp, 6/10/2009 16:19:31, 60072 bytes
Driver: C:\Windows\system32\iglhxa32.vp, 6/10/2009 16:19:31, 1073 bytes
Driver: C:\Windows\system32\iglhxa32.cpa, 6/10/2009 16:19:31, 2584543 bytes

Name: Intel® ICH9 Family USB Universal Host Controller - 2937
Device ID: PCI\VEN_8086&DEV_2937&SUBSYS_02111028&REV_02\3&172E68DD&0&D0
Driver: C:\Windows\system32\drivers\usbuhci.sys, 6.01.7600.16385 (English), 7/13/2009 18:51:10, 24064 bytes
Driver: C:\Windows\system32\drivers\usbport.sys, 6.01.7600.16385 (English), 7/13/2009 18:51:15, 284160 bytes
Driver: C:\Windows\system32\drivers\usbhub.sys, 6.01.7600.16385 (English), 7/13/2009 18:52:09, 258560 bytes

Name: Intel® 82566DM-2 Gigabit Network Connection
Device ID: PCI\VEN_8086&DEV_10BD&SUBSYS_02111028&REV_02\3&172E68DD&0&C8
Driver: C:\Windows\system32\DRIVERS\e1e6032.sys, 9.13.0004.0010 (English), 7/13/2009 17:02:50, 211456 bytes

Name: Intel® Q35 Express Chipset PCI Express Root Port - 29B1
Device ID: PCI\VEN_8086&DEV_29B1&SUBSYS_02111028&REV_02\3&172E68DD&0&08
Driver: C:\Windows\system32\DRIVERS\pci.sys, 6.01.7600.16385 (English), 7/13/2009 20:20:45, 153680 bytes

Name: Intel® ICH9 Family USB Universal Host Controller - 2936
Device ID: PCI\VEN_8086&DEV_2936&SUBSYS_02111028&REV_02\3&172E68DD&0&EA
Driver: C:\Windows\system32\drivers\usbuhci.sys, 6.01.7600.16385 (English), 7/13/2009 18:51:10, 24064 bytes
Driver: C:\Windows\system32\drivers\usbport.sys, 6.01.7600.16385 (English), 7/13/2009 18:51:15, 284160 bytes
Driver: C:\Windows\system32\drivers\usbhub.sys, 6.01.7600.16385 (English), 7/13/2009 18:52:09, 258560 bytes

Name: Broadcom 802.11n Network Adapter
Device ID: PCI\VEN_14E4&DEV_4329&SUBSYS_00601737&REV_01\4&21779869&0&00F0
Driver: n/a

Name: Intel® Q35 Express Chipset Processor to I/O Controller - 29B0
Device ID: PCI\VEN_8086&DEV_29B0&SUBSYS_02111028&REV_02\3&172E68DD&0&00
Driver: n/a

Name: Intel® ICH9 Family USB Universal Host Controller - 2935
Device ID: PCI\VEN_8086&DEV_2935&SUBSYS_02111028&REV_02\3&172E68DD&0&E9
Driver: C:\Windows\system32\drivers\usbuhci.sys, 6.01.7600.16385 (English), 7/13/2009 18:51:10, 24064 bytes
Driver: C:\Windows\system32\drivers\usbport.sys, 6.01.7600.16385 (English), 7/13/2009 18:51:15, 284160 bytes
Driver: C:\Windows\system32\drivers\usbhub.sys, 6.01.7600.16385 (English), 7/13/2009 18:52:09, 258560 bytes

Name: Intel® ICH9 Family PCI Express Root Port 1 - 2940
Device ID: PCI\VEN_8086&DEV_2940&SUBSYS_02111028&REV_02\3&172E68DD&0&E0
Driver: C:\Windows\system32\DRIVERS\pci.sys, 6.01.7600.16385 (English), 7/13/2009 20:20:45, 153680 bytes

Name: Intel® ICH9 Family USB Universal Host Controller - 2934
Device ID: PCI\VEN_8086&DEV_2934&SUBSYS_02111028&REV_02\3&172E68DD&0&E8
Driver: C:\Windows\system32\drivers\usbuhci.sys, 6.01.7600.16385 (English), 7/13/2009 18:51:10, 24064 bytes
Driver: C:\Windows\system32\drivers\usbport.sys, 6.01.7600.16385 (English), 7/13/2009 18:51:15, 284160 bytes
Driver: C:\Windows\system32\drivers\usbhub.sys, 6.01.7600.16385 (English), 7/13/2009 18:52:09, 258560 bytes

Name: Intel® Active Management Technology - SOL (COM3)
Device ID: PCI\VEN_8086&DEV_29B7&SUBSYS_02111028&REV_02\3&172E68DD&0&1B
Driver: n/a

Name: High Definition Audio Controller
Device ID: PCI\VEN_8086&DEV_293E&SUBSYS_02111028&REV_02\3&172E68DD&0&D8
Driver: C:\Windows\system32\DRIVERS\hdaudbus.sys, 6.01.7600.16385 (English), 7/13/2009 18:50:56, 108544 bytes

Name: Intel® ICH9 Family SMBus Controller - 2930
Device ID: PCI\VEN_8086&DEV_2930&SUBSYS_02111028&REV_02\3&172E68DD&0&FB
Driver: n/a

Name: Standard Dual Channel PCI IDE Controller
Device ID: PCI\VEN_8086&DEV_29B6&SUBSYS_02111028&REV_02\3&172E68DD&0&1A
Driver: C:\Windows\system32\DRIVERS\pciide.sys, 6.01.7600.16385 (English), 7/13/2009 20:20:45, 12368 bytes
Driver: C:\Windows\system32\DRIVERS\pciidex.sys, 6.01.7600.16385 (English), 7/13/2009 20:19:03, 42560 bytes
Driver: C:\Windows\system32\DRIVERS\atapi.sys, 6.01.7600.16385 (English), 7/13/2009 20:26:15, 21584 bytes
Driver: C:\Windows\system32\DRIVERS\ataport.sys, 6.01.7600.16385 (English), 7/13/2009 20:26:15, 133200 bytes

Name: Intel® ICH9 Family USB2 Enhanced Host Controller - 293C
Device ID: PCI\VEN_8086&DEV_293C&SUBSYS_02111028&REV_02\3&172E68DD&0&D7
Driver: C:\Windows\system32\drivers\usbehci.sys, 6.01.7600.16385 (English), 7/13/2009 18:51:14, 41472 bytes
Driver: C:\Windows\system32\drivers\usbport.sys, 6.01.7600.16385 (English), 7/13/2009 18:51:15, 284160 bytes
Driver: C:\Windows\system32\drivers\usbhub.sys, 6.01.7600.16385 (English), 7/13/2009 18:52:09, 258560 bytes

Name: Intel® ICH9 6 Port SATA AHCI Controller - 2922
Device ID: PCI\VEN_8086&DEV_2922&SUBSYS_02111028&REV_02\3&172E68DD&0&FA
Driver: C:\Windows\system32\DRIVERS\msahci.sys, 6.01.7600.16385 (English), 7/13/2009 20:20:44, 27712 bytes
Driver: C:\Windows\system32\DRIVERS\pciidex.sys, 6.01.7600.16385 (English), 7/13/2009 20:19:03, 42560 bytes
Driver: C:\Windows\system32\DRIVERS\atapi.sys, 6.01.7600.16385 (English), 7/13/2009 20:26:15, 21584 bytes
Driver: C:\Windows\system32\DRIVERS\ataport.sys, 6.01.7600.16385 (English), 7/13/2009 20:26:15, 133200 bytes

Name: Intel® Management Engine Interface
Device ID: PCI\VEN_8086&DEV_29B4&SUBSYS_02111028&REV_02\3&172E68DD&0&18
Driver: C:\Windows\system32\DRIVERS\HECI.sys, 3.00.0030.1086 (English), 7/14/2008 15:11:36, 45056 bytes

Name: Intel® ICH9 Family USB2 Enhanced Host Controller - 293A
Device ID: PCI\VEN_8086&DEV_293A&SUBSYS_02111028&REV_02\3&172E68DD&0&EF
Driver: C:\Windows\system32\drivers\usbehci.sys, 6.01.7600.16385 (English), 7/13/2009 18:51:14, 41472 bytes
Driver: C:\Windows\system32\drivers\usbport.sys, 6.01.7600.16385 (English), 7/13/2009 18:51:15, 284160 bytes
Driver: C:\Windows\system32\drivers\usbhub.sys, 6.01.7600.16385 (English), 7/13/2009 18:52:09, 258560 bytes

Name: Intel® ICH9DO LPC Interface Controller - 2914
Device ID: PCI\VEN_8086&DEV_2914&SUBSYS_00000000&REV_02\3&172E68DD&0&F8
Driver: C:\Windows\system32\DRIVERS\msisadrv.sys, 6.01.7600.16385 (English), 7/13/2009 20:20:43, 13888 bytes

Name: Intel® Q35 Express Chipset Family (Microsoft Corporation - WDDM 1.0)
Device ID: PCI\VEN_8086&DEV_29B3&SUBSYS_02111028&REV_02\3&172E68DD&0&11
Driver: n/a

Name: Intel® ICH9 Family USB Universal Host Controller - 2938
Device ID: PCI\VEN_8086&DEV_2938&SUBSYS_02111028&REV_02\3&172E68DD&0&D1
Driver: C:\Windows\system32\drivers\usbuhci.sys, 6.01.7600.16385 (English), 7/13/2009 18:51:10, 24064 bytes
Driver: C:\Windows\system32\drivers\usbport.sys, 6.01.7600.16385 (English), 7/13/2009 18:51:15, 284160 bytes
Driver: C:\Windows\system32\drivers\usbhub.sys, 6.01.7600.16385 (English), 7/13/2009 18:52:09, 258560 bytes

Name: Intel® 82801 PCI Bridge - 244E
Device ID: PCI\VEN_8086&DEV_244E&SUBSYS_02111028&REV_92\3&172E68DD&0&F0
Driver: C:\Windows\system32\DRIVERS\pci.sys, 6.01.7600.16385 (English), 7/13/2009 20:20:45, 153680 bytes

------------------
DirectShow Filters
------------------

DirectShow Filters:
WMAudio Decoder DMO,0x00800800,1,1,WMADMOD.DLL,6.01.7600.16385
WMAPro over S/PDIF DMO,0x00600800,1,1,WMADMOD.DLL,6.01.7600.16385
WMSpeech Decoder DMO,0x00600800,1,1,WMSPDMOD.DLL,6.01.7600.16385
MP3 Decoder DMO,0x00600800,1,1,mp3dmod.dll,6.01.7600.16385
Mpeg4s Decoder DMO,0x00800001,1,1,mp4sdecd.dll,6.01.7600.16385
WMV Screen decoder DMO,0x00600800,1,1,wmvsdecd.dll,6.01.7600.16385
WMVideo Decoder DMO,0x00800001,1,1,wmvdecod.dll,6.01.7600.16385
Mpeg43 Decoder DMO,0x00800001,1,1,mp43decd.dll,6.01.7600.16385
Mpeg4 Decoder DMO,0x00800001,1,1,mpg4decd.dll,6.01.7600.16385
DV Muxer,0x00400000,0,0,qdv.dll,6.06.7600.16385
Color Space Converter,0x00400001,1,1,quartz.dll,6.06.7600.16490
WM ASF Reader,0x00400000,0,0,qasf.dll,12.00.7600.16385
Screen Capture filter,0x00200000,0,1,wmpsrcwp.dll,12.00.7600.16385
AVI Splitter,0x00600000,1,1,quartz.dll,6.06.7600.16490
VGA 16 Color Ditherer,0x00400000,1,1,quartz.dll,6.06.7600.16490
SBE2MediaTypeProfile,0x00200000,0,0,sbe.dll,6.06.7600.16385
Microsoft DTV-DVD Video Decoder,0x005fffff,2,4,msmpeg2vdec.dll,6.01.7140.0000
AC3 Parser Filter,0x00600000,1,1,mpg2splt.ax,6.06.7600.16385
StreamBufferSink,0x00200000,0,0,sbe.dll,6.06.7600.16385
Microsoft TV Captions Decoder,0x00200001,1,0,MSTVCapn.dll,6.01.7600.16385
MJPEG Decompressor,0x00600000,1,1,quartz.dll,6.06.7600.16490
CBVA DMO wrapper filter,0x00200000,1,1,cbva.dll,6.01.7600.16385
MPEG-I Stream Splitter,0x00600000,1,2,quartz.dll,6.06.7600.16490
SAMI (CC) Parser,0x00400000,1,1,quartz.dll,6.06.7600.16490
VBI Codec,0x00600000,1,4,VBICodec.ax,6.06.7600.16385
MPEG-2 Splitter,0x005fffff,1,0,mpg2splt.ax,6.06.7600.16385
Closed Captions Analysis Filter,0x00200000,2,5,cca.dll,6.06.7600.16385
SBE2FileScan,0x00200000,0,0,sbe.dll,6.06.7600.16385
Microsoft MPEG-2 Video Encoder,0x00200000,1,1,msmpeg2enc.dll,6.01.7600.16385
Internal Script Command Renderer,0x00800001,1,0,quartz.dll,6.06.7600.16490
MPEG Audio Decoder,0x03680001,1,1,quartz.dll,6.06.7600.16490
DV Splitter,0x00600000,1,2,qdv.dll,6.06.7600.16385
Video Mixing Renderer 9,0x00200000,1,0,quartz.dll,6.06.7600.16490
Microsoft MPEG-2 Encoder,0x00200000,2,1,msmpeg2enc.dll,6.01.7600.16385
ACM Wrapper,0x00600000,1,1,quartz.dll,6.06.7600.16490
Video Renderer,0x00800001,1,0,quartz.dll,6.06.7600.16490
MPEG-2 Video Stream Analyzer,0x00200000,0,0,sbe.dll,6.06.7600.16385
Line 21 Decoder,0x00600000,1,1,qdvd.dll,6.06.7600.16385
Video Port Manager,0x00600000,2,1,quartz.dll,6.06.7600.16490
Video Renderer,0x00400000,1,0,quartz.dll,6.06.7600.16490
VPS Decoder,0x00200000,0,0,WSTPager.ax,6.06.7600.16385
WM ASF Writer,0x00400000,0,0,qasf.dll,12.00.7600.16385
VBI Surface Allocator,0x00600000,1,1,vbisurf.ax,6.01.7600.16385
File writer,0x00200000,1,0,qcap.dll,6.06.7600.16385
iTV Data Sink,0x00600000,1,0,itvdata.dll,6.06.7600.16385
iTV Data Capture filter,0x00600000,1,1,itvdata.dll,6.06.7600.16385
DVD Navigator,0x00200000,0,3,qdvd.dll,6.06.7600.16385
Microsoft TV Subtitles Decoder,0x00200001,1,0,MSTVCapn.dll,6.01.7600.16385
Overlay Mixer2,0x00200000,1,1,qdvd.dll,6.06.7600.16385
AVI Draw,0x00600064,9,1,quartz.dll,6.06.7600.16490
RDP DShow Redirection Filter,0xffffffff,1,0,DShowRdpFilter.dll,
Microsoft MPEG-2 Audio Encoder,0x00200000,1,1,msmpeg2enc.dll,6.01.7600.16385
WST Pager,0x00200000,1,1,WSTPager.ax,6.06.7600.16385
MPEG-2 Demultiplexer,0x00600000,1,1,mpg2splt.ax,6.06.7600.16385
DV Video Decoder,0x00800000,1,1,qdv.dll,6.06.7600.16385
SampleGrabber,0x00200000,1,1,qedit.dll,6.06.7600.16385
Null Renderer,0x00200000,1,0,qedit.dll,6.06.7600.16385
MPEG-2 Sections and Tables,0x005fffff,1,0,Mpeg2Data.ax,6.06.7600.16385
Microsoft AC3 Encoder,0x00200000,1,1,msac3enc.dll,6.01.7600.16385
StreamBufferSource,0x00200000,0,0,sbe.dll,6.06.7600.16385
Smart Tee,0x00200000,1,2,qcap.dll,6.06.7600.16385
Overlay Mixer,0x00200000,0,0,qdvd.dll,6.06.7600.16385
AVI Decompressor,0x00600000,1,1,quartz.dll,6.06.7600.16490
NetBridge,0x00200000,2,0,netbridge.dll,6.01.7600.16385
AVI/WAV File Source,0x00400000,0,2,quartz.dll,6.06.7600.16490
Wave Parser,0x00400000,1,1,quartz.dll,6.06.7600.16490
MIDI Parser,0x00400000,1,1,quartz.dll,6.06.7600.16490
Multi-file Parser,0x00400000,1,1,quartz.dll,6.06.7600.16490
File stream renderer,0x00400000,1,1,quartz.dll,6.06.7600.16490
Microsoft DTV-DVD Audio Decoder,0x005fffff,1,1,msmpeg2adec.dll,6.01.7140.0000
StreamBufferSink2,0x00200000,0,0,sbe.dll,6.06.7600.16385
AVI Mux,0x00200000,1,0,qcap.dll,6.06.7600.16385
Line 21 Decoder 2,0x00600002,1,1,quartz.dll,6.06.7600.16490
File Source (Async.),0x00400000,0,1,quartz.dll,6.06.7600.16490
File Source (URL),0x00400000,0,1,quartz.dll,6.06.7600.16490
Media Center Extender Encryption Filter,0x00200000,2,2,Mcx2Filter.dll,6.01.7600.16385
AudioRecorder WAV Dest,0x00200000,0,0,WavDest.dll,
AudioRecorder Wave Form,0x00200000,0,0,WavDest.dll,
SoundRecorder Null Renderer,0x00200000,0,0,WavDest.dll,
Infinite Pin Tee Filter,0x00200000,1,1,qcap.dll,6.06.7600.16385
Enhanced Video Renderer,0x00200000,1,0,evr.dll,6.01.7600.16385
BDA MPEG2 Transport Information Filter,0x00200000,2,0,psisrndr.ax,6.06.7600.16385
MPEG Video Decoder,0x40000001,1,1,quartz.dll,6.06.7600.16490

WDM Streaming Tee/Splitter Devices:
Tee/Sink-to-Sink Converter,0x00200000,1,1,ksproxy.ax,6.01.7600.16385

Video Compressors:
WMVideo8 Encoder DMO,0x00600800,1,1,wmvxencd.dll,6.01.7600.16385
WMVideo9 Encoder DMO,0x00600800,1,1,wmvencod.dll,6.01.7600.16385
MSScreen 9 encoder DMO,0x00600800,1,1,wmvsencd.dll,6.01.7600.16385
DV Video Encoder,0x00200000,0,0,qdv.dll,6.06.7600.16385
MJPEG Compressor,0x00200000,0,0,quartz.dll,6.06.7600.16490
Cinepak Codec by Radius,0x00200000,1,1,qcap.dll,6.06.7600.16385
Intel IYUV codec,0x00200000,1,1,qcap.dll,6.06.7600.16385
Intel IYUV codec,0x00200000,1,1,qcap.dll,6.06.7600.16385
Microsoft RLE,0x00200000,1,1,qcap.dll,6.06.7600.16385
Microsoft Video 1,0x00200000,1,1,qcap.dll,6.06.7600.16385

Audio Compressors:
WM Speech Encoder DMO,0x00600800,1,1,WMSPDMOE.DLL,6.01.7600.16385
WMAudio Encoder DMO,0x00600800,1,1,WMADMOE.DLL,6.01.7600.16385
IMA ADPCM,0x00200000,1,1,quartz.dll,6.06.7600.16490
PCM,0x00200000,1,1,quartz.dll,6.06.7600.16490
Microsoft ADPCM,0x00200000,1,1,quartz.dll,6.06.7600.16490
GSM 6.10,0x00200000,1,1,quartz.dll,6.06.7600.16490
CCITT A-Law,0x00200000,1,1,quartz.dll,6.06.7600.16490
CCITT u-Law,0x00200000,1,1,quartz.dll,6.06.7600.16490
MPEG Layer-3,0x00200000,1,1,quartz.dll,6.06.7600.16490

Audio Capture Sources:
Microphone (SoundMAX Integrated,0x00200000,0,0,qcap.dll,6.06.7600.16385
Rear Input (SoundMAX Integrated,0x00200000,0,0,qcap.dll,6.06.7600.16385

PBDA CP Filters:
PBDA DTFilter,0x00600000,1,1,CPFilters.dll,6.06.7600.16385
PBDA ETFilter,0x00200000,0,0,CPFilters.dll,6.06.7600.16385
PBDA PTFilter,0x00200000,0,0,CPFilters.dll,6.06.7600.16385

Midi Renderers:
Default MidiOut Device,0x00800000,1,0,quartz.dll,6.06.7600.16490
Microsoft GS Wavetable Synth,0x00200000,1,0,quartz.dll,6.06.7600.16490

WDM Streaming Capture Devices:
SoundMAX HD Audio I,0x00200000,1,1,ksproxy.ax,6.01.7600.16385
,0x00000000,0,0,,

WDM Streaming Rendering Devices:
,0x00000000,0,0,,
SoundMAX HD Audio O,0x00200000,1,1,ksproxy.ax,6.01.7600.16385

BDA Network Providers:
Microsoft ATSC Network Provider,0x00200000,0,1,MSDvbNP.ax,6.06.7600.16385
Microsoft DVBC Network Provider,0x00200000,0,1,MSDvbNP.ax,6.06.7600.16385
Microsoft DVBS Network Provider,0x00200000,0,1,MSDvbNP.ax,6.06.7600.16385
Microsoft DVBT Network Provider,0x00200000,0,1,MSDvbNP.ax,6.06.7600.16385
Microsoft Network Provider,0x00200000,0,1,MSNP.ax,6.06.7600.16385

Multi-Instance Capable VBI Codecs:
VBI Codec,0x00600000,1,4,VBICodec.ax,6.06.7600.16385

BDA Transport Information Renderers:
BDA MPEG2 Transport Information Filter,0x00600000,2,0,psisrndr.ax,6.06.7600.16385
MPEG-2 Sections and Tables,0x00600000,1,0,Mpeg2Data.ax,6.06.7600.16385

BDA CP/CA Filters:
Decrypt/Tag,0x00600000,1,1,EncDec.dll,6.06.7600.16385
Encrypt/Tag,0x00200000,0,0,EncDec.dll,6.06.7600.16385
PTFilter,0x00200000,0,0,EncDec.dll,6.06.7600.16385
XDS Codec,0x00200000,0,0,EncDec.dll,6.06.7600.16385

WDM Streaming Communication Transforms:
Tee/Sink-to-Sink Converter,0x00200000,1,1,ksproxy.ax,6.01.7600.16385

Audio Renderers:
Speakers (SoundMAX Integrated D,0x00200000,1,0,quartz.dll,6.06.7600.16490
Default DirectSound Device,0x00800000,1,0,quartz.dll,6.06.7600.16490
Default WaveOut Device,0x00200000,1,0,quartz.dll,6.06.7600.16490
DirectSound: Speakers (SoundMAX Integrated Digital HD Audio),0x00200000,1,0,quartz.dll,6.06.7600.16490

---------------
EVR Power Information
---------------
Current Setting: {5C67A112-A4C9-483F-B4A7-1D473BECAFDC} (Quality)
Quality Flags: 2576
Enabled:
Force throttling
Allow half deinterlace
Allow scaling
Decode Power Usage: 100
Balanced Flags: 1424
Enabled:
Force throttling
Allow batching
Force half deinterlace
Force scaling
Decode Power Usage: 50
PowerFlags: 1424
Enabled:
Force throttling
Allow batching
Force half deinterlace
Force scaling
Decode Power Usage: 0