Hello,
denhom
.
Ok, good news...your logs appear clean. If it's running good, please follow the steps below to purge the quaratines and ensure you can't accidently get reinfected from what we just removed.
Step 1
Uninstall ComboFix and Clean Up
Click Start > Run and type
combofix /Uninstall
click OK (Note the space between combofix and /Uninstall) See below: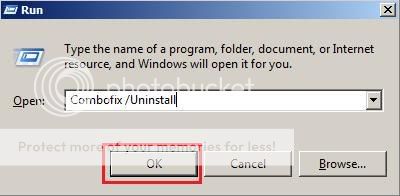 Please advise if this step is missed for any reason as it performs some important actions.Download and Run OTC
We will now remove the tools we used during this fix using OTC.
Download OTC by OldTimer and save it to your desktop.
Double click icon to start the program. If you are using Vista, please right-click and choose run as administrator
Then Click the big button.
You will get a prompt saying "Begin Cleanup Process". Please select Yes.
Restart your computer when prompted.
Optional Items
Please take the time to read below to secure your machine and take the necessary steps to keep it that way.
System Still Slow?
You may wish to try
StartupLite
. Simply download this tool to your desktop and run it. It will explain any optional auto-start programs on your system, and offer the option to stop these programs from starting at startup. This will result in fewer programs running when you boot your system, and should improve preformance.
If that does not work, you can try the steps mentioned in
Slow Computer/browser? Check Here First; It May Not Be Malware
Protect yourself from malicious sites
Please download
HostMan
. It safeguards you with a regularly updated Hosts-file that blocks dangerous sites from opening. This adds another bit of safety while surfing the Internet. For installlation and setting up, follow these steps:
Double-click the Downloaded installer and install the tool to a location of your choice
Via the Startmenu, navigate to HostsMan and run the program.

Click "Hosts" in the menu
Click "Manage Updates" in the submenu
Out of the three, select atleast one of the three

(I have MVPS Host as my main one)

Click "Add Update." After that you will only need to click on the following button to retrieve updates:


Click the X to exit the program.
Note: If you were using a custom Hosts file you will need to replace any of those entries yourself.
Keep Windows Up to Date
It is important that you visit
http://www.windowsupdate.com
regularly. This will ensure your computer has always the latest security updates available installed on your computer. If there are new updates to install, install them immediately, reboot your computer, and revisit the site until there are no more critical updates.
Update your AntiVirus Software
It is imperative that you update your Antivirus software at least once a week (Even more if you wish). If you do not update your antivirus software then it will not be able to catch any of the new variants that may come out. If you use a commercial antivirus program you must make sure you keep renewing your subscription. Otherwise, once your subscription runs out, you may not be able to update the programs virus definitions.
Make sure your applications have all of their updates
It is also possible for other programs on your computer to have security vulnerability that can allow malware to infect you. Therefore, it is also a good idea to check for the latest versions of commonly installed applications that are regularly patched to fix vulnerabilities. You can check these by visiting
Secunia Software Inspector
and
Calendar of Updates.
Use a Firewall
I can not stress how important it is that you use a Firewall on your computer. Without a firewall your computer is susceptible to being hacked and taken over. I am very serious about this and see it happen almost every day with my clients. Simply using a Firewall in its default configuration can lower your risk greatly.
For a tutorial on Firewalls and a listing of some available ones see the link below:
Understanding and Using Firewalls
Install an AntiSpyware Program
A highly recommended AntiSpyware program is
SuperAntiSpyware
. You can download the free Home Version. or the Pro version for a 15 day trial period.
Other recommended, and free, AntiSpyware programs are
Spybot - Search and Destroy
and
Ad-Aware Personal
.
Installing these programs will provide spyware & hijacker protection on your computer alongside your virus protection. You should scan your computer with an AntiSpyware program on a regular basis just as you would an antivirus software.
Tutorials on using these programs can be found below:
Using Spybot - Search & Destroy to remove Spyware , Malware, and Hijackers
Using Ad-aware to remove Spyware, Malware, & Hijackers from Your Computer
Update all these programs regularly
Make sure you update all your programs regularly. Without regular updates you
WILL NOT
be protected when new malicious programs are released.
Follow this list and your potential for being infected again will reduce dramatically.
Good luck!