I've been asked to come here by Boopme and see if you guys can help me with my infection problems.
My original post is here:
http://www.bleepingcomputer.com/forums/t/290696/trojan-horse-pswgeneric7bemv/
So my symptoms so far are:
1. Keep getting my AVG 8 free edition popping up with the same threat detection: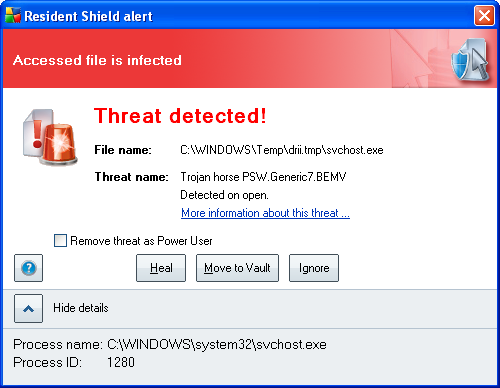 Basically a folder with a .tmp extension and a randomised 4 letter name keeps getting created in my C:\WINDOWS\Temp folder containing a svhost.exe file. I keep throwing this into the vault but the .tmp folders remain and are slowly filling up the Temp folder.
2. I've noticed yesterday that all of my RSS newsfeeds now only link to articles from last Wednesday.
3. Random pages linking to different sites keep getting created in Firefox.
4. I've also had different Threats occassionaly detected by AVG, here are two screenshots.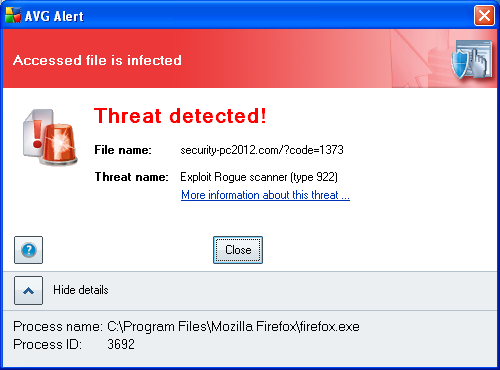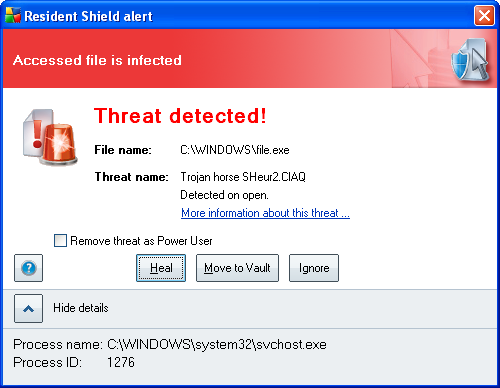 5. I've just today noticed that for some reason my websites visited in my history never get deleted even if i clear the history or use the ATF-Cleaner.exe that 'boopme' suggested in my earlier posts in the link above. In fact I've still got history from last April.
6. Other symptoms before i noticed i had an infection but just put down to a weary overloaded computer is that when using Firefox and using any menu. The first menu pops up, but moving through the menu system takes a long while for the highlight to catch up. Also most times I can type something in google or the address bar and the actual letter freeze before appearing, so in effect the typing can become delayed. For instance i could type 'www.hotmail.com' and have to wait 20 seconds for the letters to appear.
Things I've tried before coming to this site, full AVG Scans, Full Spybot SD scans, both found problems and seemed to remove them.
Things I've attempted so far at boopmes instruction.
Quick and Full scans using MBAM in normal mode.
Downloading, installing and using both ATF-Cleaner and SAS in SafeMode
I thought this had cured the random page generation in Firefox, but its just become less frequent, infact hardly at all but still occurs, the Threat detections from AVG regarding the .tmp folder still keep appearing and also I've had one instance of another type of Threat detections by AVG showed in the last screenshot above.
Boopme has now told me to place the logs created by following steps 6-8 of the preparation guide on this thread, anyhelp, instruction would be greatly appreciated.
Below is the DDS Log and you'll find the ark.txt and attach.txt in the attachments to this post:
QUOTE
DDS (Ver_09-12-01.01) - NTFSx86
Run by feck at 19:36:33.87 on 28/01/2010
Internet Explorer: 6.0.2900.2180 BrowserJavaVersion: 1.6.0_13
Microsoft Windows XP Professional 5.1.2600.2.1252.44.1033.18.2006.1222 [GMT 0:00]

AV: AVG Anti-Virus Free *On-access scanning enabled* (Updated) {17DDD097-36FF-435F-9E1B-52D74245D6BF}
FW: COMODO Firewall *enabled* {043803A3-4F86-4ef6-AFC5-F6E02A79969B}

============== Running Processes ===============

C:\WINDOWS\system32\ibmpmsvc.exe
C:\WINDOWS\system32\svchost -k DcomLaunch
svchost.exe
C:\Program Files\COMODO\Firewall\cmdagent.exe
C:\WINDOWS\system32\svchost.exe -k netsvcs
C:\Program Files\ThinkPad\Bluetooth Software\bin\btwdins.exe
C:\Program Files\Intel\WiFi\bin\S24EvMon.exe
svchost.exe
svchost.exe
C:\WINDOWS\system32\spoolsv.exe
C:\Program Files\Common Files\Apple\Mobile Device Support\bin\AppleMobileDeviceService.exe
C:\PROGRA~1\AVG\AVG8\avgwdsvc.exe
C:\Program Files\Bonjour\mDNSResponder.exe
C:\Program Files\Intel\WiFi\bin\EvtEng.exe
C:\PROGRA~1\AVG\AVG8\avgrsx.exe
C:\PROGRA~1\AVG\AVG8\avgnsx.exe
C:\Program Files\Java\jre6\bin\jqs.exe
C:\Program Files\Common Files\Intel\WirelessCommon\RegSrvc.exe
C:\WINDOWS\System32\svchost.exe -k imgsvc
C:\WINDOWS\System32\TPHDEXLG.exe
C:\Program Files\ThinkPad\Utilities\PWMDBSVC.EXE
C:\WINDOWS\system32\wscntfy.exe
C:\WINDOWS\Explorer.EXE
C:\WINDOWS\system32\tp4mon.exe
C:\Program Files\Lenovo\HOTKEY\TPOSDSVC.exe
C:\WINDOWS\system32\rundll32.exe
C:\WINDOWS\system32\TpShocks.exe
C:\Program Files\Intel\WiFi\bin\ZCfgSvc.exe
C:\Program Files\Common Files\Intel\WirelessCommon\iFrmewrk.exe
C:\Program Files\Microsoft Office\Office12\GrooveMonitor.exe
C:\WINDOWS\system32\igfxtray.exe
C:\WINDOWS\system32\igfxpers.exe
C:\WINDOWS\system32\igfxsrvc.exe
C:\Program Files\Lenovo\HOTKEY\TPONSCR.exe
C:\Program Files\Java\jre6\bin\jusched.exe
C:\Program Files\Analog Devices\Core\smax4pnp.exe
C:\WINDOWS\System32\svchost.exe -k HTTPFilter
C:\Program Files\iTunes\iTunesHelper.exe
C:\Program Files\Lenovo\Zoom\TpScrex.exe
C:\Program Files\ShaPlus Bandwidth Meter\ShaPlus Bandwidth Meter.exe
C:\WINDOWS\system32\ctfmon.exe
C:\Program Files\Veoh Networks\VeohWebPlayer\veohwebplayer.exe
C:\Program Files\BandwidthMeterPro\BWMeterPro.exe
C:\WINDOWS\System32\wbem\unsecapp.exe
C:\Program Files\ThinkPad\Bluetooth Software\BTTray.exe
C:\Program Files\Digital Line Detect\DLG.exe
C:\Program Files\Microsoft Office\Office12\ONENOTEM.EXE
C:\Program Files\iPod\bin\iPodService.exe
C:\Program Files\Mozilla Firefox\firefox.exe
C:\Documents and Settings\Administrator\Desktop\dds.scr

============== Pseudo HJT Report ===============

uInternet Settings,ProxyOverride = *.local
BHO: Adobe PDF Link Helper: {18df081c-e8ad-4283-a596-fa578c2ebdc3} - c:\program files\common files\adobe\acrobat\activex\AcroIEHelperShim.dll
BHO: AVG Safe Search: {3ca2f312-6f6e-4b53-a66e-4e65e497c8c0} - c:\program files\avg\avg8\avgssie.dll
BHO: Spybot-S&D IE Protection: {53707962-6f74-2d53-2644-206d7942484f} - c:\progra~1\spybot~1\SDHelper.dll
BHO: Groove GFS Browser Helper: {72853161-30c5-4d22-b7f9-0bbc1d38a37e} - c:\progra~1\micros~2\office12\GRA8E1~1.DLL
BHO: Java™ Plug-In 2 SSV Helper: {dbc80044-a445-435b-bc74-9c25c1c588a9} - c:\program files\java\jre6\bin\jp2ssv.dll
BHO: JQSIEStartDetectorImpl Class: {e7e6f031-17ce-4c07-bc86-eabfe594f69c} - c:\program files\java\jre6\lib\deploy\jqs\ie\jqs_plugin.dll
TB: Veoh Web Player Video Finder: {0fbb9689-d3d7-4f7a-a2e2-585b10099bfc} - c:\program files\veoh networks\veohwebplayer\VeohIEToolbar.dll
EB: {32683183-48a0-441b-a342-7c2a440a9478} - No File
uRun: [CTFMON.EXE] c:\windows\system32\ctfmon.exe
uRun: [SpybotSD TeaTimer] c:\program files\spybot - search & destroy\TeaTimer.exe
uRun: [VeohPlugin] "c:\program files\veoh networks\veohwebplayer\veohwebplayer.exe"
uRun: [BandwidthMeterPro] c:\program files\bandwidthmeterpro\BWMeterPro.exe
uRun: [SUPERAntiSpyware] c:\program files\superantispyware\SUPERAntiSpyware.exe
mRun: [TrackPointSrv] tp4mon.exe
mRun: [TPHOTKEY] c:\program files\lenovo\hotkey\TPOSDSVC.exe
mRun: [PSQLLauncher] "c:\program files\thinkvantage fingerprint software\launcher.exe" /startup
mRun: [PWRMGRTR] rundll32 c:\progra~1\thinkpad\utilit~1\PWRMGRTR.DLL,PwrMgrBkGndMonitor
mRun: [BLOG] rundll32 c:\progra~1\thinkpad\utilit~1\BatLogEx.DLL,StartBattLog
mRun: []
mRun: [TpShocks] TpShocks.exe
mRun: [IntelZeroConfig] "c:\program files\intel\wifi\bin\ZCfgSvc.exe"
mRun: [IntelWireless] "c:\program files\common files\intel\wirelesscommon\iFrmewrk.exe" /tf Intel Wireless Tray
mRun: [COMODO Firewall Pro] "c:\program files\comodo\firewall\cfp.exe" -h
mRun: [GrooveMonitor] "c:\program files\microsoft office\office12\GrooveMonitor.exe"
mRun: [IgfxTray] c:\windows\system32\igfxtray.exe
mRun: [HotKeysCmds] c:\windows\system32\hkcmd.exe
mRun: [Persistence] c:\windows\system32\igfxpers.exe
mRun: [Monitor] "d:\leapfrog\leapfrog connect\Monitor.exe"
mRun: [COMODO Internet Security] "c:\program files\comodo\firewall\cfp.exe" -h
mRun: [AVG8_TRAY] c:\progra~1\avg\avg8\avgtray.exe
mRun: [SunJavaUpdateSched] "c:\program files\java\jre6\bin\jusched.exe"
mRun: [SoundMAXPnP] c:\program files\analog devices\core\smax4pnp.exe
mRun: [Adobe Reader Speed Launcher] "c:\program files\adobe\reader 9.0\reader\Reader_sl.exe"
mRun: [QuickTime Task] "c:\program files\quicktime alternative\QTTask.exe" -atboottime
mRun: [iTunesHelper] "c:\program files\itunes\iTunesHelper.exe"
mRun: [KernelFaultCheck] %systemroot%\system32\dumprep 0 -k
mRun: [ShaPlus Bandwidth Meter] "c:\program files\shaplus bandwidth meter\ShaPlus Bandwidth Meter" /s
dRun: [CTFMON.EXE] c:\windows\system32\CTFMON.EXE
StartupFolder: c:\docume~1\admini~1\startm~1\programs\startup\onenot~1.lnk - c:\program files\microsoft office\office12\ONENOTEM.EXE
StartupFolder: c:\docume~1\admini~1\startm~1\programs\startup\produc~1.lnk - c:\program files\common files\logishrd\ereg\setpoint\eReg.exe
StartupFolder: c:\docume~1\alluse~1\startm~1\programs\startup\blueto~1.lnk - c:\program files\thinkpad\bluetooth software\BTTray.exe
StartupFolder: c:\docume~1\alluse~1\startm~1\programs\startup\digita~1.lnk - c:\program files\digital line detect\DLG.exe
IE: E&xport to Microsoft Excel - c:\progra~1\micros~2\office12\EXCEL.EXE/3000
IE: Send to &Bluetooth Device... - c:\program files\thinkpad\bluetooth software\btsendto_ie_ctx.htm
IE: Send To Bluetooth - c:\program files\thinkpad\bluetooth software\btsendto_ie.htm
IE: {CCA281CA-C863-46ef-9331-5C8D4460577F} - c:\program files\thinkpad\bluetooth software\btsendto_ie.htm
IE: {FB5F1910-F110-11d2-BB9E-00C04F795683} - c:\program files\messenger\msmsgs.exe
IE: {2670000A-7350-4f3c-8081-5663EE0C6C49} - {48E73304-E1D6-4330-914C-F5F514E3486C} - c:\progra~1\micros~2\office12\ONBttnIE.dll
IE: {92780B25-18CC-41C8-B9BE-3C9C571A8263} - {FF059E31-CC5A-4E2E-BF3B-96E929D65503} - c:\progra~1\micros~2\office12\REFIEBAR.DLL
IE: {DFB852A3-47F8-48C4-A200-58CAB36FD2A2} - {53707962-6F74-2D53-2644-206D7942484F} - c:\progra~1\spybot~1\SDHelper.dll
DPF: DirectAnimation Java Classes - file://c:\windows\java\classes\dajava.cab
DPF: Microsoft XML Parser for Java - file://c:\windows\java\classes\xmldso.cab
DPF: {6414512B-B978-451D-A0D8-FCFDF33E833C} - hxxp://update.microsoft.com/windowsupdate/v6/V5Controls/en/x86/client/wuweb_site.cab?1222910624796
DPF: {8AD9C840-044E-11D1-B3E9-00805F499D93} - hxxp://java.sun.com/update/1.6.0/jinstall-1_6_0_13-windows-i586.cab
DPF: {CAFEEFAC-0016-0000-0007-ABCDEFFEDCBA} - hxxp://java.sun.com/update/1.6.0/jinstall-1_6_0_07-windows-i586.cab
DPF: {CAFEEFAC-0016-0000-0013-ABCDEFFEDCBA} - hxxp://java.sun.com/update/1.6.0/jinstall-1_6_0_13-windows-i586.cab
DPF: {CAFEEFAC-FFFF-FFFF-FFFF-ABCDEFFEDCBA} - hxxp://java.sun.com/update/1.6.0/jinstall-1_6_0_13-windows-i586.cab
DPF: {D27CDB6E-AE6D-11CF-96B8-444553540000} - hxxp://download.macromedia.com/pub/shockwave/cabs/flash/swflash.cab
DPF: {DBDC1CDA-B64B-49F7-9535-6317AA416E51} - hxxps://labdesktop.cms.gre.ac.uk/downloads/VMware-vdmclient.cab
Handler: grooveLocalGWS - {88FED34C-F0CA-4636-A375-3CB6248B04CD} - c:\progra~1\micros~2\office12\GR99D3~1.DLL
Handler: linkscanner - {F274614C-63F8-47D5-A4D1-FBDDE494F8D1} - c:\program files\avg\avg8\avgpp.dll
Notify: !SASWinLogon - c:\program files\superantispyware\SASWINLO.dll
Notify: avgrsstarter - avgrsstx.dll
Notify: igfxcui - igfxdev.dll
Notify: psfus - c:\windows\system32\psqlpwd.dll
Notify: tpfnf2 - c:\program files\lenovo\hotkey\notifyf2.dll
Notify: tphotkey - c:\program files\lenovo\hotkey\tphklock.dll
SEH: Groove GFS Stub Execution Hook: {b5a7f190-dda6-4420-b3ba-52453494e6cd} - c:\progra~1\micros~2\office12\GRA8E1~1.DLL
SEH: SABShellExecuteHook Class: {5ae067d3-9afb-48e0-853a-ebb7f4a000da} - c:\program files\superantispyware\SASSEH.DLL
LSA: Notification Packages = scecli psqlpwd
mASetup: {5084F01D-458E-45EB-A6FD-692D4C9D2789} - c:\windows\system32\msiexec.exe /qn /fpu {5084F01D-458E-45EB-A6FD-692D4C9D2789}
Hosts: 127.0.0.1 www.spywareinfo.com

================= FIREFOX ===================

FF - ProfilePath - c:\docume~1\admini~1\applic~1\mozilla\firefox\profiles\8t3xpfdg.default\
FF - prefs.js: browser.startup.homepage - hxxp://en.wikipedia.org/wiki/Special:Random
FF - plugin: c:\program files\opera\program\plugins\np_gp.dll
FF - plugin: c:\program files\opera\program\plugins\npdivx32.dll
FF - plugin: c:\program files\quicktime alternative\plugins\npqtplugin.dll
FF - plugin: c:\program files\quicktime alternative\plugins\npqtplugin2.dll
FF - plugin: c:\program files\quicktime alternative\plugins\npqtplugin3.dll
FF - plugin: c:\program files\quicktime alternative\plugins\npqtplugin4.dll
FF - plugin: c:\program files\quicktime alternative\plugins\npqtplugin5.dll
FF - plugin: c:\program files\veoh networks\veohwebplayer\NPVeohTVPlugin.dll
FF - plugin: c:\program files\veoh networks\veohwebplayer\npWebPlayerVideoPluginATL.dll
FF - HiddenExtension: XULRunner: {4112333F-4053-4741-BDA6-3F2CC3BBB081} - c:\documents and settings\administrator\local settings\application data\{4112333F-4053-4741-BDA6-3F2CC3BBB081}
FF - HiddenExtension: Java Console: No Registry Reference - c:\program files\mozilla firefox\extensions\{CAFEEFAC-0016-0000-0007-ABCDEFFEDCBA}
FF - HiddenExtension: Java Console: No Registry Reference - c:\program files\mozilla firefox\extensions\{CAFEEFAC-0016-0000-0011-ABCDEFFEDCBA}
FF - HiddenExtension: Java Console: No Registry Reference - c:\program files\mozilla firefox\extensions\{CAFEEFAC-0016-0000-0013-ABCDEFFEDCBA}

============= SERVICES / DRIVERS ===============

R0 AVG Anti-Rootkit;AVG Anti-Rootkit;c:\windows\system32\drivers\avgarkt.sys [2007-1-31 5632]
R0 TPDIGIMN;TPDIGIMN;c:\windows\system32\drivers\ApsHM86.sys [2008-5-14 19496]
R1 AvgArCln;Avg Anti-Rootkit Clean Driver;c:\windows\system32\drivers\AvgArCln.sys [2010-1-26 3968]
R1 AvgLdx86;AVG Free AVI Loader Driver x86;c:\windows\system32\drivers\avgldx86.sys [2009-4-24 335240]
R1 AvgMfx86;AVG Free On-access Scanner Minifilter Driver x86;c:\windows\system32\drivers\avgmfx86.sys [2008-9-29 27784]
R1 AvgTdiX;AVG Free8 Network Redirector;c:\windows\system32\drivers\avgtdix.sys [2009-4-24 108552]
R1 cmdGuard;COMODO Firewall Pro Sandbox Driver;c:\windows\system32\drivers\cmdguard.sys [2008-9-29 110992]
R1 cmdHlp;COMODO Firewall Pro Helper Driver;c:\windows\system32\drivers\cmdhlp.sys [2008-9-29 24336]
R1 SASDIFSV;SASDIFSV;c:\program files\superantispyware\sasdifsv.sys [2010-1-5 9968]
R1 SASKUTIL;SASKUTIL;c:\program files\superantispyware\SASKUTIL.SYS [2010-1-5 74480]
R2 avg8wd;AVG Free8 WatchDog;c:\progra~1\avg\avg8\avgwdsvc.exe [2009-4-24 297752]
R2 cmdAgent;COMODO Internet Security Helper Service;c:\program files\comodo\firewall\cmdagent.exe [2008-9-29 700152]
R2 Power Manager DBC Service;Power Manager DBC Service;c:\program files\thinkpad\utilities\PWMDBSVC.exe [2008-9-27 94208]
R2 smihlp;SMI Helper Driver (smihlp);c:\program files\common files\thinkvantage fingerprint software\drivers\smihlp.sys [2007-8-14 10896]
R3 SASENUM;SASENUM;c:\program files\superantispyware\SASENUM.SYS [2010-1-5 7408]
S3 cpuz132;cpuz132;c:\windows\system32\drivers\cpuz132_x32.sys [2009-5-7 12672]
S3 FlyUsb;FLY Fusion;c:\windows\system32\drivers\FlyUsb.sys [2009-1-24 18560]
S3 SandraAgentSrv;SiSoftware Deployment Agent Service;c:\program files\sisoftware\sisoftware sandra professional business 2009\RpcAgentSrv.exe [2008-10-5 98488]

=============== Created Last 30 ================

2010-01-28 08:28:19 0 d-----w- c:\docume~1\alluse~1\applic~1\SUPERAntiSpyware.com
2010-01-27 22:35:35 0 d-----w- c:\program files\SUPERAntiSpyware
2010-01-27 22:35:35 0 d-----w- c:\docume~1\admini~1\applic~1\SUPERAntiSpyware.com
2010-01-26 21:33:30 0 d-----w- c:\docume~1\admini~1\applic~1\Malwarebytes
2010-01-26 21:33:23 38224 ----a-w- c:\windows\system32\drivers\mbamswissarmy.sys
2010-01-26 21:33:20 19160 ----a-w- c:\windows\system32\drivers\mbam.sys
2010-01-26 21:33:20 0 d-----w- c:\program files\Malwarebytes' Anti-Malware
2010-01-26 21:33:20 0 d-----w- c:\docume~1\alluse~1\applic~1\Malwarebytes
2010-01-26 18:50:49 3968 ----a-w- c:\windows\system32\drivers\AvgArCln.sys
2010-01-26 08:35:26 0 d-----w- C:\HJT
2010-01-24 14:53:59 257 ----a-w- c:\windows\wininit.ini
2010-01-22 22:56:02 120 ----a-w- c:\windows\Jcageqoharusa.dat
2010-01-22 22:56:02 0 ----a-w- c:\windows\Ssoyuqucado.bin
2010-01-22 22:49:56 40960 ----a-w- C:\ytlmlfc.exe

==================== Find3M ====================

2009-12-14 10:52:44 56532 ---ha-w- c:\windows\system32\mlfcache.dat

============= FINISH: 19:37:44.21 ===============