(Mods: hope this is right place to post; please move if necessary)
ZonedOut
Need a way to Manage Internet Explorer's Restricted Sites?
ZonedOut is a utility that will allow you manage Internet Explorer's restricted sites.
With ZonedOut, you can Add, Delete, Import, Export, Build a WhiteList and More!
Why ZonedOut is useful?
If you are using any program (e.g. SpywareBlaster, Spybot Search & Destroy) or file (e.g. IE-SPYAD) that add list of bad sites in Internet Explorer's restricted zone, you will find ZonedOut useful! There are times we want to whitelist a site but the Internet Explorer's restricted sites' manager do not have "search utility". You will find yourself scrolling or mess with Windows Registry Editor or use notepad to manually edit out what you don't want to be in restricted sites. With ZonedOut's search function, you'll just search for the URL and viola, you can delete it using ZonedOut or add it in whitelist. The whitelist editor will keep the URL for you. The next time a new definition or updated restricted sites is released, you don't need to do it all over again. It can be imported as a complete list or parsed against your whitelist.
General Usage Notes:
-Put ZonedOut.exe in its own directory. There is no installation. Simply delete the directory to "uninstall"
"In the next few days E. Howes Author of
IE-Spyad
will be fashioning a file
specifically for importing with ZonedOut.
"
More Info & Download:
ZonedOut 1.0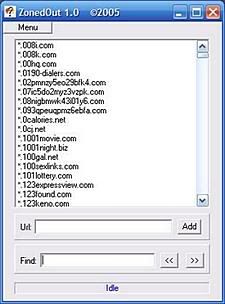 Edited by chachazz, 28 August 2005 - 02:13 AM.