Hi there!
I'm using Windows XP with SP3.
I got this Virus while surfing the Internet with Firefox 3.5.2 but I had Thunderbird minimized all the time(and checked my mails now and then) so I can't confirm if I could have infected my PC with Thunderbird or Firefox.
So the Popups of a fake Security Center came up and a program called "antivirus pro 2010" installed itself(although I didn' click any of the popups!?). I think I must have clicked something by accident cause else I would not have been infected? (accidently or not I'm Infected now
)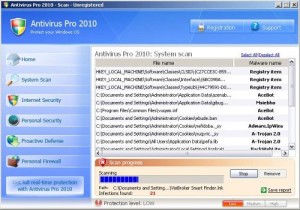 I followed
those instructions here
and installed Malwarebyte's Anti-Malware and it deleted all threats it had found.
But before I could do that my Internetprovider blocked my InternetConnection and all pages I tried to visit came up with a genuine Message that said that they blocked my inernetconnection because of detected Malware.The message must have been genuine because it was in german(I'm german,my provider is german and the virus is english) and because it got displayed on all PCs that tried to use our Internetconnection.
Now (after the anti-malware scan) the Windows taskbar isn't clickable anymore and Daemon Tools wich usually started up on Startup gives the error Message :"This Program needs at least Windows 2000 with an installed SPTD-Driver Version 1.51. The Kernel-Debugger must be deactivated" (I actually translated that).
And I've got a task in my taskbar wich I find suspicious "FastNetSrv.exe". Google says that its a keylogger which detects banking details
I tried to run DDS but it says that the Script Host is deactivated...
I'm guessing I have to format/reinstall but maybe somebody can help me out here
Thanks in advance and let me know if you need to know something