Hello all,

I was redirected to this forum as I mentioned a problem that I have on my External Hard Drive (Toshiba PX1266E-1G25).

It is hard to explain what happens exactly, but I think folders and files (so it is not one extension which acts up!) appear out of nowhere. They have names made out of symbols that are not allowed in names (not in Windows XP as far as I know at least). Because of this, I'm not able to delete them - not that that would help as they just multiply.
Another strange thing is that one says its been created in 1986, while another (created almost instantaniously) is from 2060
Great, my Hard Drive is a time traveller! I am not sure the folders are created, or excisting folders which suddenly turn "sour"
as I am not that sure of what is on the Hard Drive exactly. I use it as storage.

I hope this helps to illustrate what I'm talking about: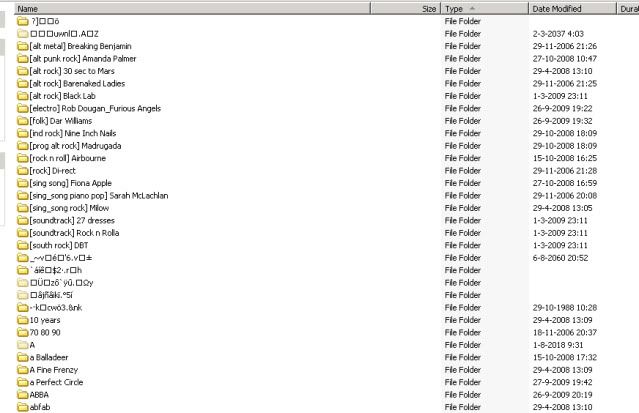 I have absolutely no idea on how to handle this
I have to admit that I haven't checked my Hard Drive on viruses for ages - actually never
This is partly because of an other problem: the drive disconnects and connects to my computer at will. So it won't stay connected long enough to scan it... I don't know what causes this problem either, but I learned to deal with it by being very patient


I really hope somebody can help me by telling what this virus is and/or how to get rid of it. I got loads of study material on that disk and as I just rebooted my computer I have no back up (that drive IS my backup
).

Thanks in advance,
;)
Edited by DefinitelyNoExpert, 07 October 2009 - 08:48 AM.