Here is an issue I can't seem to get past. The background on my WYSIWYG Expression Web Design View goes all the way to the bottom.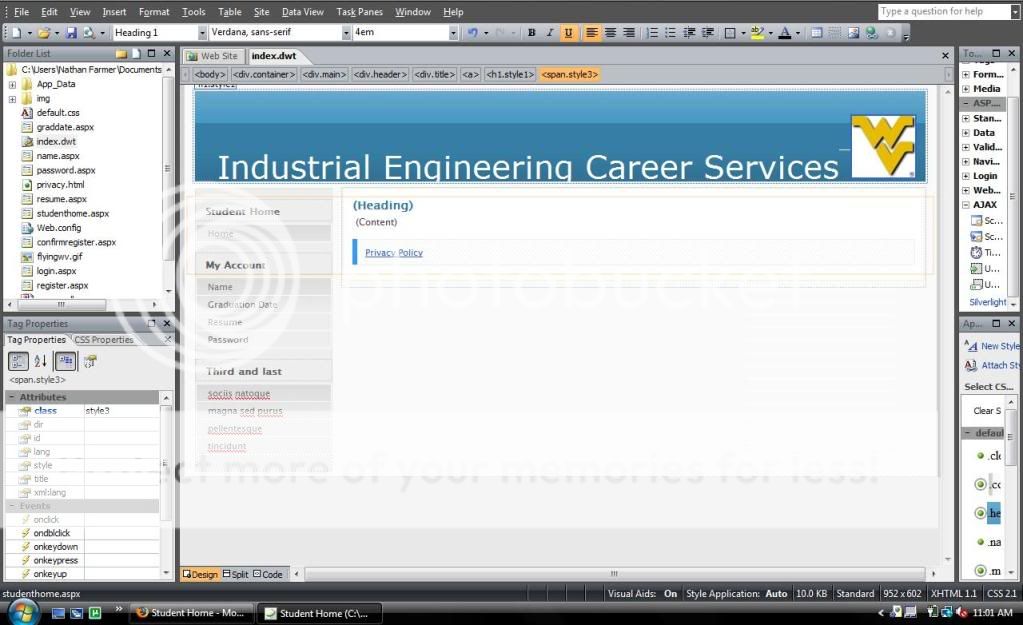 But when I preview it in the browser it stops near the top. It's kind of hard to see until you see it like this: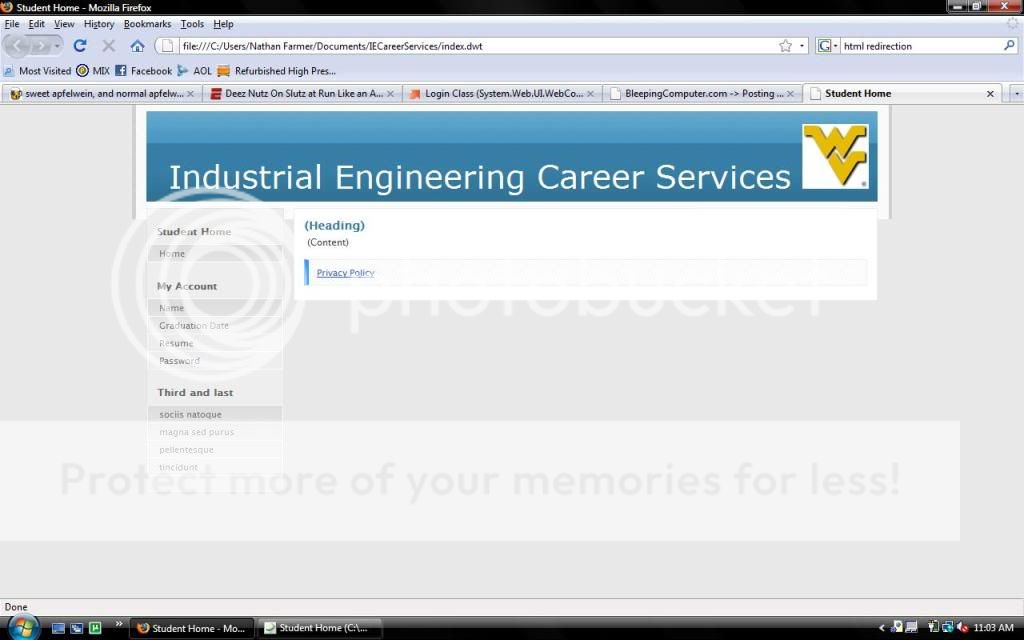 In the CSS code it is named "container"
HTML:
<!DOCTYPE html PUBLIC "-//W3C//DTD XHTML 1.1//EN""http://www.w3.org/TR/xhtml11/DTD/xhtml11.dtd"><html><head><meta http-equiv="content-type" content="text/html; charset=iso-8859-1"/><meta name="description" content="description"/><meta name="keywords" content="keywords"/> <meta name="author" content="author"/> <link rel="stylesheet" type="text/css" href="default.css" media="screen"/><title>Student Home</title><style type="text/css">.style1 {	text-align: left;	vertical-align: top;}.style3 {	vertical-align: super;}.style4 {	font-size: 1.2em;}</style></head><body><div class="container">		<div class="main">		<div class="header">						<div class="title">				<a href="studenthome.aspx">				<h1 class="style1" style="height: 107px"><span class="style3">  Industrial Engineering Career Services</span>				<img src="img/flying_wv.jpg" class="style3" height="77" width="79" /></h1>								</a>			</div>					</div>				<!-- #BeginEditable "All" -->		<div class="content">				<div class="item">				<h1>(Heading)</h1>				<span class="style4"> (Content)</span> <br />				 <code><a href="privacy.html">Privacy Policy</a></code>						</div>		</div>		<!-- #EndEditable -->		<div class="sidenav">			<h1>Student Home</h1>			<ul>				<li><a href="studenthome.aspx">Home</a></li>			</ul>						<h1>My Account</h1>			<ul>				<li><a href="name.aspx">Name</a></li>				<li><a href="graddate.aspx">Graduation Date</a></li>				<li><a href="resume.aspx">Resume</a></li>				<li><a href="password.aspx">Password</a></li>			</ul>			<h1>Third and last</h1>			<ul>				<li><a href="index.dwt">sociis natoque</a></li>				<li><a href="index.dwt">magna sed purus</a></li>				<li><a href="index.dwt">pellentesque</a></li>				<li><a href="index.dwt">tincidunt</a></li>			</ul>			<form action="index.dwt">			<div> </div>			</form>		</div>	</div></div>						</body></html>
CSS:
* {	margin: 0;	padding: 0;}a {	color: #36C;}a:hover {	color: #06F;}body {	background: #E8E8E8;	color: #444;	font: normal 62.5% "Lucida Sans Unicode",sans-serif;	margin: 0;}input {	color: #555;	font: normal 1.1em "Lucida Sans Unicode",sans-serif;}p,cite,code,ul {	font-size: 1.2em;	padding-bottom: 1.2em;}h1 {	font-size: 1.4em;	margin-bottom: 4px;}code {	background: url(img/bgcode.gif);	border: 1px solid #F0F0F0;	border-left: 6px solid #39F;	color: #555;	display: block;	font: normal 1.1em "Lucida Sans Unicode",serif;	margin-bottom: 12px;	padding: 8px 10px;	white-space: pre;}cite {	background: url(img/quote.gif) no-repeat;	color: #666;	display: block;	font: normal 1.3em "Lucida Sans Unicode",serif;	padding-left: 28px;}h1,h2,h3 {	color: #367EA6;	padding-top: 6px;}/* misc */.clearer {	clear: both;}/* structure */.container {	background: url(img/bgcontainer.gif) repeat-y;	margin: 0 auto;	padding-bottom: 6px;	width: 950px;}.header {	background: url(img/header.gif) repeat-x;}/* title */.title h1 {	color: #FFF;	font: normal 4em Verdana,sans-serif;	height: 150px;	line-height: 150px;	margin-bottom: 8px;	text-align: left;}/* navigation */.navigation {	margin-bottom: 4px;}.navigation a {	background-color: #4A91C3;	color: #FFF;	float: left;	font: bold 1.2em "Trebuchet MS",sans-serif;	padding: 8px 0;	width: 19%;	border-right: 1px solid #FFF;	text-align: center;	text-decoration: none;}.navigation a:hover {	background-color: #000;	color: #FFF;}/* main */.main {	clear: both;	padding: 8px 18px;}/* main left */.sidenav h1,.sidenav ul {	padding-left: 12px;}.sidenav {	background: #EEE;	border: 1px solid #E5E5E5;	float: left;	width: 170px;}.sidenav h1 {	color: #666;	font-size: 1.2em;	height: 20px;	margin-top: 1.2em;}.sidenav ul {	border-top: 1px solid #FAFAFA;	background: url(img/bgul.gif) repeat-x;	margin: 0;	padding: 0;}.sidenav li {	border: 1px solid #FAFAFA;	border-top: none;	list-style: none;	margin: 0;}.sidenav li a {	color: #777;	display: block;	font-size: 0.9em;	padding: 3px 6px 3px 14px;	text-decoration: none;}.sidenav li a:hover {	color: #111;}/* content */.content {	float: right;	width: 730px;}.content .item {	padding: 6px 12px;	border: 1px solid #EEE;	background: #FFF;	margin-bottom: 8px;}.content .descr {	color: #333;	margin-bottom: 6px;}.content li {	list-style: url(img/li.gif);	margin-left: 18px;}/* search form */form {	padding: 0 0 6px 8px;}.styled {	border: 1px solid #DDD;	padding: 4px;}.button {	background: url(img/search.gif) no-repeat left bottom;	border: none;	height: 27px;	width: 27px;}/* footer */.footer {	background: #FFF;	border: 1px solid #EEE;	color: #666;	font-size: 1.1em;	margin: 0 auto;	text-align: center;	padding: 6px;	width: 1020px;}.footer a {	color: #36C;	text-decoration: none;}.footer a:hover {	color: #06F;	text-decoration: underline;}