Hello, i think i'm infected, well i know i am.
this is what shows up: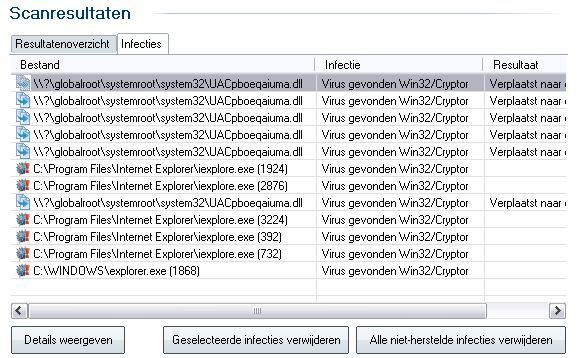 Although AVG finds it i can't delete it.
also i tried other virus scanners:
-Hitman Pro this one always gets an error.
-Virusfighter, shows that it can't scan the file.
-Malwarebytes Anti-Malware doesn't open.
Also my computer jams alot, my screen freezes but i'm still able to move my mouse.
if this happens i need to reboot my computer.
also sometimes when i'm starting up my computer, it stays still just before the "Welcome"
and i only see the mouse on a black screen, i can move the mouse but can't do anything else.
I have Windows XP
Help is appreciated.
Thx in advance
Edited by Antagoniz3r, 15 September 2009 - 09:32 AM.