Hi all, I saw the thread "W32.SillyDC Infection" and I have a similar problem to that user.
My computer had this autorun.inf virus, and NOD32 deleted it. But now I have these damn VBS Script files everywhere! it makes an image of my files. I have tried many softwares, NOD32, Norton, Spybot S&D, Ad Aware, Malware Bytes But none of them seem to be able to get rid of them!
I'm running Windows XP SP2 with Norton Anti Virus 2009.
Here is a picture of what I mean.

It has done this to a heap of my files.. I've deleted as much as I can.
When I click on the "CORAL HOMES PTY LTD2.vbs" file norton shows this message.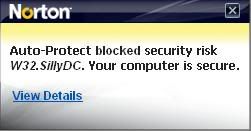 it "blocks" it but does not delete it.
Please help i've been trying to get rid of this thing for days, and it has no spread to my external hard drive with all my files too!
Please help, any help at all will be sincerely appreciated.
Cheers
-Namso
PS. If you need anymore info, please ask me and i will provide!
Edited by Namso, 15 September 2009 - 01:44 PM.