About a week ago my trusty 8yr old eMachine desktop took it's last breath. I was surprised I got as much use out of it as I did. My first thought was "upgrade". Wrong. My system was so out of date that anything I did would not be much of an upgrade.
For sometime now I have been wanting to build a system to take advantage of the availability of streaming video. Right know I have a laptop that works great for this purpose but why watch a movie on a 15" screen when I have a 40" LCD monitor in the house. What I really planned on doing was putting a parts list together and comparing the price to a ready built system from a retailer. A few months ago while cleaning out a storage room at work I came across a desktop that the boss was going to throw out. I asked if I could have it not really knowing if it was of any use to me or not.
Here is what I brought home:
Dell HP Desktop (Small Form Factor Case)
Intel Celeron Processor
40 Gb Seagate Barracuda Harddrive
Manufacture Date: 2005
Windows XP Home Edition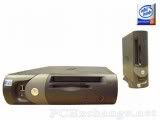 Parts List:
I want to use the current motherboard to keep the cost down and obviously reuse the case.
CPU
Memory
Harddrive
Videocard
One question I do have since I've never done anything like this before is --- How can I tell if all this will work with the motherboard I currently have (i.e. I don't know what type of CPU Socket I have)?