I am attempting to troubleshoot an Acer laptop running WinXP which has been suffering from atrocious slow-down for a long time. I've gone through many standard fixes such as AVG, Spybot S&D, CCleaner, Defrag, ensuring indexing is disabled, etcetera. Some marginal improvement may have occurred, but not much.
The computer's slow-downs are accompanied by continuous HDD activity, and I just recently made the connection with the computer's Page File. I found a website that explained how to read the Performance tab in Task Manager, and it appears that something is very wrong: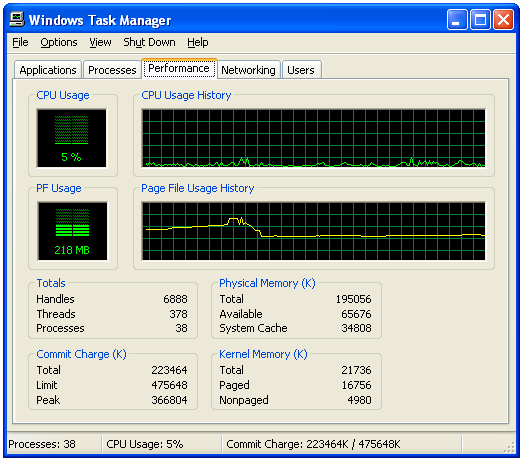 This is what the performance tab looks like while the computer is idling shortly after its protracted startup. No applications are running, and the computer is already using 110% of physical memory. When basic applications such as Firefox and Word are actually run, this climbs to over 200%. I understand that the total physical is low for XP, but I am assured that the computer did not have this extreme slow-down problem when it was new. (It is about three years old) I have no idea what is using up so much of the computer's memory, but adding up the Mem Usage column in Task Manager's Processes tab only comes to about 25% of the total Commit Charge. The slowdowns seem to be a result of the computer having to go to the Page File for nearly every memory task.
I don't know how relevant this is, but the computer also has what seems a very peculiar partitioning arrangement: the physical drive is advertised on the case (the stickers have never been removed) as 40GB, but the computer instead has two partitions of 17 GB: one ACER (C:) that contains the operating system and all user data, and is very nearly full; and the other ACERDATA (D:) which contains nothing but 200MB of numbered files and appears to be dedicated to system recovery. I am not sure if it is safe to put user data on the recovery partition, but regardless the arrangement looks ridiculous.
Any help with this issue will be very greatly appreciated.