I am still in awe of this program. I cannot fathom how it does what it does and so fast.
The program is called
Everything
. It's a desktop search engine program, like Google Desktop or the (laughable) built-in search function in Windows.
This little program kicks Google Desktops hindquarters, and kicks it hard.
It's small, simple, and extremely, blisteringly, laws-of-physics-violatingly fast. Here's my setup:
I have three physical drives partitioned into seven volumes. Four of these are accessible to Windows (the other three are Linux volumes.) All of the four accessible volumes are formatted in NTFS and have an aggregate capacity of 439.39GB. Total usage of these drives is 215.94GB. or about 49%. There are way more than 1,000,000 files all together (I didn't count, though).
No more than ten seconds after I installed Everything, I ran a test search: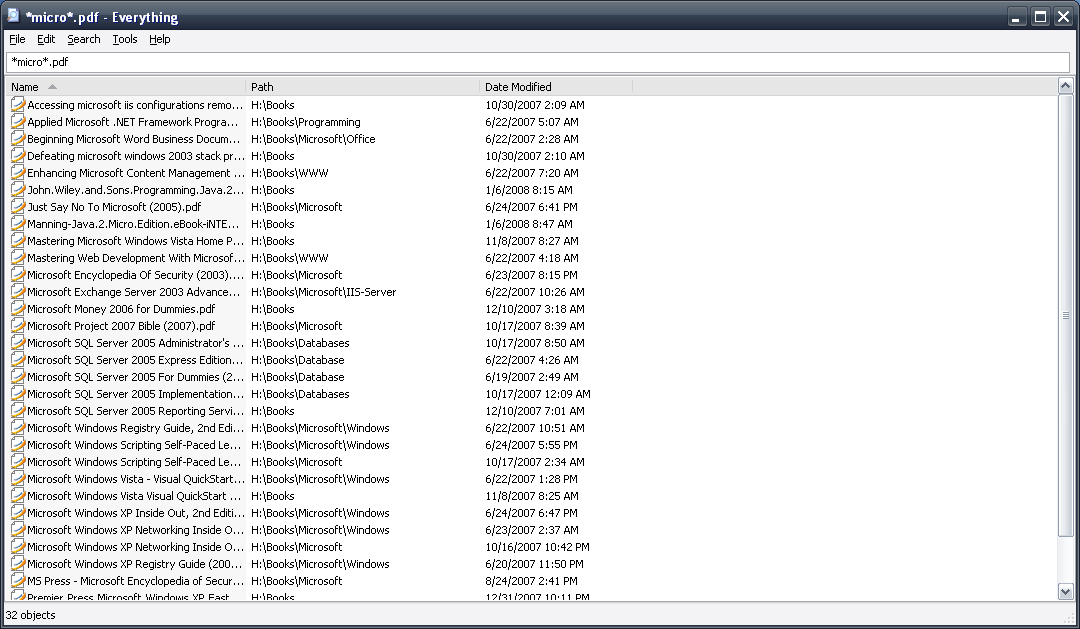 The search, as you can see, was for *micro*.pdf. We power searchers will appreciate the wildcard (
*
and
?
) support, boolean (
AND
,
OR
,
NOT
) operator and regex support.
Results were instantaneous. I couldn't believe it! This program had not had any chance at all to index my hard drives, yet it found all the files that matched my query, instantly!
Also, the search results were updated
as I typed
!
You there, the person reading this: go download this program now. It's free!
Note: I am NOT connected with this program or its maker in any way whatsoever. This is my genuine opinion. I am impressed, and it's not easy to impress me.
Edited by Amazing Andrew, 12 June 2009 - 08:59 PM.
Tpyo