Microsoft recently released the Release Candidate version of their latest Windows operating system, called Windows 7. It is available for free download to everyone to try out, test, and try to break.
Minimum System Requirements
:
Internet access (to download Windows 7 RC and get updates)
1 GHz or faster 32-bit (x86) or 64-bit (x64) processor
1 GB RAM (32-bit) / 2 GB RAM (64-bit)
16 GB available disk space (32-bit) / 20 GB (64-bit)
DirectX 9 graphics processor with WDDM 1.0 or higher driver
If your system doesn't meet the above requirements, you probably won't be able to do much with Windows 7 RC, sorry.
To learn more about the Release Candidate, how to get it, and the restrictions and caveats surrounding it, please see this topic:
Windows 7 Release Candidate Download Available
.
This guide assumes that you are performing a "clean" install of Windows 7 RC and not an upgrade (this is also the recommendation of Microsoft) and that you are not going to be setting up a dual-boot system with another operating system such as Windows Vista, Windows XP, or Linux.
Once you have downloaded the Windows 7 RC ISO file and
burned it to a blank DVD
, insert the DVD into the drive of the computer on which you wish to install Windows 7 RC and start the computer. You will see a screen prompting you to boot from the Windows 7 RC setup DVD.
(You may need to
change the boot priority
of your computer to the DVD drive for this)
The DVD will then boot up and present you with several rather bland loading screens. Just sit back and relax until you get this one: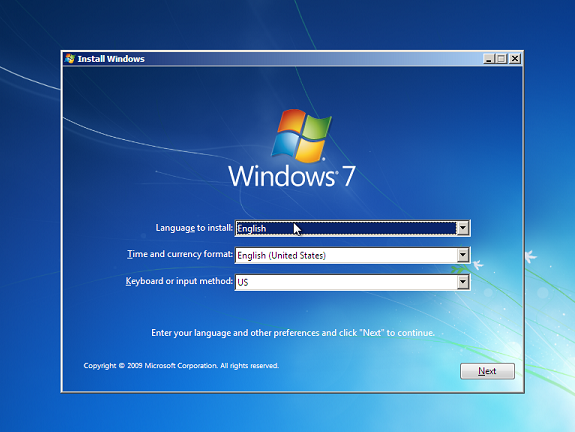 Select your language, time, currency and keyboard type (default is USA) and then click the
Next
button. This will take you to the next screen: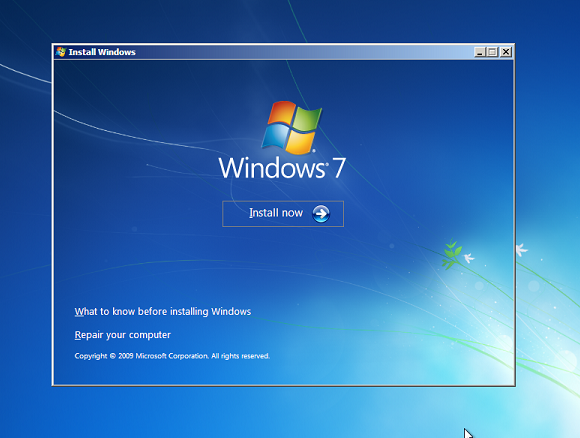 Click the
Install Now
button to continue: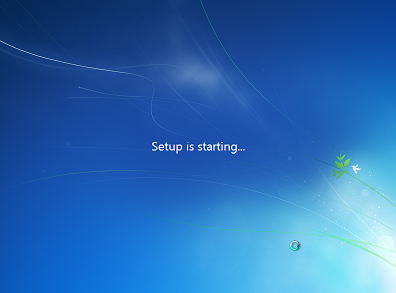 After the setup program initializes, you will be asked to read and agree to the license agreement: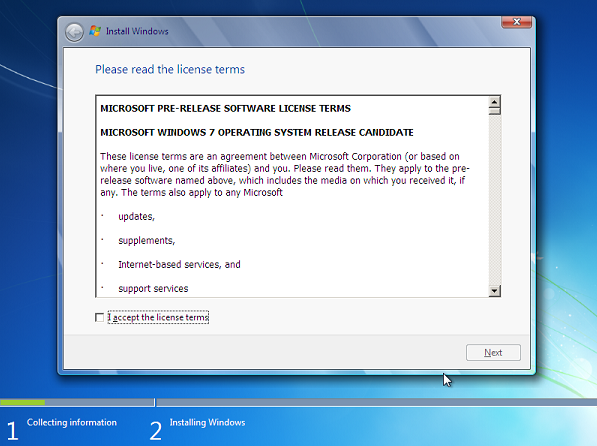 Tick the
I accept the license terms
box and click
Next
to continue to the next screen: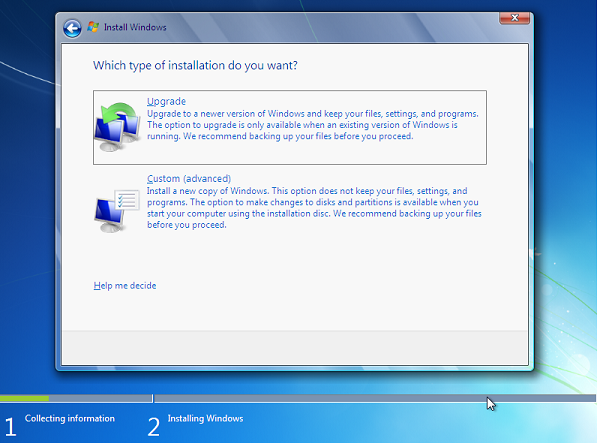 At this screen, be sure to click the
Custom (Advanced)
button.
Now, at the disk selection screen, you should see all of your hard drives represented in the list. If you have only one hard drive, you should see only one:
Select the drive you wish to install Windows 7 RC on and click the
Drive options (Advanced)
link. This will make the advanced controls visible in the window: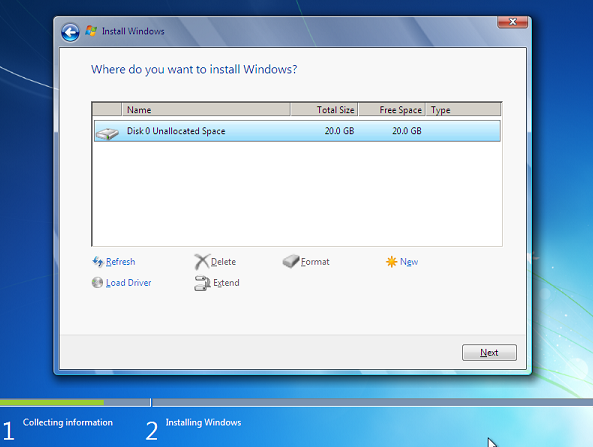 Double check that you've selected the right drive and then click the
New
link.
Warning: Be absolutely sure that you've selected the right drive. This drive will be formatted and overwritten and all data thereon will be lost!
Now click the
Apply
button: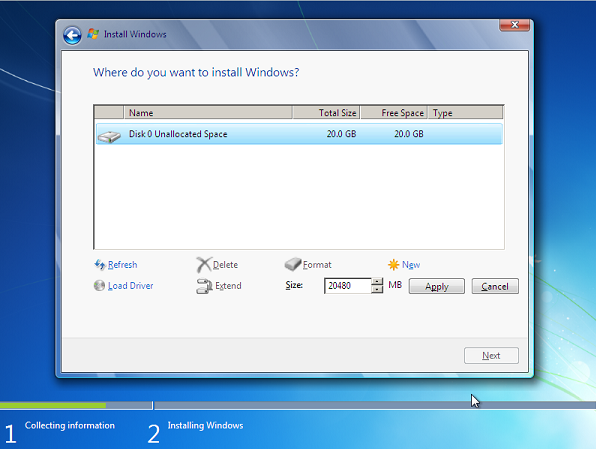 The installer will then advise you that it might create additional partitions for system files, click
OK
. Now click
Next
to continue.
Now begins the fun part of waiting while the installer, well, installs. Get yourself a nice cup of coffee or tea and sit back for the next few screens: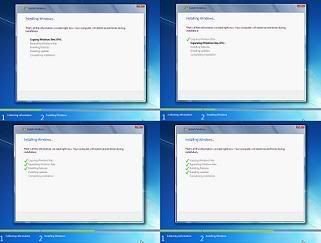 Still drinking that coffee? Good. Wait for the computer to reboot: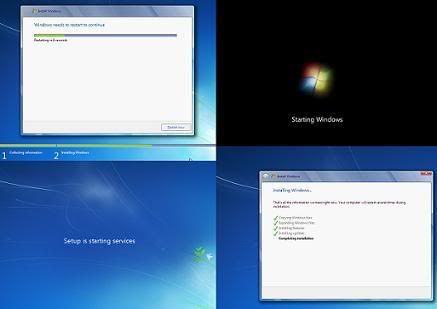 Followed by yet another reboot.
Wait for it to start up again.
Okay! Now, enter the username you want to use. You can add other users later. Remember: the user you enter now will have administrator rights as soon as you log in. Once you've entered a username (and, optionally, a computer name), press
Next
to continue: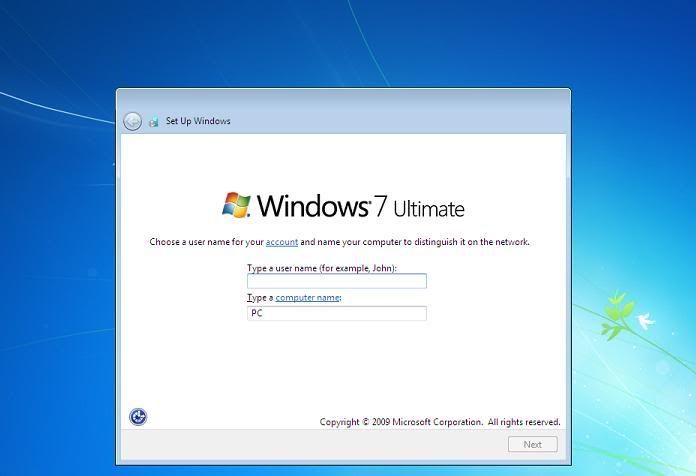 Now that you've named yourself as the master of this computer, you'll want to protect it with a good password. Choose a
strong password
, enter it twice to confirm, and enter a password hint. With that all done, click
Next
to continue.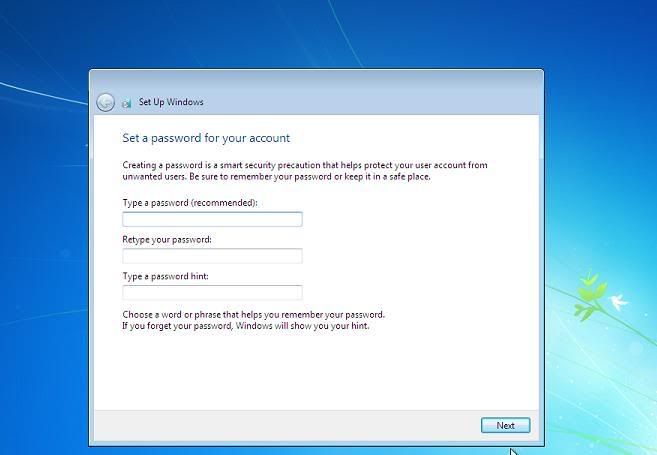 Now comes the part that every Windows user loves, the part that warms their cockles and gives them a warm and fuzzy feeling for the good people at Microsoft Corp: Entering you Product Key!
You should have gotten a Product Key from the same page you downloaded Windows 7 RC. If you lost it, don't fret! Just go back to the download page to get it.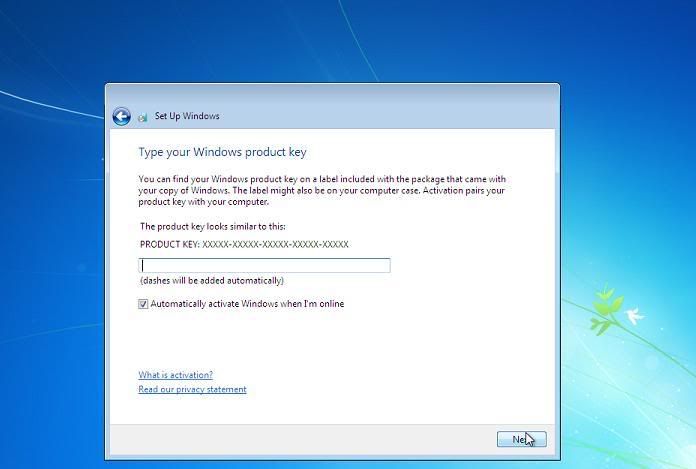 Now choose how you want Windows 7 RC to protect your computer. Personally, I chose the option to
Ask Me Later
so I could get to the desktop as soon as possible; you can always set it up later: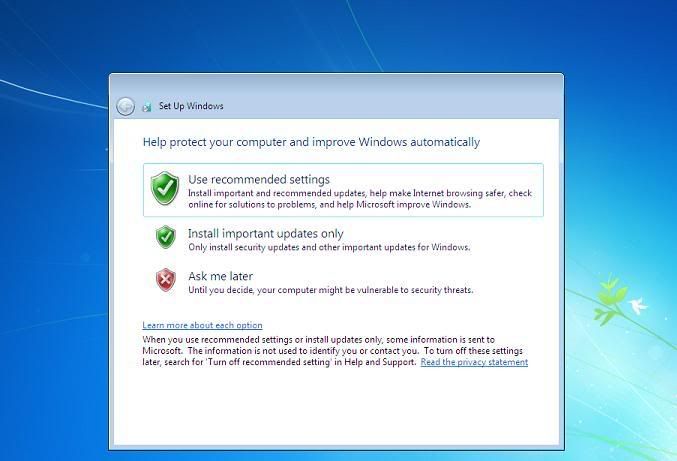 Now set your time and date: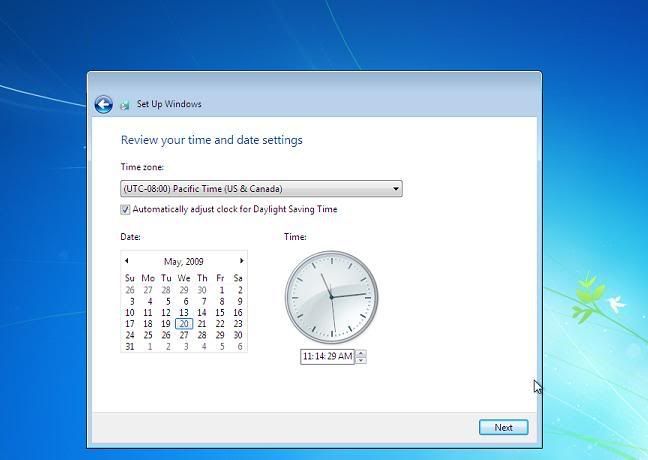 Now you need to tell Windows 7 RC what kind of network you're on. If you're not sure, you're probably on a Home network: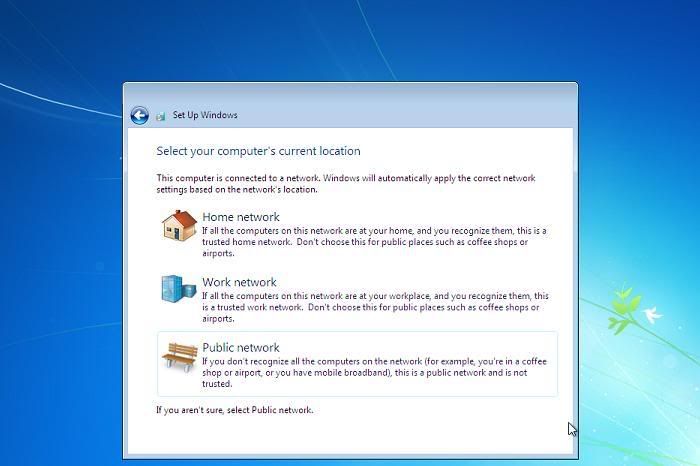 Got any coffee left? Good, because you're in for a little more waiting...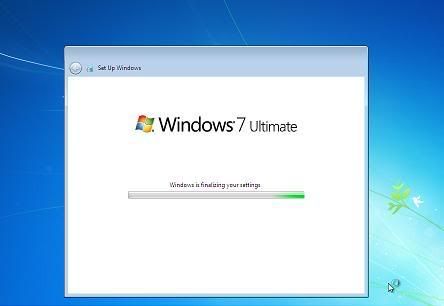 WOOT! We're all done! See the fish? That means you're done!
Now that you're done, you should probably run Windows Update to get all the latest patches and fixes. Have fun with Windows 7 RC!
Remember:
The RC will expire on June 1, 2010. Starting on March 1, 2010, your PC will begin shutting down every two hours. Windows will notify you two weeks before the bi-hourly shutdowns start. To avoid interruption, you'll need to rebuild your test machine using a valid version of Windows before the software expires. You'll need to rebuild your test PC to replace the OS and reinstall all your programs and data.
Edited by Amazing Andrew, 21 May 2009 - 06:48 PM.