Hi all.
I have this computer with windows xp professional on it -
Service pack 2.
Amd Athlon 64 x 2 dual core processer 3600+ 1.91ghz, 1.87 gb ram
Really I dont know if it is good or not, for the price I paid I hope it is.
Ive had it a year or so now.
Just trying to speed up the booting up process.
I went to Run - Msconfig - Startup.
Their are a few things their I dont know what they are or if they should be their or not. Here they are-
NvCpl RUNDLL32.EXE
nwiz nwiz.exe /install
NvMctray RUNDLL32.EXE
RTHDCPL RTHDCPL.EXE
Heres a screenshot.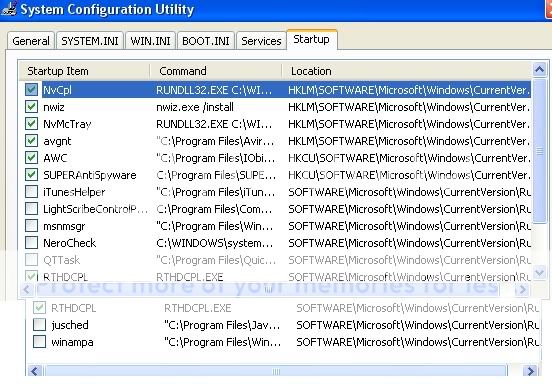 Any advice on which to keep ticked and which to untick please tell me.
If this thread is in the wrong place please remove it, I have a few more questions But Ill just ask one at a time for now.
Thankyou for your time and help.