UPDATE: The Release Candidate is NOT LONGER available for download.
Microsoft released the Windows 7 Release Candidate for testing yesterday. To get it visit this Website:
http://www.microsoft.com/windows/windows-7/download.aspx
Please Note: This is a TEST version of Windows 7. It should NOT be used on mission-critical systems, systems you do not personally own (like a work computer), or if you don't have a complete, recent, and reliable backup of your current system. Because this is a test version, there may be serious bugs which could damage or destroy existing data on your computer. Microsoft recommends that only experienced users should try out this test version and neither they nor Bleeping Computer are responsible for any damages you may suffer as a result of using this test version.
So there.
Now, let's get down to business:
Visit the page referenced above.
At the bottom of the page, select which version (32 or 64 bit) and which language you want:
Then, enter (or sign up for) a Windows Live ID. If you have a hotmail address, that should be all you need.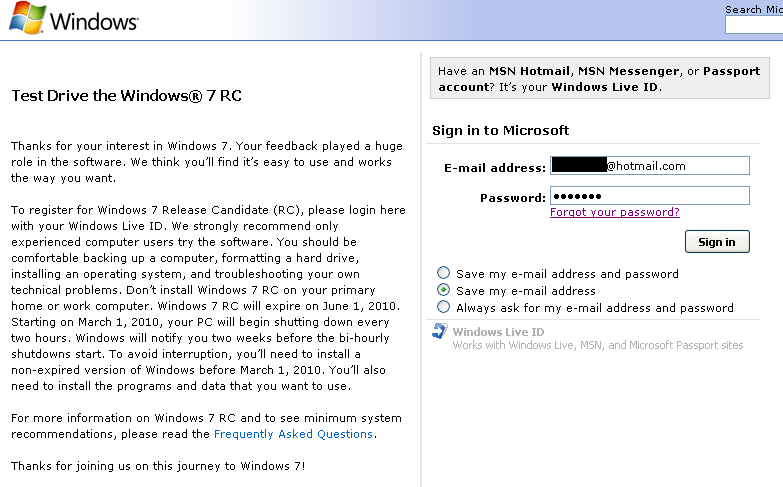 Finally, copy down the product ID number (or save the webpage it's on) and download the ISO file.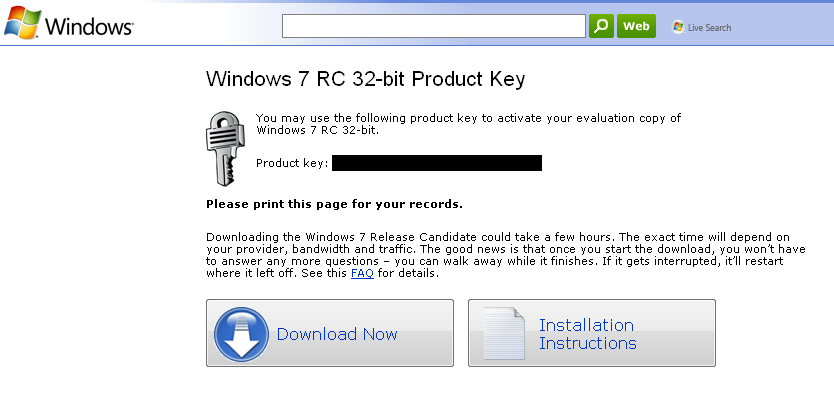 It's a BIG download (more than 2GB!), so I hope you have broadband!
Once you complete the download, look
here
for installation instructions
Notes:
The RC will expire on June 1, 2010. Starting on March 1, 2010, your PC will begin shutting down every two hours. Windows will notify you two weeks before the bi-hourly shutdowns start. To avoid interruption, you'll need to rebuild your test machine using a valid version of Windows before the software expires. You'll need to rebuild your test PC to replace the OS and reinstall all your programs and data.
Minimum System Requirements:
Internet access (to download Windows 7 RC and get updates)
1 GHz or faster 32-bit (x86) or 64-bit (x64) processor
1 GB RAM (32-bit) / 2 GB RAM (64-bit)
16 GB available disk space (32-bit) / 20 GB (64-bit)
DirectX 9 graphics processor with WDDM 1.0 or higher driver
Edited by Amazing Andrew, 07 September 2009 - 01:45 AM.
RC No longer available.