Hey all,
I finally have my new Vista box set up just about the way however, I haven't been able to figure out how to increase the text size in mouseover menus such as:
or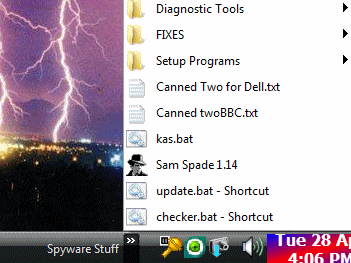 I know that I could increase the DPI of the display, then readjust the resolution, but when I have done that before I end up with someone knows where part of the screen gets lost such as the exit button on the Malwarebytes Anti Malware window.
Any suggestions and ideas will be greatly appreciated. Any of you that know me from other sites, also know the reason why.
Thanks so much in advance.
SpotCheckBilly
Sorry, tried to resize the images, but no go.
Edited by SpotCheckBilly, 28 April 2009 - 04:52 PM.