Hey there,
Seems like my pc's been infected for a third time
. This place was very helpful to me in correcting my previous problems, cleaned my pc twice without having to do a thorough format and re-install. Anyhow, let me get started on my problem. My problems started on April 1st. At first i thought it could probably be the Conficker strain of viruses. The problems that begun were :
1) Nod32 [completely updated] begun detecting multiple attacks. Since i've it on 'Strict Cleaning' mode, it quarantines the item itself. I Want to point out that from my last clean reinstall (February 2009) up till April 1st, i had a mere 4-5 attack attempts which were successfully blocked, but since April 1st, the number has gone upto about atleast 60. Here's a pic :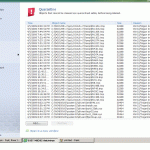 I know the details mention that's it's a Trojan downloader but i wasn't completely convinced that it wasn't Conficker, because April 1st = sudden attacks. Coincidence? Maybe. And yes, i'm not exactly a professional at this stuff
2) At first they were all svchost.exe related virus attacks. I also noticed that in the 'Task Manager' a particular 'xp.exe' had a strange behavioral pattern. It seemed like there were attempts to completely halt the process but the process would show up instantly again. And everytime Nod32 quarantined the scvhost.exe related attack, a new svchost.exe would start up, with the older one still clearly running in the Task Manager. Now this would take up the number of svchost.exe processes from 3 to 10 or even more in a matter of hours bringing the total number of active processes from ~30 to >50. This has never happened before. In the 'Task Manager', the Commit Charge used to be a mild 250-400Mb/3237Mb for days on end. But now , possibly since the increase in the number of svchost.exes running, the commit charge shoots up to approximately 1000Mb/3237Mb within a matter of hours.
Here's a pic :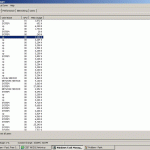 3) Also, Similar to Conficker's behavior, my internet would end up clogging, with download speeds ( even Direct downloads ) being just approx 30% of the actual speed. This would often result in the download being terminated or abruptly stopped.
After all this i ran a couple of Conficker detection tools, and also used the 'Conficker Working Group's image verification but haven't detected any possible Conficker-related infections, so i'm thinking it could be another problem, but i'm not totally convinced.
Thanks in advance. Any help would be great.