My Flash Drive is infected with a virus but my
AVG Free cannot detect it
. I'm sure that it's a virus because of the nature of its activity. It
hides folders
that I created in my flash drive and adds malicious folders named "
RECYLER
" and "
RESTORE
." In addition to that it makes a
dummy of the folders
- having the same file name but different extension name (.scr or .exe). The icon of the dummy folders are also quite different from the usual file folders. I'm somehow familiar to this virus because it once infected my PC which left me with no other choice but to reformat.
My flash drive is now free from the dummy folders. Maybe it's been removed by an antivirus or I might have manually deleted it before. The problem is "RECYCLER" and "RESTORE" are still there hidden together with my other file folders. Selecting "
Show hidden files and folders
" is not enough to show the folders. I still have to deselect "
Hide protected operating system files
."
After being able to show the hidden folders, I tried to unhide it through the properties but it won't work. Here's how it looks like.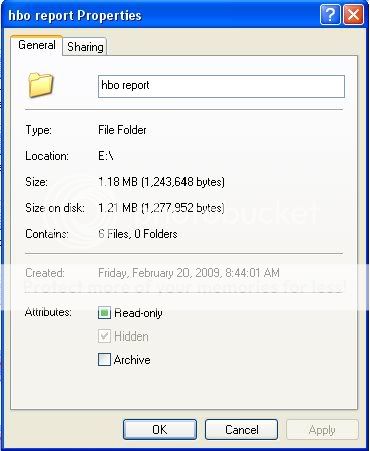 As you can see deselecting the "Hidden" attribute is impossible.
Please help me get rid of this virus because
even other antivirus could not detect it
.