Maybe someone can help, when I installed vista Ultimate back in October, everything went smoothly. I have two hard drives one for my OS and the other for my Data. I then created a folder hierarchy that mirrored my user profile folders on my data partition. I moved the default user folder locations no problem by going to the folders PROPERTIES>LOCATION>MOVE. Simple right??? Then in December, my computer had a Hiccup, where it just randomly restarted. When vista restarted again i got the welcome screen, and all of my preferences were gone, it was like I installed vista for the first time. When i tried to move my folders again, i right clicked on properties>Location
And got this.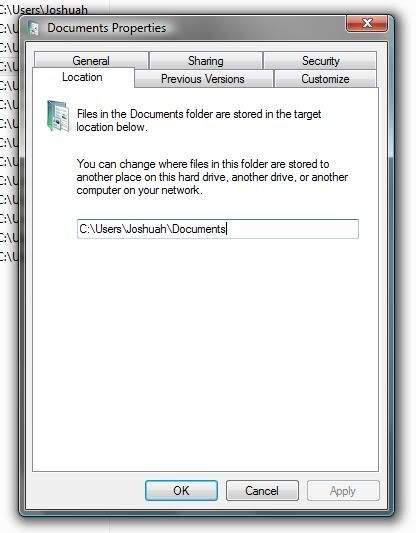 No MOVE option, no options at all. I can't go in and type the location in, it won't allow that. I'm stuck. It's not THAT big of a deal, I have set up shortcuts on my desktop to my actual data files, but it would be nice having them integrated with my OS so i don't have to specify the location each time I try to access a file.
Any thoughts?
I have the user control settings off, and i have tried to restart in safe mode and change the file locations with no luck.