Hello everyone.
I've been struggling with a security problem for a while now.
Lately, I'm not able to run a Full Scan with my Virus/Firewall McAfee anymore.
It's fully up-to-date.
It showed me this error at first:
(My apologizes about the dutch parts shown there, I'll translate them)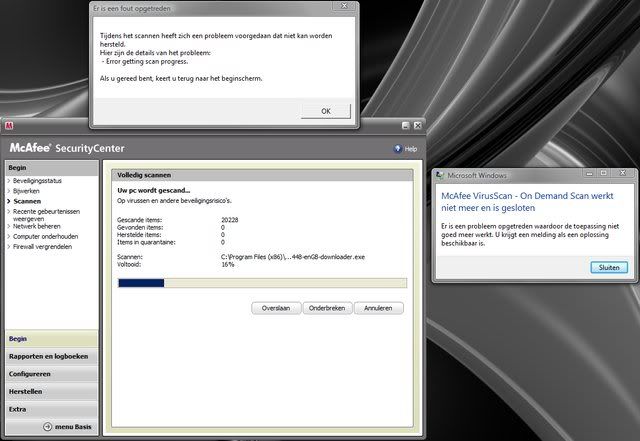 Translation of the
upper frame
:
While scanning, an error has occurred that cannot be solved.
These are the details of the problem:
- Error getting scan progress.

Go back to the main screen if you are ready.
The frame on the right:
McAfee VirusScan - On Demand Scan does not work anymore, and has been shut down.

A problem has occurred which causes the application to stop working. You'll get a message once a solution is ready.
As you can see, it's getting stuck on a file which is located in my Program Files, my World of Warcraft folder to be precisely.
It's a patch downloading file, and it has always been there.
And after a second, this error occurs:

Translation of the
left frame
:
On-Access Scanner Service does not work anymore.
More information is being gathered. This can take a few minutes..
Then on the right, the
Microsoft Error
log.
Informatie verzenden = Send information.
After that, I removed the specific file, because it was useless anyways.
I cleared the recycle bin as well.
Then, after a new full scan, the same error occurs: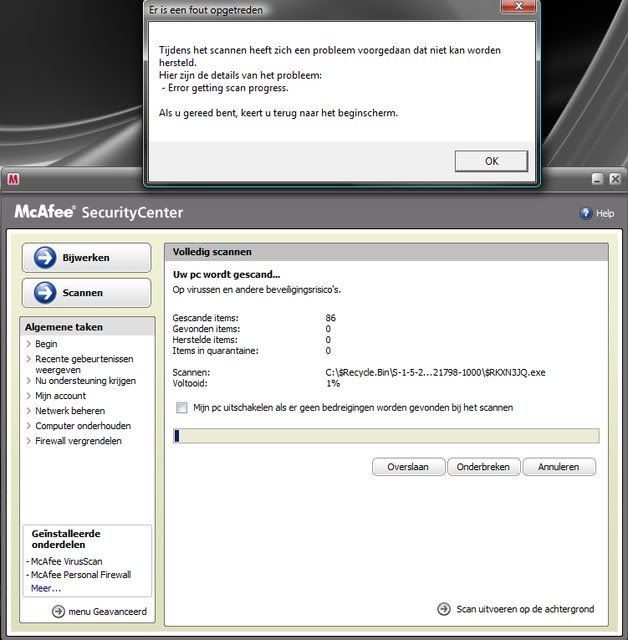 But, the file which McAfee is getting stuck at is located in the Recycle Bin, which is empty!
Have you guys got any idea how to solve this? I've been trying to reinstall McAfee, but it didn't work out, still the same error.
If you need any other information, PLEASE tell me!
Thanks in advance!
PS: The Quick Scan works fine, as it doesn't scan those files, I guess.
Edited by MajestyZ, 19 February 2009 - 11:10 AM.